Shooting in the rain is not fun. It is, however, a good way to determine if your optic is waterproof, as I discovered when testing the Nikon M-223. The scope is most definitely waterproof, as it survived several hours in a driving rain without anything approaching a problem. But it is much more than merely a rugged optic for your AR. (To view a gallery of photos of the M-223, visit here.)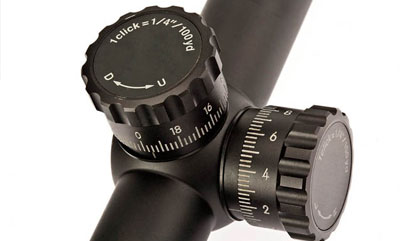 The 1-4x20 mm M-223 scope is compact and lightweight, adding little bulk to your black rifle. It takes up about the same amount of space as an ACOG, though because it is a more traditional riflescope, it cannot be used in conjunction with iron sights. That is not a huge problem because it doesn't rely on an illuminated reticle, so failure is extremely unlikely. Thanks to its low-magnification, you won't need to transition to irons for short-range work, either. In fact, alternating between short- and medium-range targets is where the M-223 truly shines.
With Nikon's Point Blank reticle, the 1-4x20 mm M-223 (higher magnification and larger objective models are also available) is designed for fast transitions. The reticle consists of four solid posts converging into a fine crosshair with a dot in the center. The dot is easy to acquire when shouldering a rifle, making quick shots easy. While this is true of most dot-type reticles for short-range targets, the Point Blank's dot happens to subtend 3 inches at 100 yards, or about .8-inch more than the drop of a 55-grain .223 Rem. bullet at 200 yards. Therefore, out to 200 yards, most factory .223 Rem. loads, including heavier bullets, require no holdover—just put the dot on the target and squeeze the trigger. More on this ina bit.
Apart from the reticle, the M-223 is a solid scope. It has target turrets with 1⁄4-MOA windage and elevation adjustments, a whopping 120 MOA of total adjustment and a return-to-zero capability. Lifting the turrets enables users to turn them to zero without moving the reticle, simplifying on-the-go adjustments. A large eye box helps with fast reticle acquisition, and the magnification ring is substantial enough to turn in most any condition, with or without gloves. Thanks to a quick-focus eyepiece, ensuring a sharp image is easy. The Nikon glass is unsurprisingly crystal clear and boasts up to 95-percent light transmission, though the 1-4x20 mm is less than ideal for super-low-light conditions because of its small objective lens diameter.
Nikon offers a one-piece mount for the M-223 that is definitely your best option for attaching it to your AR-15. The mount will interface with any Picatinny rail atop a rifle and provides a solid platform for the scope. Its aluminum, one-piece build virtually guarantees against zero shift if the scope is bumped during transport or field use.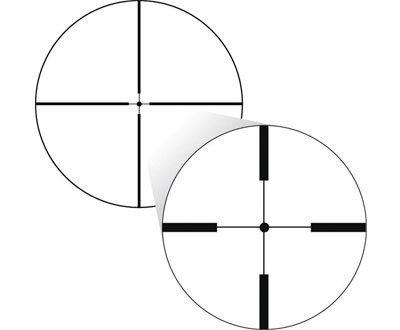 To test the M-223, I mounted it on a Ruger SR-556 and loaded a variety of .223 Rem. ammunition from Remington, Tula Ammo and Winchester into a single magazine. I set one target at 10 yards and another at 200, and proceeded to fire two shots at the closer target followed by two at the far target and back to the near target with a final two shots. Running this drill several times, I achieved 100 percent hits from a bench and only two misses on the far target from a standing position, both of which were due to my less-than-stellar offhand abilities. I also ran the drill in reverse, starting on the far target, with the same results. In all cases, my shot timer recorded the last shot reporting no more than 5 seconds after the first, demonstrating the ease of quickly engaging targets with this scope.
The Point Blank reticle offers a third aiming point that can be used on long-range targets: the top of the thick vertical post below the dot. Using Nikon's Spot-On app for the iPhone, you can determine the range at which a bullet will impact when using this point of aim. For example, a 55-grain FMJ load zeroed at 100 yards will hit a target at 380 yards holding on the top of the post. The app will also tell you the proper adjustment to hit a target at any range using the center of the dot. At $4.99, it is a great tool to have in the field.
My one complaint about the reticle is more of an observation about the tradeoffs required to make it work. The dot is actually a bit small for close-range work. While I didn't run into any difficulty putting rounds into the torso area of a silhouette target set at 10 yards at speed, I found doing so to be a touch slower than with a red-dot or reflex sight. Putting a larger dot in the reticle is not an option, however, because doing so would negate its excellent medium-range benefits—namely the ability to quickly place rounds on a target two football fields away.
I cannot envision a scope better suited for 3-gun, where fast transitions between close- and medium-range targets are vital. The M-223 is also a solid option for a survival rifle, as it doesn't add tremendous weight to an AR and will allow you to take out the zombie about to feast on your brains and then pick off members of his horde from a safe distance. All things considered, if you use your AR-15 for anything beyond home defense, the 1-4x20 mm M-223 is a great choice for a reliable and versatile optic. If it can help me hit targets at 200 yards quickly, it will benefit anyone's shooting.
Manufacturer: Nikon; (800) 645-6687, www.nikonhunting.com
Magnification: 1-4X
Objective Lens Diameter: 20 mm
Reticle: Nikon Point Blank
Adjustability: 120 MOA windage and elevation with 1⁄4-MOA increments
Field of View: 92.9 feet (1X), 23.1 feet (4X) at 100 yards
Eye Relief: 4 inches
Length: 10.35 inches
Weight: 13.93 ounces (without mount)
Accessories: M-223 mount, quick-open lens covers
MSRP: $299.95, $399.90 with mount (tested)