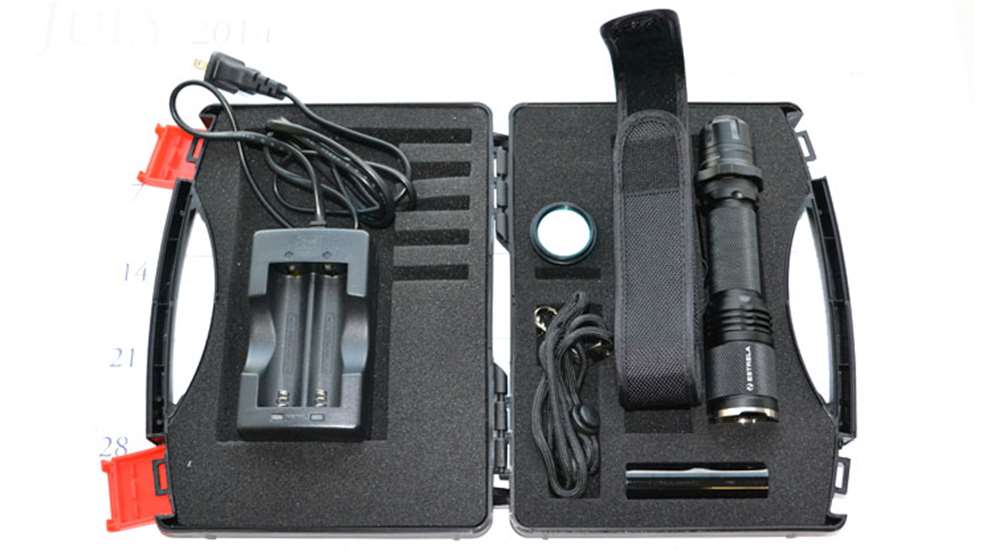 Part of any plan where you may need to navigate in low- or no-light conditions should include a light source. The "Estrela" from Night Reaper puts 1,000 lumens of light out as far away as 300 yards.
The Estrela offers three modes of operation, a red lens and is constructed from aircraft-grade aluminum. It can run on CR123 batteries or an included rechargeable battery, and comes with both a belt clip and a lanyard for easy carrying. The light is impact-resistant from a height of 1.5 meters and water resistant to a depth of 2 meters. It offers up to 180 days of operation at the lowest setting (.04 lumens) and 50 minutes at peak output (1,000 lumens).
Perhaps the most attractive feature of the Estrela is how simple it is to switch between modes. On other flashlights you have to rapidly tap the end cap or utilize separate buttons; on the Estrela it's a simple rotation of the end cap. Starting with the switch all the way clockwise, the setting is momentary on. This is at full power. The next setting, one click counterclockwise, is constant on. This setting is variable power, and you need only push and hold the button in this setting to change intensity. A handy flash when you've reached the highest setting confirms endpoints. Another click counterclockwise activates the strobe feature, which pulses at full power. One final click counterclockwise, while pushing in the switch, will lock the activation on, handy if the light is going to be stored for a length of time or placed in a bag/console/etc.
MSRP: $199.