Support NRA Shooting Illustrated
DONATE
The large format pistol continues to be a red-hot portion of the American gun market. New pistols are now available chambered in pistol calibers, as well as others chambered in rifle calibers that can reach out to 500 yards and beyond. The large format pistol, with or without a brace, is here to stay, and what's available for 2020 reflects their continuing popularity.
---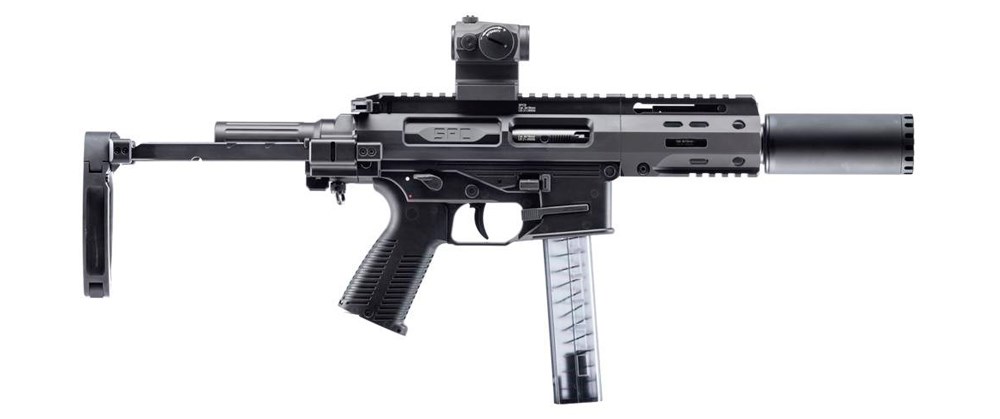 B&T USA | SPC9 PDW-SD
Born from a European tender, the all-new SPC9 incorporates features found on the B&T APC9, MP5 and AR platforms combined into one versatile platform. Lightweight and reliable, well-balanced and accurate, safe and modular—the SPC9 is one of the lightest recoiling 9 mm pistols, thanks to an effective hydraulic-buffer system.
▶ Arm brace
▶ Hydraulic-buffer system
▶ Picatinny rails
▶ Fully ambidextrous controls
Specifications
Caliber: 9 mm
Magazine Capacity: 30 rounds
Barrel Length: 4.5 inches
Overall Length: 24.5 to 27.9 inches
Weight: 88 ounces
MSRP: $3,100
(813) 653-1200 bt-usa.com
---

Christensen Arms | Modern Precision Pistol
Christensen's new MPP stands out as a precision long-range pistol with features typically associated with long guns. Standard features include a precision-machined action and fluted bolt, 20-MOA optic rail, oversize bolt knob, forward-mount rail with an integrated barricade stop and a five-round detachable AICS magazine. It's available chambered in 300 BLK, .223 Rem., 6.5 Creedmoor and .308 Win.
▶ TriggerTech flat trigger
▶ Carbon-fiber barrel
▶ Adjustable side-baffle brake
▶ Folding SB Tactical brace
Specifications
Caliber: 6.5 Creedmoor
Magazine Capacity: 5 rounds
Barrel Length: 12.5 inches
Overall Length: 33.25 inches
Weight: 97.6 ounces
MSRP: $2,399
(888) 517-8855 chistensenarms.com
---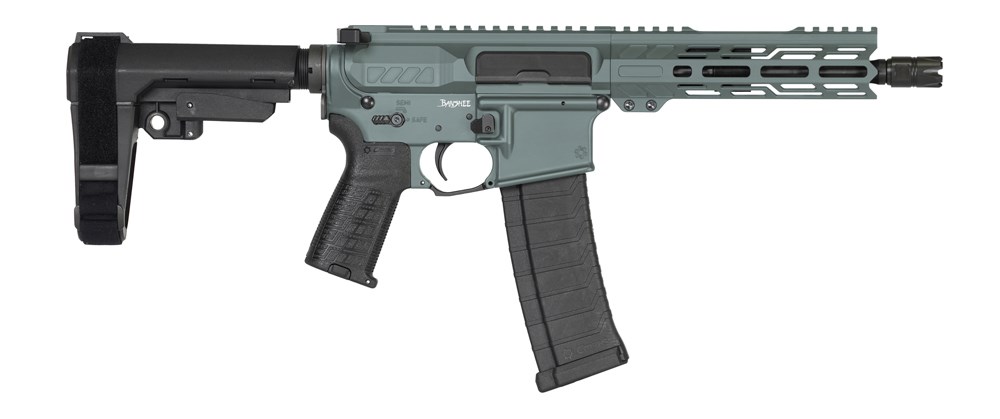 CMMG | Four-Six Banshee
This large-format pistol is the first firearm chambered in 4.6x30 mm released to the U.S. civilian market. It delivers light recoil and added capacity, and accepts AR-pattern furniture. It is also available in a rifle configuration.
▶ Standard AR controls
▶ CMMG RipBrace
▶ M-Lok handguard
▶ Caliber-specific magazine fits standard mag well
Specifications
Caliber: 4.6x30 mm
Magazine Capacity: 40 rounds
Barrel Length: 8 inches
Overall Length: 23.7 inches
Weight: 68.8 ounces
MSRP: $1,399.95
(660) 248-2293 cmmg.com
---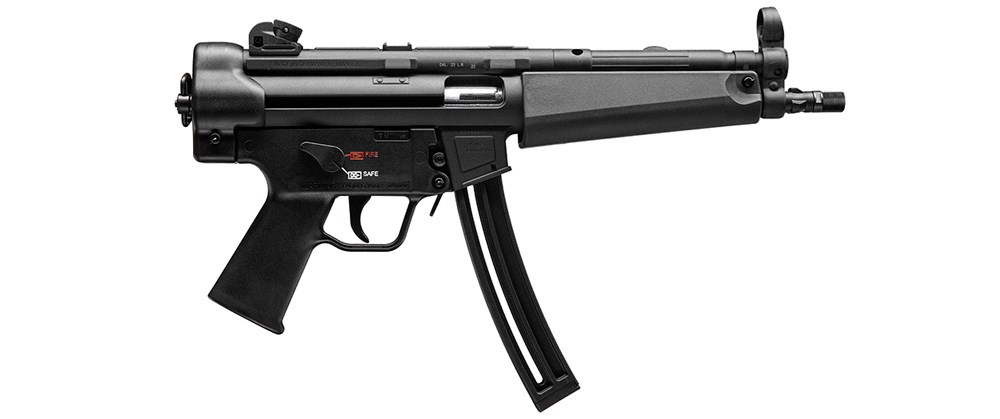 Heckler & Koch | MP5 .22 LR Pistol
Now you can get the authentic look, feel and features of the legendary HK MP5 in a semi-automatic .22 LR pistol. Whether you're looking for an economic, but serious sub-caliber trainer, a suppressor host or just want the coolest .22 LR fun gun on the range, look no further.
▶ Sling swivel
▶ Rotary drum-type rear sight
▶ Tapered handguard
▶ Protected front sight post
Specifications
Caliber: .22 LR 
Magazine Capacity: 25 rounds
Barrel Length: 8.5 inches
Overall Length: 18.2 inches
Weight: 94.4 ounces
MSRP: $529
(706) 701-5554 hk-usa.com
---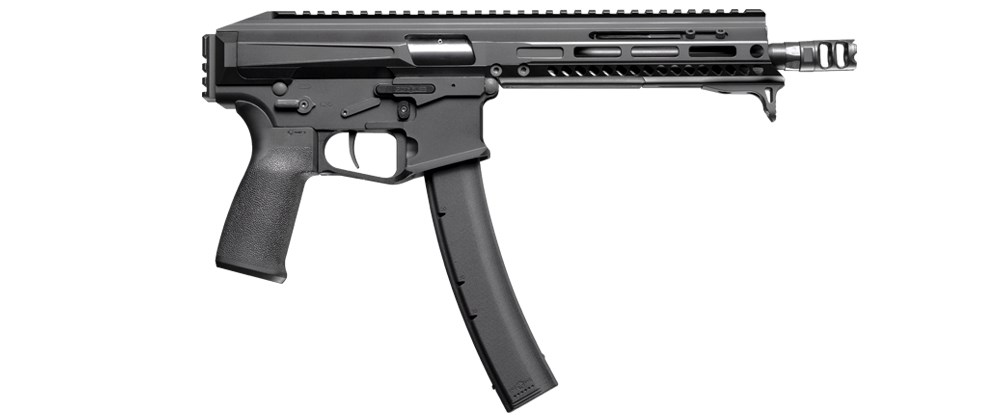 POF-USA | Phoenix
The all-new Phoenix 9 mm pistol is the perfect plinking platform, yet built for serious duty. It's an ideal host for your suppressed shooting and features a 1913 Picatinny rail at the rear, making future conversions or adding a brace a breeze. The direct-blowback system has proven to be extremely reliable around the world.
▶ Ambidextrous lower receiver
▶ Proprietary 35-round magazine
▶ Monolithic upper receiver
▶ Reversible charging handle
Specifications
Caliber: 9 mm
Magazine Capacity: 35 rounds
Barrel Length: 8 inches
Overall Length: 17.5 inches
Weight: 73.6 ounces
MSRP: $1,699
(623) 561-9572 pof-usa.com
---

Savage | Model 110 PCS
Available in five chamberings, the Model 110 PCS is built around the 110's factory blueprinted action that sits in a one-piece aluminum chassis from Modular Driven Technologies (MDT).
▶ Ambidextrous magazine release and AICS-pattern magazine
▶ Spiral fluted bolt body
▶ Accepts most AR pistol grips
▶ Left-hand bolt, right-side eject
Specifications
Caliber: .308 Win.
Magazine Capacity: 6 rounds
Barrel Length: 10.5 inches
Overall Length: 21.5 inches
Weight: 90 ounces
MSRP: $999
(800) 370-0708 savagearms.com
---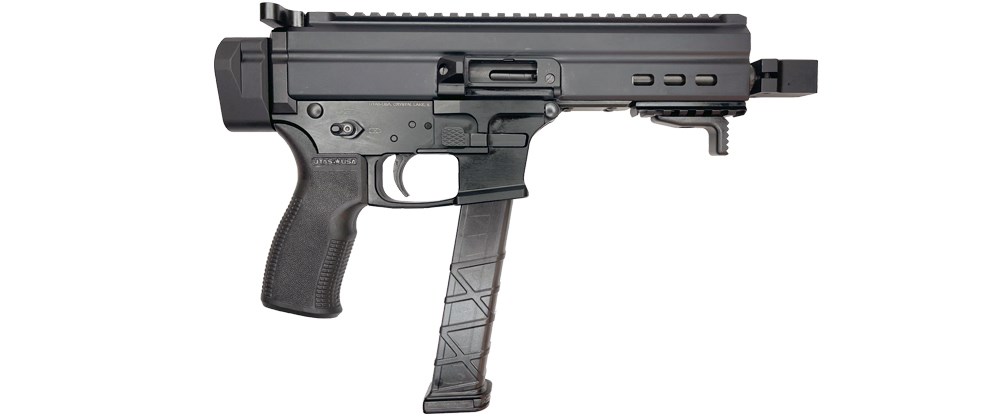 UTAS | UT9M-Mini
Available in eight colors including Rustic U.S. Flag, UTAS-USA's first foray in the handgun market features an AR-style frame, a low-mass bolt and long-life springs. Best of all, it offers an impressive capacity and is compatible with Glock magazines.
▶ Ambidextrous safety
▶ AR-style charging handle
▶ Compensator
▶ Handstop
Specifications
Caliber: 9 mm
Magazine Capacity: 33 rounds
Barrel Length: 6 inches
Overall Length: 15 inches
Weight: 73.6 ounces
MSRP: $850
(779) 994-4922 utas-usa.com
---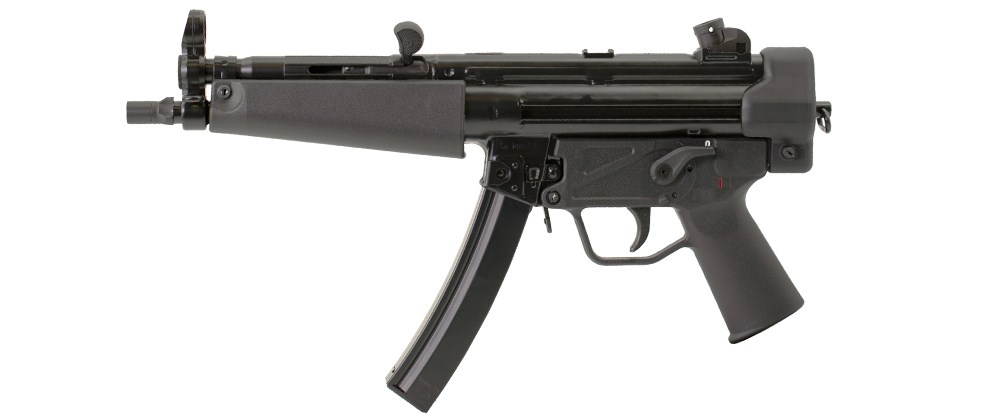 Zenith Firearms | ZF-5
Built in America, the ZF-5 is a sleek, stylish, roller-delayed-blowback pistol chambered in 9 mm. It comes with three 30-round magazines (where permissible), a sling, cleaning kit and limited lifetime warranty.
▶ Cold-hammer-forged barrel
▶ Rotary drum-type rear sight
▶ Hooded front sight post
▶ Optics rail
Specifications
Caliber: 9 mm
Magazine Capacity: 30 rounds
Barrel Length: 8.9 inches
Overall Length: 17.9 inches
Weight: 94.4 ounces
MSRP: $2,489
(434) 202-7790 zenithfirearms.com