by
posted on January 22, 2020
Support NRA Shooting Illustrated
DONATE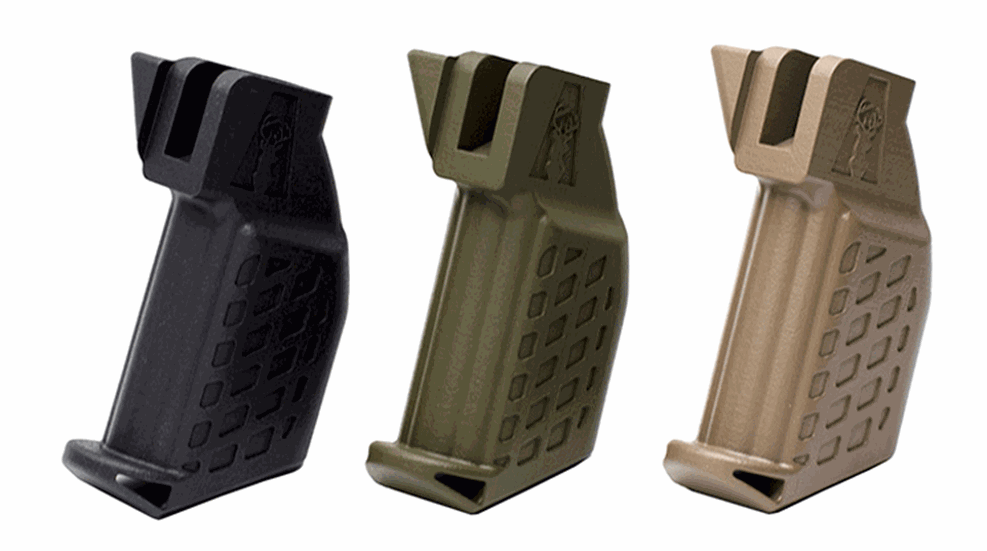 A former 3rd Ranger Battalion special operations soldier and several law enforcement agents helped develop Anarchy Outdoors' new Tuxedo precision rifle grip. It's the company's latest in a series specifically designed for the correct ergonomics required in precision rifle shooting. The Tuxedo works with chassis systems, large- and small-AR platforms and other rifles that use an AR-15 pattern grip.
Precision rifle shooters require a different grip than typically found on an AR, so the company enlisted feedback from professional competition shooters as well as law enforcement and ex-military marksmen. The Tuxedo accommodates these needs with a vertical design and a "thumb shelf" for the shooter to rest their thumb on its strong side. The features reduce shooter fatigue, facilitate getting the rifle situated into position and reduce the amount of bend in the wrist while using the grip.
Other ergonomically correct enhancements include a palm swell that helps control the rifle during positional movement and a palm shelf tat also reduces fatigue while behind the rifle. The overall shape and dimensions allow proper alignment of the index finger to help with a precise and repeatable trigger pull.  
The Tuxedo is made from durable Nylon 12 polymer that is resistant to most solvents and chemicals. It is available in black, OD Green (Cerakoted) and Flat Dark Earth (Cerakoted) in both right- and left-handed versions. Physical dimensions are 2.6x1.5x4.25 inches and MSRP is $49.99. They are manufactured in the United States by military veterans. Units are already available.
Anarchy Outdoors, located in North Logan, UT, was founded in 2015 to be the premier parts and accessories outfitter for shooters who demand the maximum performance from their firearms. The company develops and offers aftermarket accessories engineered in-house by experienced professionals and meticulously curated products from leading manufacturers.