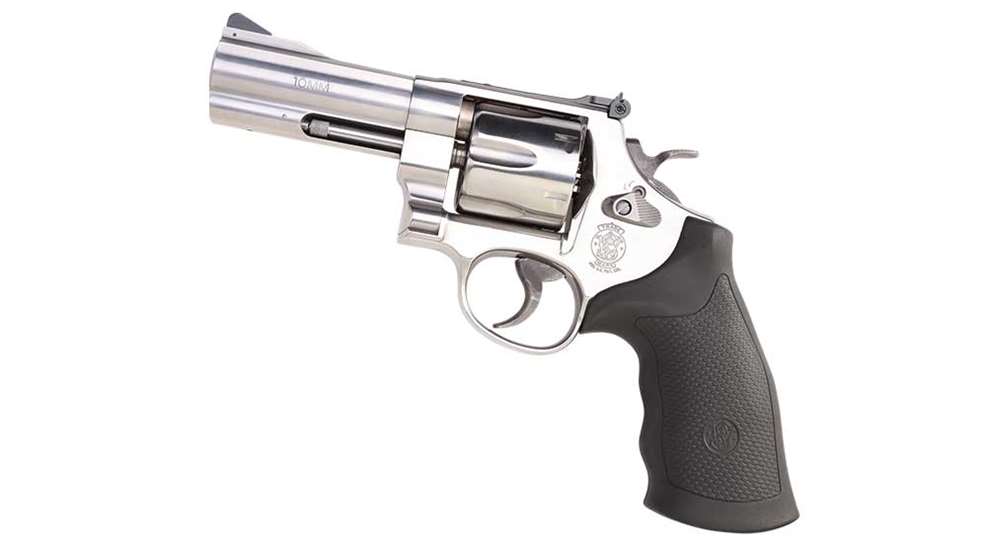 Thanks to increased interest in handgun hunting and the development of purpose-built defensive loads, the 10mm cartridge is undergoing a bit of a renaissance right now. Originally created in the early '80s by the legendary Jeff Cooper and introduced in the now-rare Dornaus & Dixon Bren Ten, the 10mm proved to be a bit of a handful for most people and it languished for a few years. Now, however, renewed interest in handgun hunting (especially hunting feral hogs with handguns) has resulted in the 10mm becoming popular once again.

Smith & Wesson is capitalizing on that interest with the re-introduction of the Model 610 revolver, chambered in 10mm. Perfect for handgun hunting and protection in the backcountry, the Model 610 is built on the large Smith & Wesson N-Frame and is available in 4-inch or 6.5-inch barrel versions.

"With the recent increase in popularity of the 10mm Auto cartridge, we felt it important to offer a 10mm revolver for personal protection and handgun hunting," said Jan Mladek, general manager of Smith & Wesson and M&P brands. "The N-Frame revolver has long been a staple in big-bore revolvers, and the 10mm is a natural caliber addition to the line."

The Model 610 revolver has a six-round capacity, and the proven N-Frame lends an enhanced level of durability and ruggedness to the revolver. Designed for use with six-shot moon clips (which are included), the Model 610 features a stainless-steel frame, barrel and cylinder, black synthetic finger groove grips and black-blade interchangeable front sight with an adjustable white outline rear sight. Like many other revolvers chambered in 10mm, the Smith & Wesson M610 is also capable of firing the .40 S&W cartridge with the appropriate moon clip.

The MSRP of both the 4-inch and 6.5 inch-versions of the Model 610 retail for $969.00. For more information on the Model 610, including spec sheets and images, please visit smith-wesson.com.