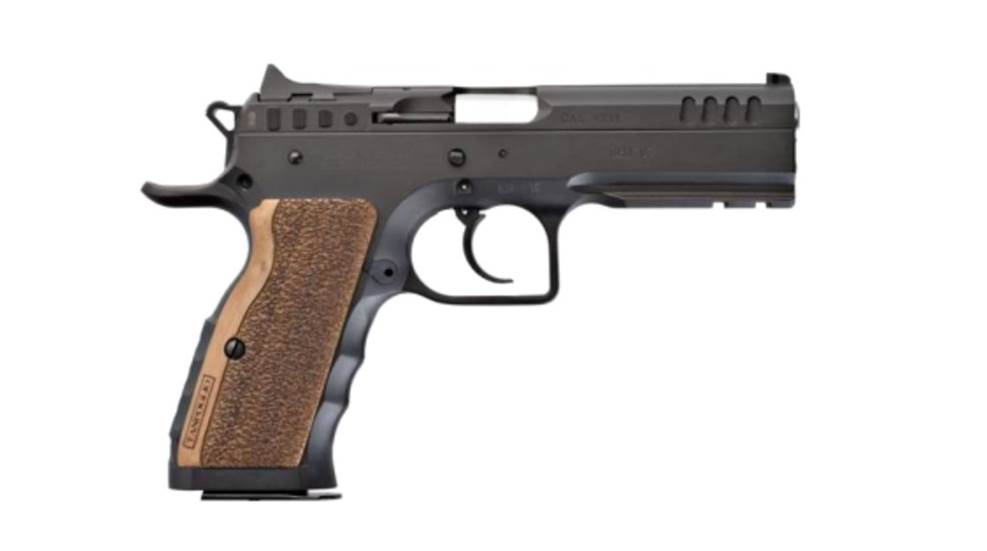 Imported exclusively by the Italian Firearms Group (IFG), the Defiant Stock I built by FT. Italia, was designed specifically for the Practical Shooting Production Division as well as IDPA SSP and ESP Classes. The Defiant Stock I gives new shooters the tool needed to jump right into competition shooting, while giving longtime competitors the ability compete in other divisions with stringent handgun requirements.
However, the design of the IFG Defiant Stock I doesn't limit the gun to just competition use. Thanks to its versatile design, this semi-auto handgun could be employed in a range of uses, ranging from personal to professional. A 10 mm model even makes this design a possible option for handgun hunters.
The Defiant Stock I is based on the famous CZ-75, the Czech semi-auto that's inspired countless other designs and clones. Critically, the Defiant Stock I relies on one important element of the CZ-75 design: its internal slide rails. What distinguishes this design is the slide rails located on the inside of the frame rather than the outside of the frame like many of today's semi-automatic designs, most notably the 1911. The result of the internal-slide setup is a reliable workhorse system that keeps out dirt and debris better than external slides.
The IFG Defiant Stock I incorporates a traditionally rifled barrel, as well as a full-length railed dust cover for a better balance, and the pistol's available in both small- and large-frame variants. Also included are stippled walnut side panels, an extended beavertail and a checkered frame and backstrap. Serrations on the slide make for easy racking and unloading. A light or laser can be easily attached on the rail under the barrel as well. The rear sight is drift adjustable, and the rear notch is generously sized, making the front post easy to locate and center.
The Defiant Stock I operates in single and double action, and is available in 9mm, .38 Super, .40 S&W, 10mm and .45 ACP.
IFG Defiant Stock I Specifications
Frame: Steel
Slide: Steel with Black Finishing
Barrel Length: 4.5 inches
Overall Length: 8.4 inches Large Frame / 8.3 inches Small Frame
Weight: 42 ounces
Small Frame Capacity: 9mm - 16; .40 S&W - 12
Large Frame Capacity: 9mm - 17; .40 S&W - 14; .38 Super - 17; 10mm Auto - 13; .45 ACP - 10
Sights: Front Fixed/Rear Adjustable
Action: Single/Double
Safety: Standard Frame Mounted
MSRP: $1,225.00