by
Shooting Illustrated Staff
posted on December 18, 2018
Support NRA Shooting Illustrated
DONATE
To build an AR-style pistol that met consumer demands,
Foxtrot Mike Products
teamed up with
Primary Arms
to offer the new FM9 pistol exclusively through the latter's web store. Designed as a lightweight, compact option to fill a variety of roles in home defense or sport shooting, the Foxtrot Mike Products FM9 is built with a billet lower receiver that accepts all Glock-pattern magazines.
"FM Products was formed to produce innovative, high-quality firearm products that are within the reach of all consumers," said Paul Noonan, VP of operations. "We use cutting-edge materials, combined with trend-setting manufacturing techniques, to produce feature-rich products."


This focus on feature-rich products can be seen in the construction of the FM9, which incorporates a number of elements not often seen in other AR-pattern pistols. Rather than adding in a charging handle in the standard location at the rear of the upper receiver, FM Products developed its specially outfitted upper. This design is equipped with a patent-pending, para-style charging handle located near the front of the handguard, enabling users to load the gun without ever coming off the sights. The handle is non-reciprocating, so shooters can place a support hand far up near the front of the handguard without worrying about inducing a malfunction.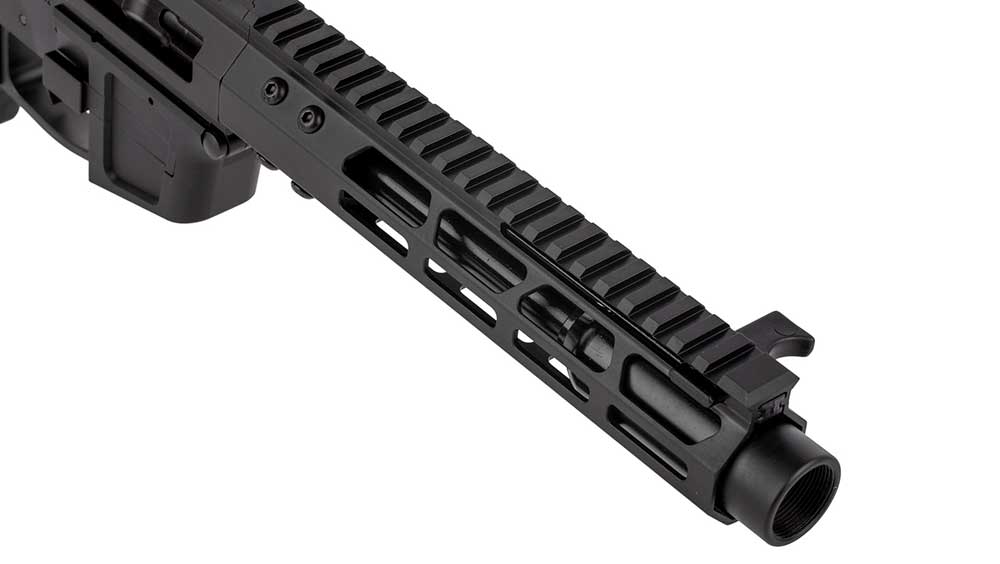 Each FM Products FM9 pistol is equipped with an ultra-light, match-grade barrel machined from 41V50 steel and treated with a salt-bath nitride finish. The barrel measures 7 inches long and is surrounded by an 8.5-inch, free-float handguard complete with M-Lok accessory-attachment slots. Poking from the front end of the handguard and secured to the threaded muzzle on the barrel is a blast diffuser, which helps to mitigate expanding gases emerging from the muzzle. This prevents noise and escaping gas from being directed back toward the shooter, allowing for a more-comfortable shooting experience.
Another proprietary feature found on the FM9 is the last-round bolt hold-open, allowing users to quickly determine when they've fired their last round and enables a quick reload without having to manually re-rack the gun. The pistol is equipped with a 4340 bolt-carrier group, along with an S7 extractor and a corrosion-resistant, chrome-plated firing pin. The BCG includes a removable weight, allowing users to tune their gun's operation.
Other features found on the FM Products FM9 pistol include a standard aluminum pistol-buffer tube, compatible with all PDW pistol-stabilizing braces and stocks, for those who plan to develop the FM9 into an NFA-regulated short-barrel rifle. The gun is equipped with a mil-spec, Melonite-treated trigger and ships with a 6.5-ounce heavy buffer and a .308-carbine recoil spring.
The suggested retail price on the FM Products FM9 pistol, available only from Primary Arms, is $549.99.