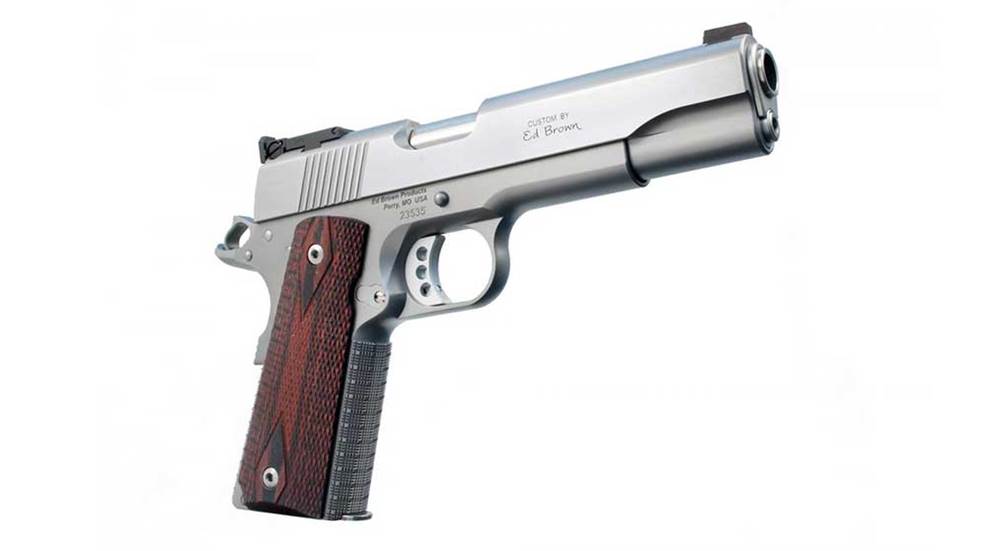 With more than 50 years' experience in building custom 1911 pistols for defensive use,
Ed Brown
offers a range of different models, from unique, tactical guns with all the latest features to classic, traditional designs that focus on precision fit and finish. The flagship of the company's Exhibition line of guns is the Ed Brown Classic Custom, and the company updated this sleek model with new features for 2018.
"The Classic Custom is the top of the line for anyone who enjoys a traditional, custom 1911," said John May, Ed Brown sales and marketing director. "We do it better than the rest by controlling the quality of every part, manufactured in-house to the hand fitting and finishing. We've been leading the way in 1911 industry for over 50 years."


Each gun offered in the company's Exhibition Series is a chance for Ed Brown's group of master gunsmiths to practice their art to the highest levels possible, and the Ed Brown 2018 Classic Custom 1911 is no exception. At first glance, the gun appears to provide a clean, traditional, Government-profile look, but the gun's simple appearance belies the care and effort that went into its construction. Each pistol is hand-fit and finished and includes skip-line checkering on the front strap and mainspring housing. The rear face of the slide is machined with 50 LPI serrations that match the serrations found on the rear face of the adjustable target sights. A gold-bead front dot provides a clear, bright aiming point for quick target acquisition. On the frame, users will find a pair of
VZ Grips
black-cherry grips.
One of the highlights on the Ed Brown 2018 Classic Custom is the mirror-finished slide, the result of meticulous hand-polishing. The mirror-bright slide contrasts with the glass-bead finished frame. At the top of the slide, a grooved finish guides a shooter's eye toward the front sight, providing a seamless, interruption-free sight picture as the gun comes onto target from the holster. Other features found on the Classic Custom include an oversized magazine catch with a serrated release surface complete with 40 LPI checkering. The gun is also built with a two-piece guide rod that allows for easy disassembly and promotes seamless cycling.
Each Ed Brown 2018 Classic Custom 1911 measures 8.75 inches in overall length, 5.75 inches high and weighs 40 ounces with an empty magazine installed. Options are available in .45 ACP, .38 Super and 9 mm. The suggested retail price on the gun starts at $3,695.