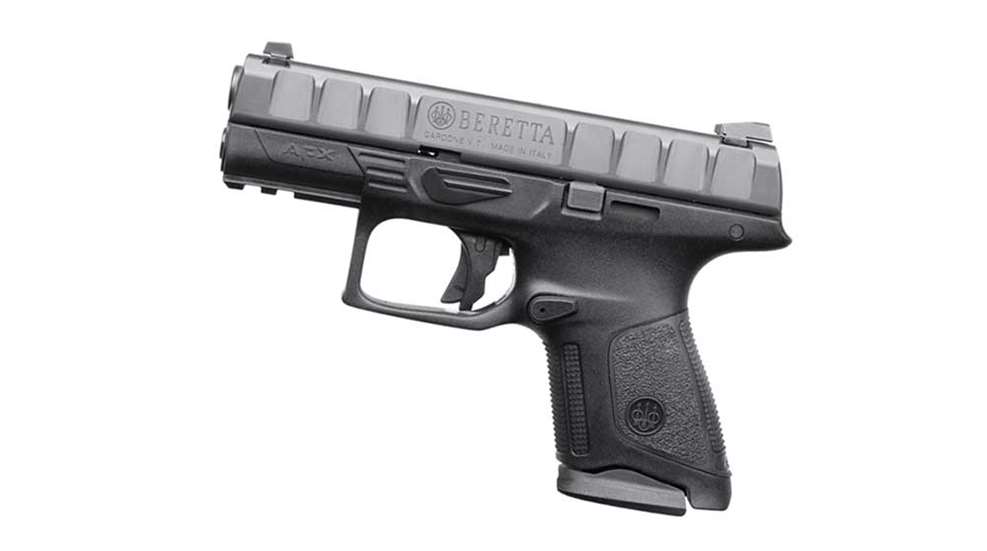 Building on the success of the company's first-ever striker-fired handgun, the APX,
Beretta
expanded its product lineup in 2018 with the launch of the all-new Beretta APX Compact. This shortened and lightened platform is purpose-built to provide consumers with a ready-made concealed carry gun that incorporates all the highlights of the company's APX design.
Like the company's original duty-size model, the APX Compact is built with signature slide serrations that provide a solid gripping point when performing slide manipulations. The shortened frame features tactile stippling similar to that found on the larger model in order to better anchor the pistol in a user's hand. The gun is equipped with a short-reset trigger that breaks at 6 pounds and provides shooters with an audible, tactile reset point for faster follow-up shots. Stand-out elements of the design include a low bore axis designed to mitigate felt recoil, an ambidextrous slide catch and reversible magazine release.
Available in 9 mm and .40 S&W, the Beretta APX Compact features a 13-round flush-fit magazine capacity in 9 mm and a 10-round capacity in .40 S&W. The gun is also compatible with magazines designed for use in the full-size variants. The Compact is equipped with a 3.7-inch barrel and measures in at an overall length and height of 6.97 inches and 4.8 inches, respectively. The width of the pistol measures 1.3 inches, and the gun offers a sight radius of 5.7 inches. Unloaded, the APX Compact weighs in at 26.4 ounces when chambered in 9 mm and 27.2 ounces when chambered in .40 S&W.
Each pistol ships with three interchangeable backstraps in small, medium and large sizes and, like the company's full-size variant, the Compact includes a removable chassis that can be placed into different-colored grip-frame housings that are sold separately. Grip frames are available in flat dark earth, wolf grey, black and olive drab colors. One of the other unique features of the Beretta APX Compact is the absence of finger grooves on the front strap of the pistol frame. This differs from the design of the full-size variant, which features shallow grooving to facilitate finger placement.
The suggested retail price on the Beretta APX Compact is $575.