by
posted on February 13, 2017
Support NRA Shooting Illustrated
DONATE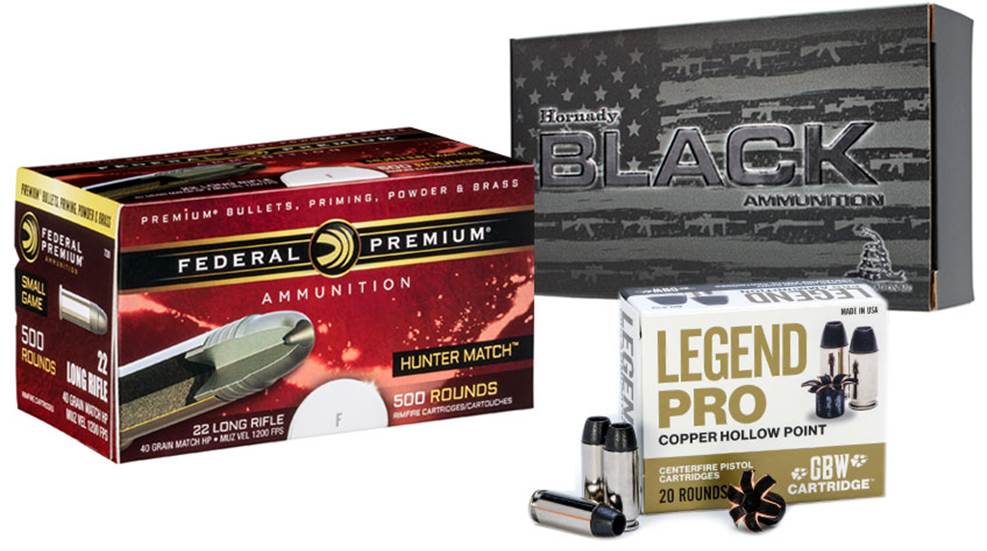 When it comes to firearms, I'm not so sure the first few years of this millennium have seen enough noteworthy advancements to assume the next 100 years will be any better than the last. With ammunition, however, it's a different story. We used to live in a world where ammunition was generalized, limited to only the popular cartridges. Handloading also used to be a necessity if you wanted specialization. Today, factory ammunition options and their diversity are expanding at a rapid pace. To prove my point, just look at some of the new and varied offerings for 2017.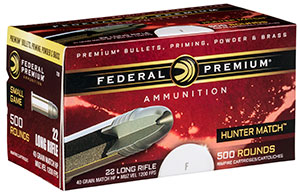 Federal
A noteworthy addition to Federal's line of defensive-handgun ammunition is the .38 Spl. Micro HST load. It utilizes a 135-grain HST bullet that has been engineered to provide consistent expansion, optimum penetration and superior terminal performance. It is also optimized for efficiency and accuracy in subcompact handguns. Another interesting load from Federal is its Match Hunter .22 LR ammo. Its hollow-point lead bullet has been tuned for optimum penetration and expansion out to 100 yards, and its high velocity delivers a flat trajectory. This load also utilizes nickel-plated cases to enhance reliability. Though not really a personal-protection load, if you're defending yourself against rabid vermin like skunks, raccoons and the like, it should be ideal.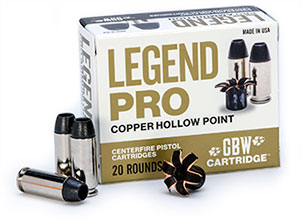 ---
GBW
This is a relatively new company out of Venice, FL, offering a full line of ammunition loaded with all-copper, hollow-point bullets. For defensive handguns, you'll find all the usual suspects and even some loads for the wrist-cracking big bores like the .45 Colt, .454 Casull and the .460 and .500 S&W Mag. The company even offers rifle loads for the .223 Rem., 300 BLK. and .308 Win. If you're a fan of mono-metal bullets that retain 100 percent of their weight, this stuff should be right at home in your magazine.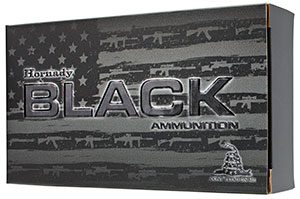 ---
Hornady
New from Hornady for 2017 is a complete line of ammunition called "Black." This stuff is intended for firearms often referred to as "tactical." Unlike most Hornady ammo lines, the Black line is not bullet specific; it's more platform specific. For example, the 12-gauge Black load is 00 Buck, the .300 BLK. and 6.5 Grendel Black loads are topped with ELD Match bullets, and the .450 Bushmaster load utilizes a 250-grain MonoFlex bullet. The line also includes multiple .223 Rem./5.56 NATO and .308 Win. loads, and even a 5.45x39 mm offering.

Maybe the most interesting Black load from Hornady is the 5.56 NATO, 75-grain Interlock, Heavy Duty SBR (short-barrel rifle) load. Engineered to work specifically with AR platforms with barrels shorter than 16 inches, this load meets the FBI's accuracy standard, provides less recoil while shooting suppressed and offers Critical Duty-like, barrier-defeating terminal performance. If your barrel is short, check back here next month for a full review of this interesting and new tactical munition.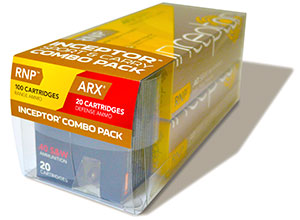 ---
PolyCase
By utilizing a unique proprietary injection-molding process, PolyCase has been able to offer uniquely concocted projectiles for its ammunition. PolyCase has vastly expanded its line to include new cartridges like the .458 SOCOM and .50 Beowulf. Furthermore, the company's RNP line of ammunition is intended for sport/utility use and features injection-molded, copper-polymer bullets, loaded to stringent specifications, in high-quality brass cases.

PolyCase RNP ammo is frangible, range-compliant and designed for use against hardened-steel targets. What may really appeal to you is the new PolyCase Sport/Utility Pack for defensive handguns. It contains 100 rounds of RNP ammo and either 20 or 25 rounds of ARX defensive ammo, all wrapped up in a neat little bundle. It is practice ammo and carry ammo in one neat package.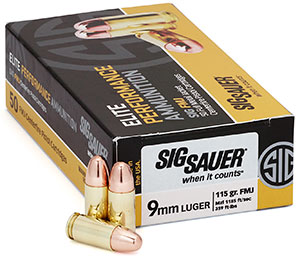 ---
SIG Sauer
The shooting world was sort of stunned when SIG Sauer announced it would be offering ammo, but they have not been disappointed as the SIG ammo I've tested has been deserving of the brand. For 2017, SIG Sauer has added several new loads. First are the 115- and 124-grain 9 mm FMJ loads, designed to approximate the recoil and ballistics of SIG's corresponding 9 mm V-Crown defensive offerings. The other new SIG Sauer loads are for rifles. The company has an open-tipped match (OTM) load for the .223 Rem. that utilizes a 77-grain Sierra bullet, and hunting loads for the .223 Rem. and .308 Win.

However, the new SIG Sauer load I consider the most exciting and innovative is the subsonic, expanding load for the .300 BLK. I was tipped off on this load last year and was anxious to try it, but it never made it out of the gate. Blackout fans should be excited about it too because it had been designed for the AR-15 platform, utilizes a 220-grain V-Crown bullet and, most importantly, because it has been engineered to expand at subsonic velocities, retain its weight, and penetrate deep. Though offered as a hunting round, with a 1,000 fps muzzle velocity and 488 ft.-lbs. of muzzle energy, the tactical applications for this ammunition cannot be denied.

Of course, that's not all there is that's new in the world of ammunition. Expect to see more here in the coming months. Not only will we report on the new and the cool, we'll continue to conduct the in-depth ammunition testing and evaluations you've come to expect from Shooting Illustrated.