by
posted on March 29, 2016
Support NRA Shooting Illustrated
DONATE
I have this recurring dream where I need a gun to sort out some dire emergency. In these dreams, I can never find the correct ammo for the gun my psyche has armed me with. I'll have a 9 mm pistol and a handful of .45 ACP ammo. As distressing as my ammunition dreams can be, I've never had one where I felt the ammo I had was too affordable—I just needed ammo that would fit the gun, go bang, hit the target and ensure the firearm properly functions. In life or dreams, ammunition meeting those requirements will suffice for just about all of the shooting we do.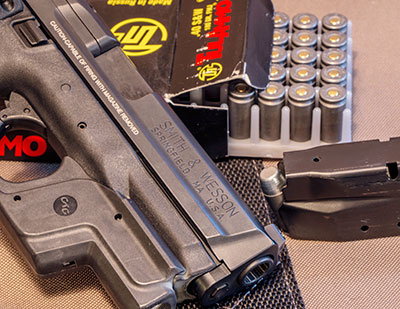 Ammunition is like fuel for a car; all of it will get you to the grocery store. If you're running a race there's a fuel for that, just like there's a better fuel for maximizing your miles per gallon. With guns, you don't always need racing fuel—sometimes you just want to get the most bang for the buck. Fortunately, there are numerous options for affordable, grocery-store ammo.
Most of the factory-fresh and affordable ammunition comes from out of country, and most of it is chambered for American, European or Russian military cartridges. Prices are tempting, but so can be the cost of American remanufactured ammunition like you find bulk-packed at gun shows. When I took over as the firearms instructor at my hometown police department, we had an incident or two with remanufactured ammo—which was discount reloads. I managed to convince the chief we needed to be shooting new ammo from a reputable source. Now, 20-plus years later, there are a lot more options from which to choose. Here are some worth looking at.
Other Options
American ammunition manufacturers have realized they're losing ground to imports and have stepped up their game in a number of ways. Hornady offers a line of steel-cased match ammo that retails for between about $0.42 and $0.80 per round in .223 Rem., 7.62x39 mm and .308 Win. The steel cases for this ammo are provided by—guess who?—TulAmmo. Hornady also offers 50-count package deals in .223 Rem. to various distributors that will retail for as little as $0.52 per round. hornady.com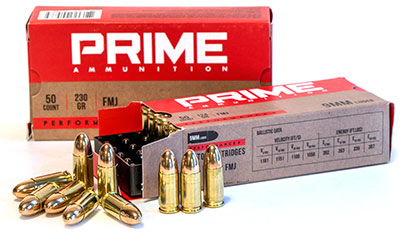 Remington is also in the fight, and with some shopping you can find bulk-packed .223 Rem. UMC loads for a shade more than $0.50 per round. For 2016, Remington is introducing a 300-round Freedom Bucket of UMC .223 Rem. ammunition that should retail for around $145—that's American-manufactured ammunition, in brass, reloadable cases, for $0.49 every time you pull the trigger. remington.com
A new company called Prime Ammunition is offering high-end, yet still affordable ammunition. The company partnered with RUAG Ammotec, a Swiss company that is a prolific producer of military, hunting and sport-shooting ammunition. Prime is designed to American specifications, then engineered and manufactured in European facilities. It offers 9 mm ammo in reloadable brass cases for as little as $0.34 per round. Other options, like .40 S&W and .45 ACP, are a bit more expensive, but still reasonably affordable. primeammo.com
Winchester Ammunition is also in on this market with its new USA Forged line of steel-cased fodder. Available in 9 mm, it has a 115-grain brass-jacketed, lead-core projectile, a non-corrosive boxer primer and ships in 150-round boxes. MSRP is $32, which works out to about $0.21 per round.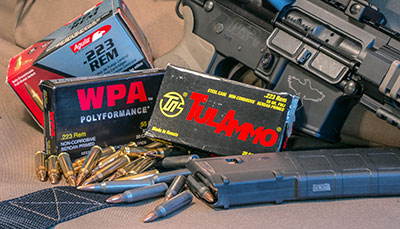 Range Ready?
I assembled a collection of ammunition from a variety of manufacturers known for producing budget ammo. Then I shot it, chronographed it and evaluated its precision and reliability. In all, I fired 800 rounds from six different manufacturers. Total cost for all this shooting was only $320. That works out to an average of $0.40 per round. ($0.30 per round for handgun loads and $0.54 per round for rifle loads.) 
The test involved seven different cartridges and as many firearms, and there was not a single malfunction of any kind. Granted, the rifle ammunition tested is not designed for long-range precision, but it is more than suitable for general off-hand practice at reasonable ranges. As far as the affordable handgun loads, they'll shoot better than you can and for training, plinking and even most competitions, they should be just fine.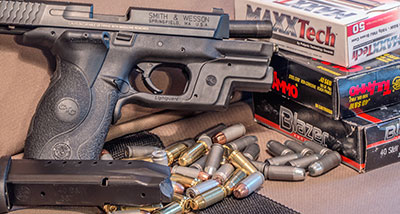 Though not definitive by any means, this test does suggest that affordable ammo is not a bad thing and steel-cased ammunition can be pretty darn reliable. When we need to shoot serious, we are all going to—or should—buy racing fuel, the good stuff. But, when it comes to practice, plinking and just having fun, there is no reason to go broke while pulling the trigger. There are two ways to keep from doing that.
You can save money by reloading, but you have to factor in equipment cost and the time it takes to produce the ammo. Not counting the cost of brass—which you should be reusing anyway—it will set you back about $170 to load 1,000 pistol cartridges and about twice that to load 1,000 rifle rounds. That's in the neighborhood of between $0.17 and $0.34 per round. For about twice that amount, you can secure affordable and reliable factory-loaded ammunition. The real advantage of affordable ammunition is the time you do not spend at the loading bench, and time is the only thing this world is not making any more of. 
---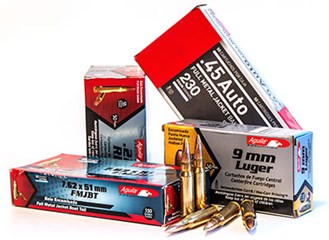 Aguila 
Aguila is the largest manufacturer of ammunition in Mexico and its products are distributed in the United States through Texas Armament & Technology in Houston, TX. Aguila's exports to the U.S. include an extensive line, even incorporating a diverse selection of rimfire loads. While it can often be purchased for less than American-made ammunition, Aguila is reasonably good stuff and is even manufactured in reloadable brass cases. aguilaammo.com

---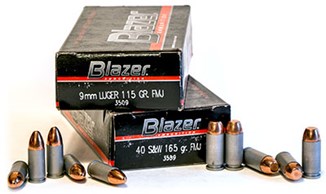 CCI Blazer
CCI ammunition is produced in the United States. The company is a subsidiary of Vista Outdoor, which owns Federal Premium, Speer, Blackhawk, Bushnell and many other brands. The differentiating feature of CCI's Blazer line of ammunition is the non-reloadable, aluminum cases it's loaded in. The Blazer line is broad and covers handgun cartridges from .22 LR to .45 Colt. CCI does offer a line of Blazer ammunition loaded in brass cases, but it is more expensive. cci-ammunition.com
---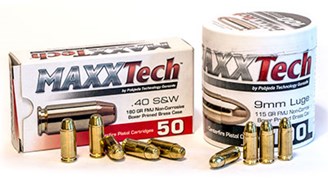 MaxxTech
MaxxTech Ammunition is made in Bosnia and Herzegovina by Pobjeda Technology, a 60-year-old company with a respected reputation in Europe, and has been an ISO 9001 company since 2000. This ammunition is imported by Eurosports LLC, located in Round Rock, TX. The company's U.S. product line is a bit ambiguous and seems to vary with availability. pobjeda-technology.com
---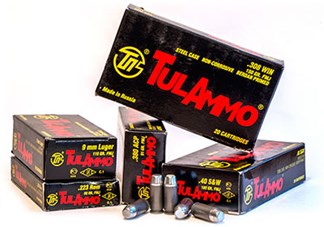 TulAmmo
TulAmmo USA is manufactured by Russia-based Tula Cartridge Works, which has been in operation since 1880. The company's American offices are located in and imported through, maybe not so coincidentally, Round Rock, TX, which puts its physical address just across Interstate 35 from Eurosports, the U.S. distributor of MaxxTech ammunition. TulAmmo offers non-corrosive, Berdan primed, steel-cased .380 ACP, 9 mm Makarov and Luger, .40 S&W, .45 ACP, .223 Rem., 5.45x39 mm, 7.62x39 mm, .308 Win. and 7.62x54 mm R ammunition. You may recognize this brand as a sponsor of light-heavyweight champ Sergey Kovalev. tulammousa.com
---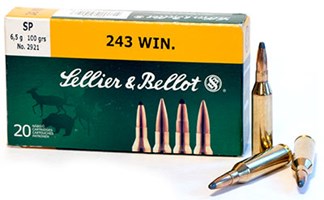 Sellier & Bellot
This European-based company has been around since 1825 and is part of the larger CBC ammunition conglomerate, which includes Magtech Ammunition. CBC has numerous manufacturing plants and distribution facilities in Brazil, the Czech Republic, Germany and the U.S. Sellier & Bellot claims to be the oldest operating ammunition company in the world, and it offers a wide selection of handgun loads, with prices ranging from about $0.26 to $0.60 per shot. The company's rifle ammunition line is reasonably extensive and includes some obscure cartridges like .25-35 Win., .303 British and even a few oddities like the 9.3x72 mm R. Though not generally budget priced, you can still often find Sellier & Bellot loads for a bargain. sellierbellot.us
---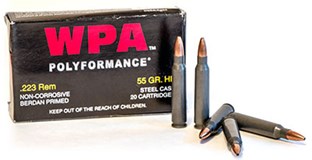 Wolf
According to TULAmmo, it no longer "support[s] or produce[s] the Wolf brands of ammunition." Though not completely clear, at one time some of the ammunition offered under the Wolf brand was indeed manufactured by Tula in Russia. Wolf is simply a brand used in America for the importation of steel-cased, Berdan-primed ammunition, produced at various locations in former communist-bloc countries. Generally, this ammo is loaded in steel cases with a poly coating, though sometimes you can also find lacquer-coated, steel-cased Wolf ammo. Its price makes it very popular and often hard to find—.223 Rem. Wolf ammo can generally be picked up for about $0.30 to $0.40 per shot, and other offerings include the usual suspects such as 7.62x39 mm and 9 mm. wolfammo.com