Your defensive handgun most likely has night sights available for it. It makes sense: in low-light conditions, being able to quickly access the sights on your sidearm is a crucial edge in survival, and the glowing dots make finding your pistol's sights simple in any sort of diminished light situation. Why not apply that same thinking to your defensive long arm?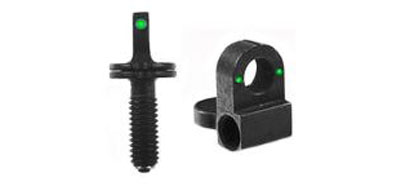 Meprolight's Sure Shot tritium night sights for the AR-15-pattern rifle install as a direct, drop-in replacement for the existing standard-issue sights on the rifle. The front sight is a simple screw-in installation, complete with replacement detent (slightly longer than original). The rear sight replaces the sight itself but uses the remaining hardware and requires removal of the existing sight (wear eye protection and watch where the windage drum spring and detente go when removed!).
Once installed, your AR-15's iron sights will be much easier to pick up in low light condition while maintaining effectiveness in full light. While a defensive AR-15 should have a light mounted for proper identification of targets in low-light conditions, that light won't illuminate your sights. Having a powered optic is one way to maintain sights in darkness, but batteries have a nasty tendency to fail at the worst possible time. With self-powered sights, there's a light at the end of your barrel.
MSRP: $114.90.