To honor the American hero that looked to their gun for safety, Springfield Armory announces the Legend Series 1911 TRP Pistol. In cooperation with the Chris Kyle Frog Foundation (CKFF) and the family of Chris Kyle, Springfield aims to provide direct support to the foundation and therefore support those who serve and their families.
"One of the biggest benefits of doing this [auction] with Springfield Armory is that part of the proceeds will go to the Chris Kyle Frog Foundation," said Taya Kyle, wife of Chris. "The mission of the foundation is to honor God, country and family by serving those who serve. To us, that represents the marriages and family life of our law enforcement, EMS and military communities."
As for the firearm chosen for the Legend Series, there's no ambiguity in why it is the TRP 1911.
"In 2004, I brought over a Springfield TRP Operator, which used a .45 caliber round," Chris Kyle wrote in his New York Times bestseller American Sniper. "It had a 1911 body style, with custom grips and a rail system that let me add a light and laser combo. Black, it had a bull barrel and was an excellent gun—until it took a frag for me in Fallujah. I was actually able to get it repaired—those Springfields are tough."
The Legend Series will feature 1,000 1911 TRP pistols, each with its own unique serial number, ranging from CK0001 to CK1000, laser engraved on the gun to identify its placement in the series. Every pistol will come accompanied with a mahogany presentation case, a copy of American Sniper signed by Taya Kyle, a .999 pure silver Chris Kyle limited edition Challenge Coin and a certificate of authenticity.
The very first pistol in the Legend Series, CK0001, was gifted to Taya Kyle at the 2016 SHOT Show this past January. Shortly after receiving the CK0001, Taya announced she would be auctioning it off at NRA Annual Meetings and Exhibits, which is coming up later this month. All proceeds from the auction will directly benefit the CKFF.
An online auction for the CK0001 Legend Series 1911 TRP Pistol has already opened and will end at 3:00 pm on May 21st. NRA Annual Meetings and Exhibits attendees can stop by the Springfield Armory booth, #5823 that same day at 2:00 pm, where they can speak to a Springfield representative to collect a bidding number and paddle. The live auction will then commence at 2:45 pm.
Springfield Armory CEO Dennis Reese said, "We're very pleased to support Taya and the Frog Foundation. When on deployment, Chris Kyle carried a Springfield Armor 1911 TRP Operator pistol, so we felt it appropriate to make this special edition pistol to honor his memory and support the ongoing work of the foundation. Much like the American hero Chris Kyle, this pistol is truly one-of-a-kind."
Springfield cut no corners in making the commemorative Legend Series 1911 TRP Pistols. They are manufactured with five-inch stainless steel match grade barrel, low-profile and fully adjustable 3-dot tritium sights, a one-piece National Match with full length guide rod recoil system and a five-inch stainless steel bull barrel. The Legend Series is constructed with black and gray G10 grips engraved with an American flag and the slide and frame are made of forged carbon steel, with the slide colored in black nitrite. The .45 ACP caliber pistol is 5.7 inches in height, 8.6 inches in length and weighs 45 ounces with an empty magazine. Each pistol ships with two seven-round stainless steel magazines with slam pads.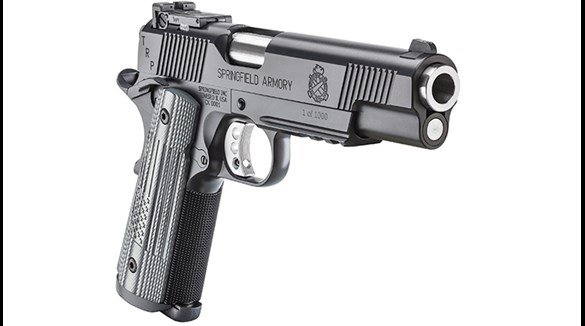 Be sure to look for the Limited Edition Legend Series 1911 TRP Pistols as you welcome the month of June. As NRA Annual Meetings comes to an end on May 22nd, shipments of the commemorative pistols will begin to arrive at firearms dealers throughout the country.