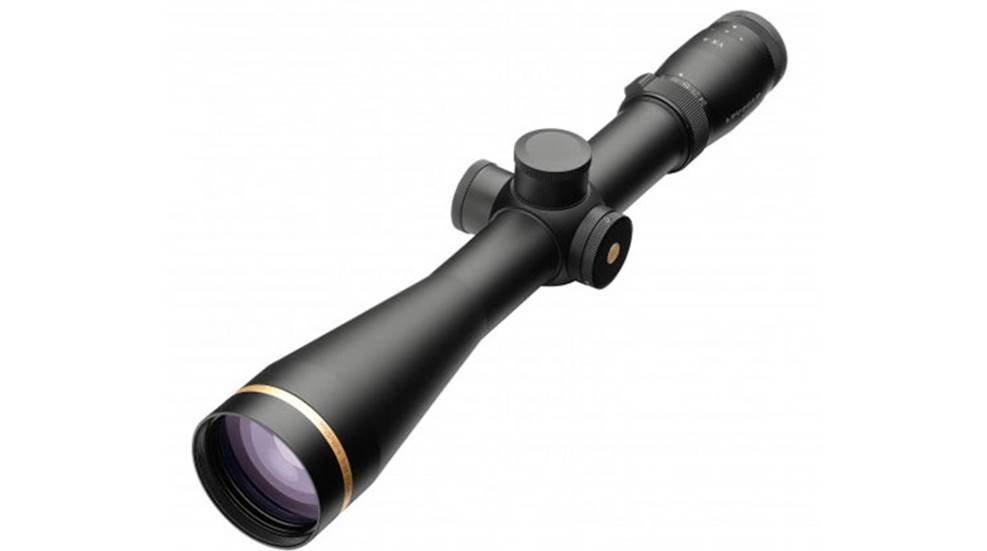 Leupold added 3-18X and 4-24X magnification to its VX-6 scopes this year, and I tested the new 4-24x52 mm riflescope with the company's TMOA reticle. This reticle features tick marks in 1-MOA increments on the vertical and horizontal crosshairs, which allows for wind-drift and bullet-drop compensation. It's a scope built with the long-distance shooter in mind. The VX-6 was mated to a Savage Model 10 in .308 Win. with a 20 inch heavy barrel.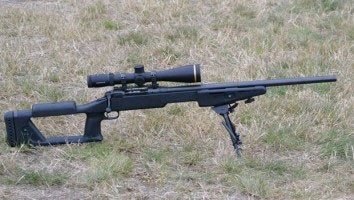 The sight-in procedure started at 25 yards. It took only four shots total to make sure it was on paper and then to zero the crosshairs. Adjustments were simple; the turrets have a good, solid feel that allows each .25-MOA adjustment click to be "felt" as well as heard. Aside from the math to convert MOA at 25 yards to clicks, adjusting the scope was simple and painless. I tested the scope at the lowest power (4X) for this purpose, and 4X magnification made resolving a target at 25 yards so easy it was almost disappointing.
I then moved the rifle out to the 100 yard range and settled in behind my Savage to continue sighting it in. It's a credit to the Leupold VX-6 that I got ready to shoot and then realized that the scope was still set at the lowest magnification setting, 4X. The glass is so crisp that even at the lowest power I was still able to handily resolve the 100 yard target. For the 100 yard shooting, the VX-6 was dialed to the 10X setting. I took a handful of shots to get the rifle centered. Again, adjustments were simple and I didn't even bother taking hearing protection off—the clicks are that easy to feel. Once the rifle was zeroed at 100 yards, I moved to the open range.
At 200 yards it again only required a quick and easy adjustment to match point-of-aim (POA) to point-of-impact (POI). At first, the POI was exactly where I figured it would be—about 6 inches low, but dead-center. After a few back-of-the-envelope calculations, I adjusted the zero to 200 yards, and again it was spot-on. Using factory ammunition, I was able to achieve sub-MOA groups at this distance. The VX-6 is so crisp and clear, I was able to use it as a spotting scope. At 200 yards, I was able to resolve where the .223 Rem. rounds were impacting on my shooting buddy's target. That's pretty impressive.
Moving back to 300 yards, the VX-6 was still more than capable of keeping up with the distance. Rather than re-adjust the scope for the new distance, I made use of the markings on the TMOA reticle to properly adjust my POA, and still managed to get 1-MOA groups in the X-ring. At 300 yards, it was still possible to see where .308 Win. rounds were impacting, although any farther out a more powerful spotting scope would be needed—at least for these old eyes.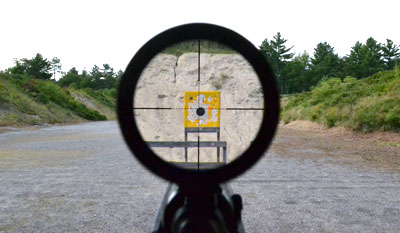 That's not to say the VX-6 wouldn't work at greater distances—with a spotter, even my aging eyes could resolve the target easily at 500 yards. Younger eyes could probably use the full effect of the 24X magnification out at even greater ranges. The way the windage and elevation settings are set up, you can dial-in the scope at a given range, then set the adjustable scales on the dials to zero. You can then adjust the scope for another distance, and when done shooting at that distance, return windage and elevation to the previous zero.
With an MSRP of $1,749, the VX-6 is obviously in a class of optics reserved for those who take their long distance shooting seriously. For that task, it is supremely well-suited—I have been guilty of choosing optics based only on price in the past, and the old saying is 100 percent true: you really do get what you pay for. The VX-6 gives you a world-class riflescope that will serve your long-distance shooting needs very well, from a manufacturer legendary for standing behind its products.
The bottom line on the VX-6 is, if you are a serious long-distance target shooter, it is a serious scope for such work. Even in my less-than-expert hands, I was able to achieve sub-MOA groups at 200 yards. In more skilled hands, those groups could easily be reproduced at twice the distance. For a crisp, clear sight picture as far out as your biological optics can resolve, the VX-6 is the definitive answer to the question of what type of quality optic should complement a long-range tactical rifle.
Specifications
Manufacturer: Leupold; (800) 538-7653, leupold.com
Magnification: 4X-24X
Objective Lens Diameter: 52 mm
Zoom Ratio: 6:1
Reticle: TMOA
Adjustments: .25-MOA windage and elevation
Field of View at 100 yards: 28 feet (4X); 5 feet (24X)
Eye Relief: 3.72 inches
Tube Diameter: 34 mm
Length: 14.3 inches
Weight:  23.4 ounces
MSRP: $1,749.99