Setting up a new scope on an unfamiliar rifle can often be a frustrating task. It's much easier when there's a handy rest and a target at known distance. It's even simpler when it's a Leupold optic. For the Mark AR 1.5-4x20 mm scope with Firedot-G SPR reticle, it took only a few minutes to dial the scope in at 50 yards.
The first set of shots was high and left. Glancing at the turrets of the Mark AR riflescope, I took note of the "1 click = .1 mil" admonition and dialed in my corrections. Another set of shots confirmed what I feared: I stink at math, especially converting to mils when used to MOA. Correcting for my corrections, however, put the third set of shots squarely in the center ring of the 2-inch circle of my target. A second set of shots on another target confirmed I had, indeed, gotten things right.
Finishing up the box of ammunition, I ran a quick "box drill": two rounds in the center, then I adjusted 1 mil up, fired two more shots that landed appropriately higher. Another 10 clicks on windage and the next set landed to the right of the high rounds; then 10 clicks down. Finishing up with one last 1-mil adjustment left brought the last pair of shots within spitting distance of the first set—this scope was ready for action with minimal fuss.
At 50 yards, the Mark AR set at 4X was more than sufficient to resolve the 3-inch targets used for determining accuracy for scope testing, although my eyesight isn't as sharp as it used to be and I needed greater magnification to identify hits at that distance. Moving the target out to 100 yards for the rifle's accuracy testing and the limitations of a 4X scope, at least for older eyes, became evident. That's no knock at the scope, by any means—"younger" eyes should have no trouble resolving hits at that distance through the highest power. I'd wager this scope would easily be good for steel targets out to 200 yards, even for folks with fading eyesight like mine.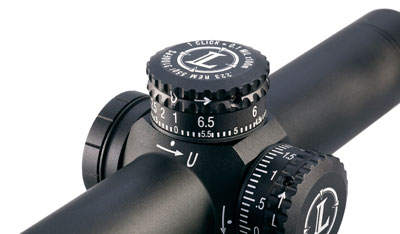 It was the lowest setting, though, that really allowed this scope to shine. I dropped the magnification to the 1.5X setting and advanced the shooting line to about 25 meters and proceeded to rain fire and brimstone (in 6.8 Rem. SPC form) upon numerous targets of varying sizes and distances. With the scope at the lowest setting, I could leave both eyes open and pick out each bullseye quickly, and running the rifle through multiple targets quickly was (almost) disappointingly easy. If one were looking for a quality scope for competing in 3-gun, the Mark AR would be an excellent choice.
Leupold's Mark AR series is uncomplicated yet unyielding. The quality is everything you expect from a world-class outfit like Leupold, and the scope comes with the company's lifetime warranty. There might be less-expensive riflescopes out there for entry into 3-gun competition, but few bring the clarity, durability or ease of operation Leupold offers in the Mark AR series.
Specifications
Manufacturer: Leupold; (800) 538-7653
Magnification: 1.5-4X
Objective Lens Diameter: 20 mm
Reticle: Firedot-G SPR
Adjustability: 37 mil windage and elevation in .1-mil increments
Field of View: 73 feet at 100 yards (1.5X), 29.3 feet at 100 yards (4X)
Eye Relief: 4.1 inches (1.5X), 3.7 inches (4X)
Length: 9.25 inches
Weight: 9.6 ounces
Finish: Matte black
Accessories: Manual
MSRP: $564.99