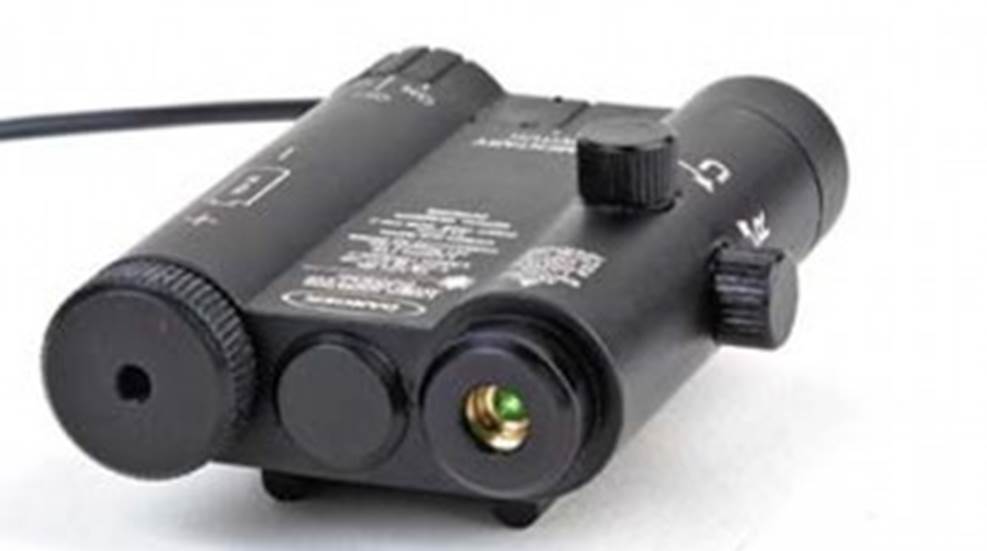 Green lasers are all the rage these days. They're amazingly bright, and the human eye picks up green far quicker than red. The one disadvantage is green lasers eat up battery life at an extremely fast rate because of the increased power consumption required to generate green wavelengths of light. At least that's the layman's version of the very complicated science.
LaserLyte's Kryptonyte Gun Sight K-15 is something of an anomaly for a stand-alone laser sight. With a length of 3 inches and a weight of 5.4 ounces, it is too large and heavy to mount on a handgun. As the K-15 designation suggests, it's meant for ARs, where it fits perfectly on any railed fore-end. Its shape strongly resembles the AN/PEQ-2 infrared laser commonly found on M4 and M16 variants used by our troops in Afghanistan and Iraq, so mounting one atop your AR will not only add a useful aiming tool, but also make your modern sporting rifle look cool.
The K-15 has a three-position switch, with stops for "on," "off" and "MOM." That last stop is not a suggestion for when the in-laws come to visit, but rather the position for using the included 2-inch, ultra-thin paddle that acts as a momentary switch and can be mounted in a comfortable position for easy access. An advantage of this system is the laser can function with or without the paddle, which plugs into the rear of the unit.
Adjustments are the system's only weakness. Clearly marked and conveniently located, knurled knobs protruding from the laser diode housing provide a means to adjust windage and elevation. The knobs lack any sort of tactile or audible click, and if you're not careful, they can be fully unscrewed and removed during adjustment. They do, however, require substantial effort to turn, so you're unlikely to bump them out of alignment. Plus, you shouldn't be worried about sighting-in your laser in the midst of a defensive scenario. Take care of the necessary adjustments at the range, and it's doubtful you'll have any problems in the field.
Power for the K-15 comes from a single, 3-volt lithium CR-123A battery housed in a compartment at the front of the unit, on the opposite side from the laser aperture. It gives the K-15 six hours of run time, markedly higher than most other green lasers on the market, but still quite a bit less than your average red laser.
But why go green? Well, in my testing, the K-15's laser was far brighter than LaserLyte's V2 compact red laser module. It could be picked up on a target 30 yards away in broad daylight, while the red laser was very hard to see until the light began to fade. If you plan to use the K-15 as part of your home-defense system, it adds versatility by being useful in any light condition. While we assume a criminal attack will occur only at night, the reality is such attacks can and do happen during the day. What's more, if you have bright lights on inside your home, or turn a light on to investigate a strange bump in the night, the K-15's green laser will be quicker and easier to locate than any red laser.