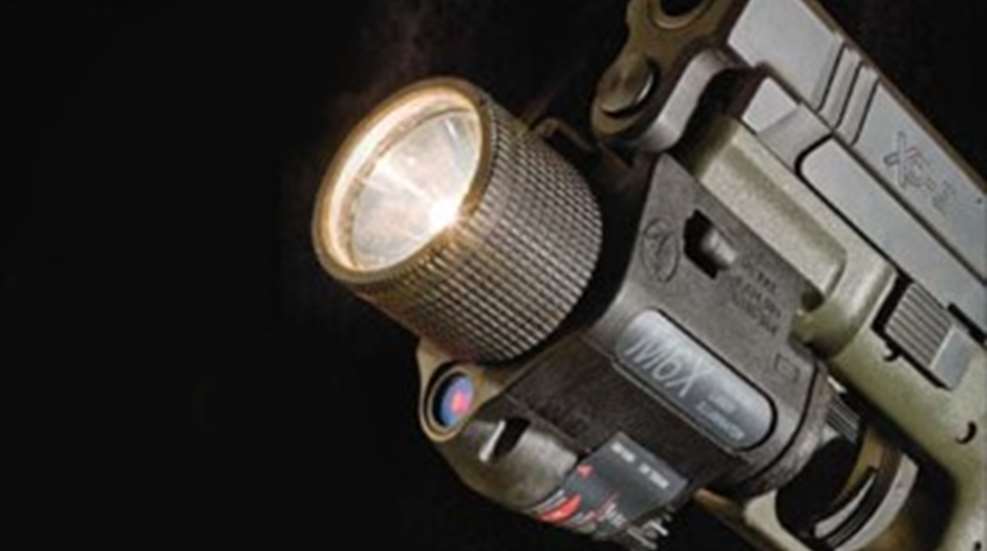 Major auto manufacturers first sponsored race teams to determine if parts on their stock vehicles could be made more reliable or perform better. In the firearm industry, companies like Insight Technology rely upon input from the law enforcement and military test tracks. If it can function properly and survive in the hands of those who go into harm's way to defend democracy and protect and serve, then it'll thrive the personal-defense market. The company's M6X Tactical Laser Illuminator is one of the products that developed from those grueling frontline tests.
The M6X Tactical Laser Illuminator is a handgun-mounted unit that has both a bright, target-illuminating white light and a laser that projects a red dot on the point of aim. With more and more of today's sophisticated electronic battle gear being rail mounted, a single unit with both systems is a big advantage. At only 3.6x1.6x2.2 inches, in a personal-defense situation it also minimizes the chances the pistol will get hung up on something at the worst possible moment.
Total weight is just 5.3 ounces with both 3-volt lithium batteries installed. With a fresh pair of batteries the unit can operate continuously for more than 60 minutes.
It slips right onto railed handguns in seconds. To prevent the laser from wandering off its point of aim, a spring-loaded lock bar holds the M6X firmly in place. The company also offers an optional Rail Grabber that semi-permanently locks the unit in place. There was no discernable side-to-side play on the mounted test unit, although it would travel backward 1⁄32 inch on my Springfield XD if heavy pressure was applied.
Windage and elevation adjustment are accomplished by a pair of recessed screws on the bottom and side of the unit. The screws are well out of the way and turning them takes some effort. Adjustment requires a special tool that's small enough to disappear in a week were it not for the fact that it stores in the front of the M6X.
I've used the M6X a variety of times, and I've never witnessed the laser come loose or suddenly start migrating. There's also little argument that a laser roaming around the house has to be as much a deterrent to a perpetrator as the sound of a shotgun's slide being racked. If I do have a complaint though, it would be the inability to see the laser in daylight. Even at 10 yards in bright sunlight, it was invisible on everything but highly reflective surfaces. At all distances in the house, even on a sunny day, it was very visible.
Activating the unit is fast. An ambidextrous rocker switch rests near the front of the trigger guard, and you simply push counterclockwise for momentary lighting or clockwise for continuous operation. The controls don't interfere with operation, but large and easy enough to find for gloved operation.
A mode selector switch on the back of the M6X allows you to turn the unit completely off—so batteries don't die, even if the rocker is accidentally engaged during storage or transport. You can also choose laser only, flashlight only, or the light and laser simultaneously.
The flashlight can be adjusted from wide, floodlight-style illumination to something more akin to a spotlight. This is also a nice touch.I tested the M6X's waterproof claim by submersing the unit in water and freezing. After thawing it performed flawlessly.
The system's modular design allows customization, and Insight Technology offers a pressure-sensitive remote that's contoured for a variety of popular handguns, long-gun kits and even specialized filters. Each unit comes with a spare bulb for the flashlight and a 1913 rail adapter.
The M6X may never have racing stripes, but in a crisis situation it's great to know it's been subjected to the kind of frontline testing that ensures it will work whenever needed.