by
Shooting Illustrated Staff
posted on January 17, 2012
Support NRA Shooting Illustrated
DONATE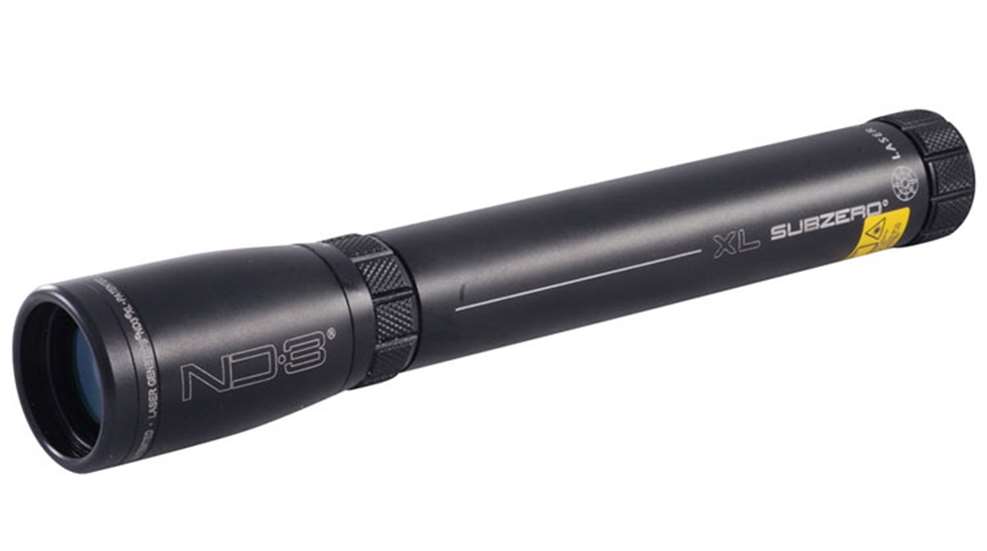 Laser Genetics ND3 series was first developed for affordable long distance illumination to fill a need that Gen 2 and Gen 3 night vision could not meet...affordability and distance. For 2012, Laser Genetics is introducing the ND3XL-SZ, Dual Battery Laser Light. The ND3XL-SZ is 1.5" longer than the ND3-SZ and operates with two (2) CR123 batteries for twice the reserve battery power. The adjustable Laser Light allows controlled targeted illumination eliminating the flooding effect, which occurs with white light.
The ND3® XL-SZ laser designator uses advanced green laser technology to create true night vision and turns a scoped rifle into a night hunter. The patented Rotary Optical Collimator uses a system of multi-coated lenses that allow full adjustment and control of beam diameter and intensity to focus light where it's needed most. Rotating the collimator ring to minimum creates a bright micro beam of green laser light visible up to 3 miles. Rotating the collimator to more open settings provides plenty of illumination to light a trail at night or paint a target at up to 250 yards.
Even in the coldest of temperatures, the SUBZERO designator is equipped with unique circuitry, which enables the DPSS 532nm Green Laser to operate at temperatures as low as 0º without loss of power.
The ND3 SUBZERO XL Features:- O-ring seals to keep out water and dust- Nitrogen charged to prevent lens from fogging- Adjustable Beam (Rotary Optical Beam Collimator) allows quick adjustment of beam diameter and intensity- FDA
Includes:- ND3-XL Subzero Laser Designator- Momentary Pressure Switch- Scope Mount (1" tube) with windage and elevation adjustments- Binocular/Spotting Scope Mount- Weaver Mount with dual size mounts (3/8" & 5/8")- Carrying Case- Two Lithium CR123A Batteries
SPECS:Length: 8"L x 1.25" H dia.Finish: Anodized Matte BlackWavelength (color): 532nm (green)Tube Size: 1" (adapts to many mounting systems)Range: 3 milesBattery Life: Up to 10 hours; up to 4 hours at 0ËšFOutput Power: 18 mWLens Diameter: 26mmWeight: 5.37 ozFDA Safety Class: 2MWater Resistant: YesProduct Warranty: 1 YearSuggested Retail Price: $399.95
Gamo Outdoor USA is a leading consumer products company that designs, manufactures and markets a diverse portfolio of outdoor sporting goods products under such world class brands as GAMO, BSA Optics, Laser Genetics, Aftermath, Stunt Studios and is the exclusive distributor of BSA Guns. Gamo Outdoor USA products are sold at Cabela's, Bass Pro Shops, Midway USA, Academy Sports + Outdoor, Dick's Sporting Goods, Big 5 Sporting Goods, Gander Mountain, Dunham Sports, Mills Fleet, Sports Authority, Scheels, on Amazon.com and other fine retail outdoor and sporting goods stores. For more information, visit www.gamooutdoorusa.com; Facebook.com/GamoOutdoorUSA; Twitter.com/GamoOutdoor; and YouTube.com/GamoOutdoor.