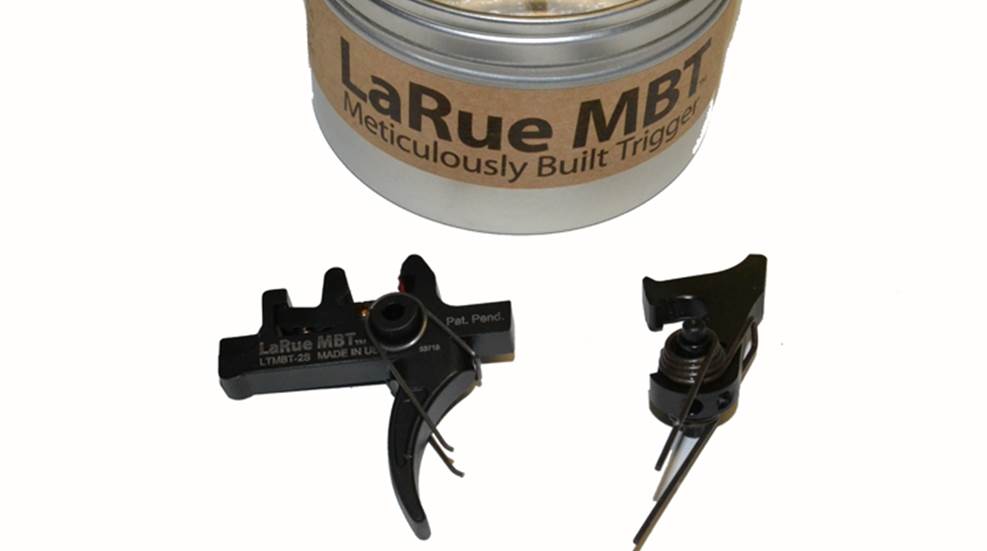 If you've recently purchased an AR-15-style rifle, one popular upgrade is the trigger. The MBT by LaRue Tactical is one such option. It's one of the trade-offs of a MilSpec AR-15-pattern rifle: the MilSpec trigger. The M4-configuration is handy and makes lots of sense for close- and intermediate-range distances, but in order to make precise hits, the gritty MilSpec trigger needs attention.
LaRue recently addressed this with its Meticulously Built Trigger (MBT). A two-stage design, the overall trigger pull is 4.5 pounds, divided into a 2.5-pound first stage and a 2-pound second stage. LaRue promises a crisp break with a smooth and positive reset—which we will be certain to put to the test. Installation is drop-in, no gunsmithing required. The MBT is designed for small-pin lower receivers only.
One interesting note about the packaging: LaRue uses an interesting approach, with a round can and molded foam inserts. It's simple, yet elegant at the same time. Looks like it will hold up well in a parts box—although it's doubtful it'll stay in a parts box for long...
MSRP: $199