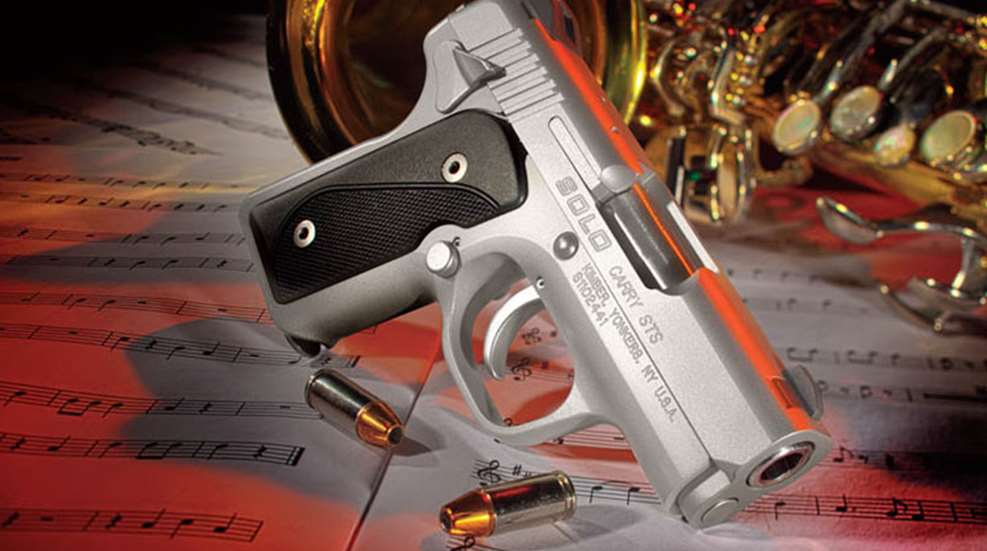 Greatness is not achieved by copying someone else. John Browning did not rise to stardom by making perfect copies of Colt or Winchester firearms. Quite the contrary, Colt and Winchester went to Browning when they needed something new because "Mr. John" was known for designing and building innovative products that worked better than anything else on the market.
Copies have their place in the commercial world—look at all the financially successful companies making quality ARs, 1911s and single-action revolvers based on Old West classics. But it's always refreshing to see a unique new product designed and built from scratch, particularly when it embodies all we want in a gun. The new Kimber Solo Carry has some unique features that indicate it might be a production gun destined for greatness. 
For detailed images of the Kimber Solo Carry, click here.
Promising Prelude 
A few days before the 2011 SHOT Show, Kimber's marketing people invited me to come by and see something special. "You're going to love this!" was the greeting as I entered the booth and was hustled to the Solo display. Given I'm a big fan of Kimber rifles and 1911s, that was a safe wager. But the micro-compact, striker-fired Solo is a vastly different design than the company's classic 1911s, and since I'm emotionally unattached to striker-fired pistols, there was no way of knowing how I'd react to Kimber's newest offering.
I was definitely interested in testing the new pistol, however. Without even touching it, the absence of sharp external edges was obvious. Imagine a custom carry handgun that has been dehorned by your favorite gunsmith, except the Solo never had "horns." It was designed and built as a street-ready concealed-carry pistol, and it appeared the grip angle was very close to that of a 1911. Other desirable features were plentiful on the Solo, like highly visible, dovetail-mounted front and rear sights, along with an ambidextrous thumb safety and magazine-release button. I was already beginning to like this pistol. 
Holding the gun confirmed all the positive visual impressions and revealed more good things. I could positively click the thumb safety on and off without having to change my shooting grip. That's a sign of great ergonomic planning and something you don't always see on a handgun, particularly a micro-compact. There was a relief cut at the rear of the trigger guard where it joined the frame that permitted a slightly higher grip. It put my hand closer to the bore axis for better muzzle control. Moreover, it allowed me to fit both my middle and ring finger on the grip frame, something I really appreciated when the shooting started.
Composed for Carry 
The Solo's frame is machined from 7075-T6 aircraft-grade aluminum rather than molded from polymer. I tested a Solo with a silver-colored frame, but Kimber also offers a version with a matte-black finish. Both wear Kimber's KimPro II treatment. The frame's lightly beveled magazine well facilitates reloading. 
With an empty magazine in place, the pistol weighs a smidgeon more than 17 ounces. I suspect Kimber could have shaved a couple more ounces by using a molded polymer frame, but I've fired micro-compact 9 mms with both polymer and aluminum frames, and I appreciate the slightly heavier metal. 
The slide and barrel are stainless steel. An external extractor mounted in the slide works with an enlarged, radiused ejection port to ensure brass clears the gun. Measuring 2.7 inches long, the barrel has a kidney-shaped lug that performs the same job as the link on a 1911. 
You may think there is something wrong the first time you lock the slide back and get a good look at the barrel. Its outer diameter has an hourglass shape near the muzzle, and if you shake the gun a little, the barrel flops around noisily like a maraca. The barrel can literally move in all directions: fore and aft, up and down, even sideways. This wiggle factor is intentional; it helps the extractor remove a sticky case and allows the chamber some movement to facilitate entry of each round.  
A small, polished trough in the feed ramp serves to guide and center incoming rounds. The chamber mouth is also chamfered and polished to further aid chambering. 
The dual recoil-spring system is designed to maximize performance and occupy minimal space. Its small recoil spring is wound tightly around the guide rod and partially covered with a sleeve. A second, larger spring winds around the sleeve. 
I was very impressed with the Solo's trigger when I dry-fired the gun in the Kimber booth. The Solo is a double-action, striker-fired pistol, but cycling the slide (either manually or by firing a round) does about 90 percent of the work required to cock the striker and spring assembly. With the striker precocked, the trigger pull is quite smooth and feels more like that of a single-action design. The trigger travels only about .5 inch, which allows you to maintain a steady, consistent sight picture throughout the pull. 
The Solo's good trigger, combined with its highly visible sights, yield shooting results that are much improved over other micro-compacts I've fired. Even without a corrective lens in my shooting glasses, I can see a conventional sight picture against a light background and the three-dot system against a dark background. Despite the crispness and quality of the sight picture, the Solo's sights still offer an extremely low profile. 
That's a fair number of design features (some new, some modified from other Kimbers) the company has put in the Solo to ensure reliability and increase performance. Keep in mind they are all packed into a 9 mm pistol that's only 5.5 inches long and less than 4 inches high. 
Range Recital 
Shooting the Solo was fun. Admittedly, defensive handguns aren't necessarily supposed to be fun, but shooting sessions that are enjoyable encourage practice. That leads to proficiency and competency, which is what range sessions with defensive handguns are about. 
Kimber recommends using ammunition with bullet weights of 124 to 147 grains. I ran those weights, but also included 90- and 115-grain loads. Targets were set at 10 yards with the first shooting session oudoors, followed later by a second session at a local indoor range. 
A former Marine and current firearms instructor turned in some impressively small groups (slightly more than an inch) on the outdoor range shooting offhand. Like me, he was impressed with both the Solo's sights and its trigger pull. He shoots with an extremely high grip and did suffer a couple of slide bites, but he found the Solo more manageable than other micro-compact 9 mms he's fired.  
Reliability was 100 percent with the 115- and 124-grain jacketed hollow points from DoubleTap, but we had feeding problems with the 90-grain jacketed hollow points. I did not disassemble and clean the Solo prior to initial firing as recommended by Kimber, and I think both cleanliness and proper lubrication are extremely important with a tiny pistol chambered in 9 mm. Combine the Solo's short slide travel with a high-pressure cartridge, and proper firearm maintenance becomes even more crucial.  
The indoor range probably presented a more realistic test environment than the leisurely day spent on the outdoor range. Light was dimmer, my vision and line of fire were restricted and there was a lot of movement and gunfire around. Once again, I disobeyed instructions and neither cleaned nor lubricated the Solo between range visits.
Using bullseye targets, which in terms of size are fairly representative of a bad guy's vitals and present a dark enough background to challenge my vision, it wasn't difficult to keep all shots in the black. If I hurried too much or lost my concentration, I'd toss a couple of shots. While 9 mm recoil isn't what you would call ferocious, the Solo was easier to control with 115-grain bullets versus 124- and 147-grain loads. Given the terminal performance improvements ammunition manufacturers have made in self-defense loads and the 100-percent reliability with the 115-grain DoubleTap ammo in a dry, dirty gun, I wouldn't hesitate carrying the Solo with this load. 
Intrigued by the little gun's performance and manageability, I grabbed the chronograph and headed for the outdoor range again. This time, the targets were at 25 yards and I fired from a rest. Groups for all loads were pretty consistent between 2.5 and 4.5 inches, but I had to maintain total concentration on my sight picture and trigger press, since the Solo's short barrel and reduced sight radius proved very unforgiving. 
I wasn't worried about groups being right or left, because the Solo's sights are adjustable for windage. With the test gun, elevation for the 115-grain DoubleTap and 147-grain Speer Gold Dot loads was perfect at 25 yards, while the other loads printed 2 to 3 inches low. The Solo is certainly capable of precise shots well beyond powder-burn range, and the little gun doesn't give up much in the velocity department. 
Center Stage 
While it's called a micro-compact, the Solo is perhaps on the borderline between pocket carry and external holster carry. Only you (and your street clothes) can determine the best carry mode. 
The good news is while many new guns have a "waiting period" for properly sized holsters, the Solo already has fits. Galco offers five options: three IWB styles, one for standard outside-the-belt carry and one pocket holster. I like using the Pocket Protector, which covers and protects the trigger when I'm wearing tactical trousers, but I found the pockets on my blue jeans too small for the gun. I was also very comfortable wearing the compact belt holster, but not the IWB models. In my case, that's more of a personal problem with love handles than an equipment critique. 
If you want accessories a bit more personalized for you, Erik Little at Rafter-L Combat Leather in Buffalo, WY, is the man to call. He sent me a belt holster akin to the Askins Avenger with which I'm quite smitten. Little also makes an IWB holster for the Solo with a magazine pouch, and I would love it were there some room inside my belt. 
There's some ongoing discussion among trainers as to whether it's best to reload a pocket pistol or simply carry a second gun. In today's market, economics may decide the issue for most people. 
The six-round magazine provided by Kimber functioned perfectly given the right ammo. I ordered a second because I always want at least two magazines for a semi-automatic to ensure I have one that works in case the other is damaged. With a full magazine in place and a round in the chamber, you're ready to rock with seven instant replies to life-threatening danger. An additional loaded magazine carried in one of Rafter-L's magazine holders doesn't weigh much and occupies very little space on your belt. But, it gives you six additional problem-solvers should you empty your pistol. 
For me, reloading practice was imperative. While the Solo's magazines dropped clear of the mag well just like full-size guns I've used in training, with my normal shooting grip, the palm of my shooting hand prevented the magazine from falling free. Developing a somewhat different reloading technique is not a big deal; it's something we usually have to do when we change carry guns. I understand Kimber will soon be offering an eight-round magazine, and while two extra rounds are always nice to have, I doubt the new magazine will be long enough to extend beneath your palm. Even if it does, you might elect to keep a six-round mag in the gun for concealment purposes, which means your reloading technique may still require modification. 
Micro-compacts have always been considered backup guns, but I think the Solo may be a viable candidate for a primary pistol—perhaps not for law enforcement personnel, but certainly for civilians carrying concealed. Keep in mind the operative word in CCW is concealed. In many areas, any exposure of your firearm (even by accident) other than using it in a life-threatening situation can cause legal difficulties.

There are a number of easy ways to comfortably carry the Solo while keeping it well concealed. It is chambered for a respected self-defense cartridge, and the little Solo is almost as easy to shoot and handle as many mid-size and compact primary carry handguns. Its sights are more than adequate for precise shot placement in longer-range engagements, and with seven rounds in the gun plus a couple of six- or even eight-round magazines immediately in reach, who's to say it couldn't be your primary pistol? Don't underestimate the Solo's features or its performance in a concealed-carry role. Kimber has built a pistol worthy of standing alone.  
Manufacturer: Kimber; (888) 243-4522
Action Type: Recoil-operated, semi-automatic
Caliber: 9 mm
Capacity: 6+1
Frame: Aluminum with silver KimPro II finish
Barrel Length: 2.7 inches
Rifling: 6 grooves; 1:10-inch LH twist
Sights: Dovetailed, low-profile, 3-dot
Grips: Partially checkered black polymer
Trigger Pull Weight: 7 pounds
Length: 5.5 inches
Height: 3.9 inches
Width: 1.2 inches
Weight: 17 ounces
Accessories: Soft case, one magazine, owner's manual, trigger lock
MSRP: $747