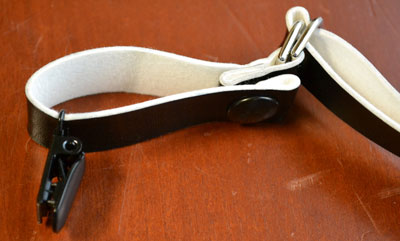 In the hope of a duplicating the shoulder holster from the '60s TV show "I Spy" on hold, one can't help but wonder if an alternative exists. But not any shoulder holster will do, it must have panache worthy of secret agent Kelly Robinson and the replica of his truncated Wather P38, which I had made.
Boasting a unique design, the K. L. Null SMZ shoulder holster has clandestine origins, and is a worthy candidate with a lot to offer. Case in point: Both its harness and holster are made from synthetic material and feature stitchless construction for enhanced durability. The result is a system impervious to a holster's chief nemesis: moisture. The SMZ is easy to don, even for someone constantly seated, like me. It's half-harness design cuts down on unwanted bulk, and is comprised of a single loop and tie-down. Just feed your arm through the loop, and drape the connecting strap across the back of your neck and down your chest to secure the tie-down via the belt loop or the included suspender-style clip.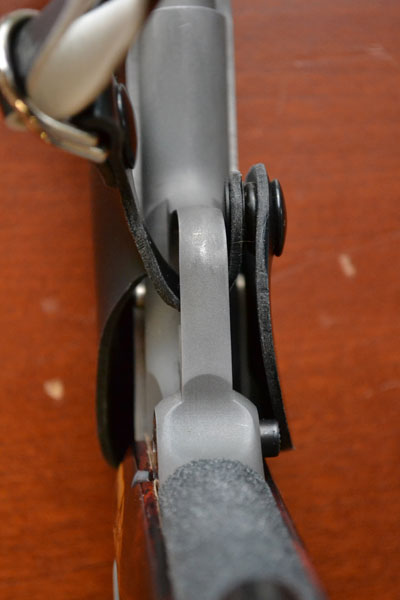 According to the website, the harness' Null Tri-span suspension system successfully offsets the handgun's weight—a key factor in the discomfort and fatigue people often experience when wearing shoulder holsters—without restricting movement or altering the pistol's orientation. Speaking of orientation, like the original "I Spy" shoulder holster, the SMZ also carries suspends the handgun upside down. However, instead of relying on spring retention, the SMZ features an integrated piece of polymer that loops through the pistol's trigger guard between the rear of the trigger, which snaps back onto the other half of the holster. Such a holds the pistol tight securely in the muzzle-up position with no play between pistol and holster. In addition to liking this similarity from a nostalgic standpoint, it fosters maximum concealment with zero telltale bulges.
From a user standpoint, the SMZ's lightweight, minimalist design and open muzzle end can accommodate multiple barrel lengths, or related accessories such as compensators or suppressors. But, without question, the SMZ's best attribute pertains how it fosters lightning-fast handgun deployment with a natural forward twist of the wrist. Best of all, it only costs $75 and is available for revolvers and semi-autos.