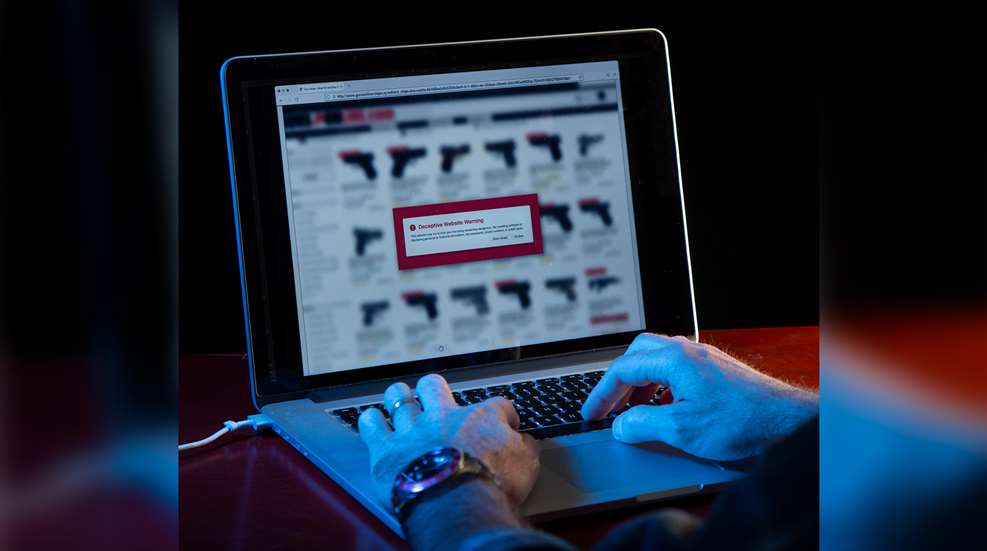 American consumers lost $392 million to online-shopping scams in 2021, according to the latest report from the Federal Trade Commission (FTC). That figure is up nearly $150 million from the previous year. Unfortunately, the firearm industry hasn't escaped the criminal activity.
Major firearm brands have quietly launched a variety of efforts to prevent loyal fans from being victimized. Several companies provided Shooting Illustrated with a glimpse of their proactive measures, nearly all of them invisible to the consumer.  
Marlin's return to the market generated viral interest. As models came out of Ruger's Mayodan, NC, factory, fans were eager to score items wearing the historic label. Imposters took advantage of that demand.
Rob Werkmeister, vice president of marketing at Ruger, said, "…one example that was pretty bad in their attempt to steal money from unknowing customers was marlinfirearm.com—our actual domain is marlinfirearms.com—one letter missing and a nightmare for customers."
SIG Sauer enthusiasts were also targets. When asked about stopping the criminal trend, Tom Taylor, chief marketing officer and executive vice president of commercial sales for the company summarized, "Currently, this is very challenging.  Some do a good job of truly 'fooling' the consumer, so it's tough. We did put a drop down that came up as soon as you landed on our site to warn consumers about URLs we found. Also, we are exploring a 'TrustedSite' banner or something similar, but no easy answer here."
Visit the Canik USA website and the home page warns, "It has come to our attention that multiple fraudulent internet sites are misusing the Century and Canik names, trademarks, images and products in what we assume is a scheme to defraud unsuspecting firearm and accessory purchasers. We have advised appropriate law enforcement agencies about this matter."  Walther Arms issued a similar alert late last year.
"Like many other firearms manufacturers, Savage Arms is seeing fraudulent websites," said Beth Shimanski, director of marketing for Savage Arms. "These websites confuse, harm or otherwise disrupt our business with our fans, followers and customers."
The difference between the legitimate and scam website is often one letter or word in the URL—deliberately. Web browsers can go their when an enthusiast is in a hurry or inadvertently enters a typo. 
"We do try to buy as many related domains as we can, primarily to prevent just this… but we don't get them all, especially with the Marlin acquisition, we received what they had already owned," Werkmeister said. "We did go out and buy 'shopmarlin.com'—this was a defensive/protective move for our customer base who was well versed in our Sportswear and Accessory store being 'shopruger.com.' That is one example of a protective buy."
"It's a scam and we have to rely on our legal team and law enforcement to try to shut it down," Taylor said, adding the Department of Homeland Security is investigating sites that have been uncovered. "I guess it's the blessing and curse of having an aspirational brand." 
At Savage, "We are actively monitoring for new, malicious sites and working quickly to have them taken down," Shimanski said. "Despite this, we do remind people that Savage Arms does not accept credit card payments for the sale of firearms and we only sell through authorized dealers."
All agree the criminal activity heightened during the pandemic, but how can enthusiasts avoid being victimized?
With stolen images, graphics and an identical look, it can be tough to determine if you're about to be scammed. Beware if they have any of the following features:
• Accepting only PayPal, wire transfers or cryptocurrency;
• Phone number with all zeros or FAQs exclusively in a foreign language;
• Typos aplenty;
• Retailers with physical locations impossible to confirm or area codes in the phone numbers that don't match the region;
• Seemingly once-in-a-lifetime deals and high-pressure sales pitch.