Support NRA Shooting Illustrated
DONATE
It's hard to overstate the impact that Glock has had on American firearms culture. Glock pistols are a popular choice for law enforcement and elite military units as well as armed citizens. One of the reasons for this popularity is their well-deserved reputation for reliability and performance. However, because they are so reliable and so ubiquitous, they can seem a little boring. They all run alike, they all shoot alike, and although newer models like the Gen 5 versions can adapt to a shooter's hand, they all look alike, too. 
Which is absolutely fine for institutions like a police department or a military unit, as unique or customized firearms can cause logistical headaches for all involved. Boring can also be good for the armed citizen, because having the same gun as everyone else makes it easy for you to find a holster, and reliability is crucial element of any defensive firearm. 
However, boring is, well, boring, and we like to have our possessions reflect our personality. In addition to this, while the baseline accuracy of Glock pistols is very good, there is room for improvement. As a result, gun owners are starting to see the Glock as a starting point for creating a custom gun that does everything a stock Glock can do, only better. 
I'm one of those people. I've carried a Gen4 Glock G19 for years, with the slide milled for a Swampfox Liberty red dot. It's my principal carry gun and also my primary training gun, and as a result, I've sent thousands of rounds through mine, and it was beginning to see a lot of wear. The finish was worn off the slide, and somewhere along the line, the front sight had worked itself loose and was sent downrange. I needed to replace all these part, I figured this would be a good time to take this pistol to another level, and install a number of upgrades for the Glock G19 when I refurbished my pistol.
Choosing The Right Upgrades For Your Glock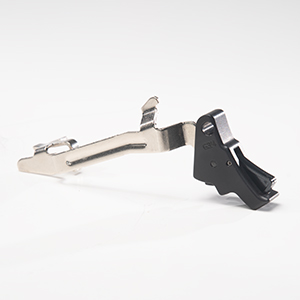 Right off the bat, even considering adding upgrades to your pistol can draw some ire from certain Glock owners. After all, "perfection" is right there in the marketing copy, and why would you want to improve on that? 
Well, for starters, how about more accuracy and a better trigger? With those two Glock upgrades in mind, I reached out to Apex Tactical for one of their Trigger Enhancement Kits and to Boresight Solutions for an Advantage barrel. Even diehard Glock fans will often replace the stock Glock sights with something else and add a red dot sight. I did both on my original Gen4 G19, and so I decided to do the same with my upgraded pistol.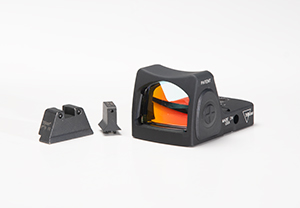 Fortunately for me, Trijicon makes the Dual Defense Kit, a package deal that combines a set of their excellent suppressor-height backup sights teamed up with one of their industry-standard red dot sights. The model I chose has a 3.25-MOA red dot and smaller tritium inserts in the backup sights. 
As the finish on the slide of my gun was worn and rather ugly, I replaced it with a Gen4 G19 slide from Brownells, while the slide internals came from Shadow Systems. Finally, for added safety, I added a Striker Control Device (aka 'The Gadget") from Langdon Tactical. I don't consider that part to be an upgrade, rather, it is a "must have" for any Glock that I carry on a daily basis.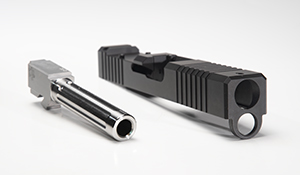 Some of you might be asking why I didn't stipple or alter the shape of the frame in my quest to go one step beyond a factory gun. The fact is, I personally don't get much of a perceived performance boost from that sort of modification, so I rarely alter the shape or feel of my guns.  
Now it was time to put everything together, and everything was going great until the Apex Trigger kit was added to my Glock frame, and all of a sudden, the pistol would no longer fire. Fortunately for me, I live within driving distance of Boresight Solutions, and turned everything over to Ben Simonson, the owner, and let him work his magic on my gun.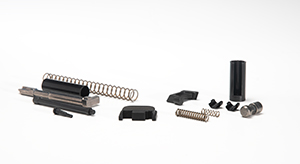 Simonson quickly diagnosed that the problem was caused by the trigger bar on the Apex trigger kit was pressing on the side of the gun, and swapping out the bar that came with the kit with the stock trigger bar solved this problem. This isn't a knock on the Apex Tactical trigger kit: Simonson said that the Apex trigger is his trigger upgrade of choice. Rather, it was just a situation where the slight differences between an aftermarket slide, parts kit and trigger added up to an issue with tolerance stacking. While fixing this issue was easy for me, it's also a good reminder that reliability is always a top priority for any Glock upgrade project.
Testing Performance
Now that all the pieces were in place, it was time to put by Glock upgrades to the test. First was seeing how the Apex trigger improved the feel and pull from the stock trigger. Glock lists the trigger pull in a stock Gen4 G19 just over six pounds. After the upgrades, the trigger on my gun is now 4.5 pounds, as measured on my Lyman electronic trigger gauge. The feel of the trigger is very different as well. The spongy "sproing" of a stock Glock trigger is gone, replaced with a rolling trigger break, which works fine with my shooting style, although other shooters may not like it. The distance that the trigger travels from start to finish, however, didn't change. Finally, the face to the Apex Tactical trigger is flat, with a slight lip on the end of the trigger shoe versus the curved shoe of a stock Glock trigger. I've found that this style of trigger shoe gives me more feedback on how my finger is interacting with the trigger, but that is a personal preference, and not something I can measure.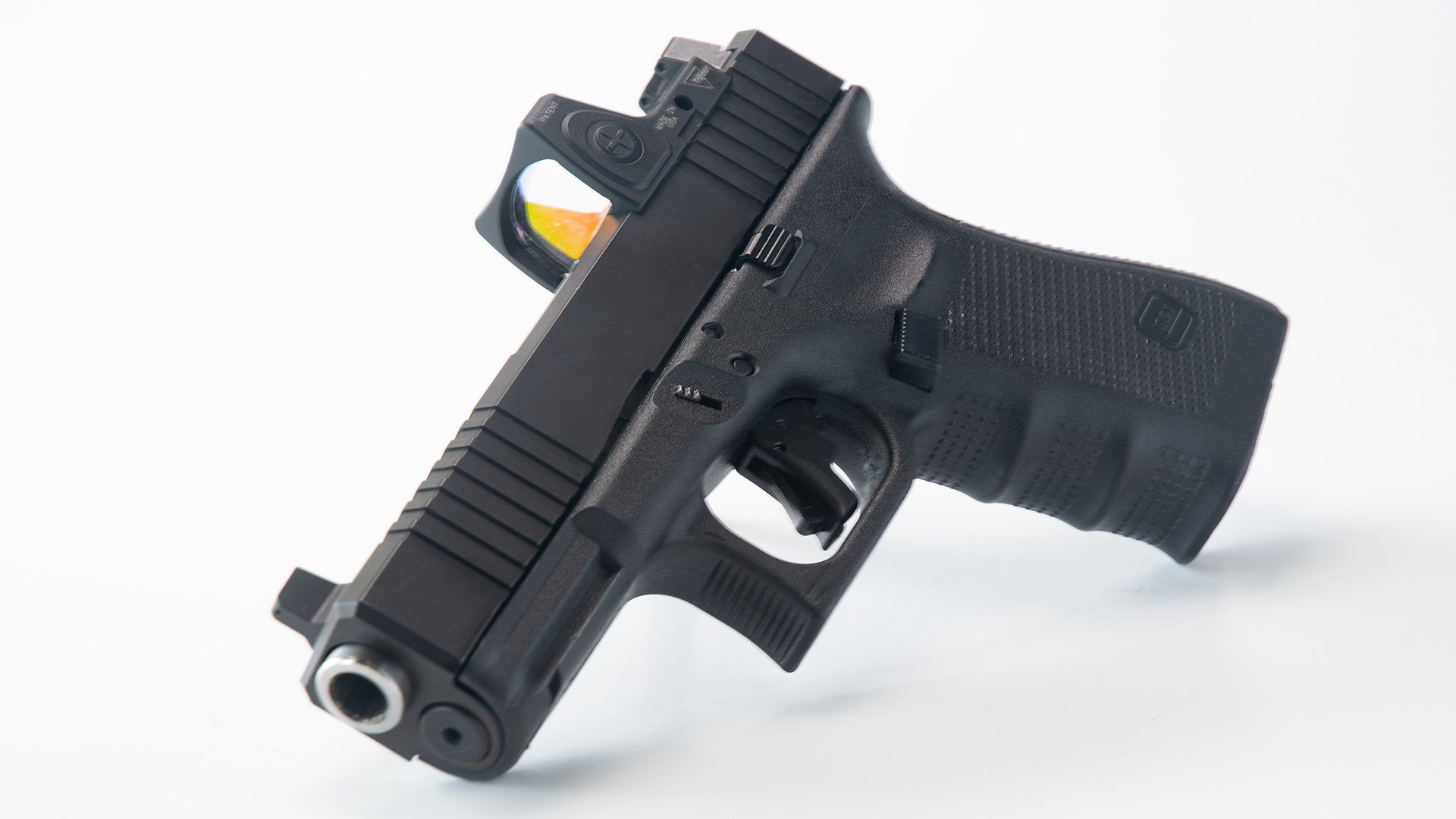 On The Range
Finally, it was time to take both my upgraded Glock G19 and my stock G19 backup gun to the range and see how all those new parts affect performance. I setup a target 25 yards away and locked each pistol into a Ransom rest to measure its accuracy. A test like this demands top-performing ammunition, so I loaded up with Bill Wison Signature Match 135 grain FMJ ammo from Wilson Combat and shot four 5 shot groups with each pistol. Results where measured center to center using a caliper.
My results were as follows:
Stock Glock Gen4 G19
First Group: 1.14 inch spread
Second Group: 1.47 inch spread
Third Group: 2.21 inch spread
Fourth Group: 2.3 inch spread
Average Spread: 1.78 inches
Upgraded Glock Gen4 G19
First Group: 1.18 inch spread
Second Group; 1.39 inch spread
Third Group: 1.09 inch spread
Fourth Group: 1.2 inch spread.
Average Spread: 1.21 inches
A Ransom rest holds the gun in a secure, vice-like grip with eliminates most of the accuracy-destroying inputs created by the shooter pressing the trigger incorrectly. Therefore, most of the improved accuracy is due to the upgraded Boresight barrel in my new gun. Boresight barrels have a reputation for accuracy, and this test indicates that reputation is spot-on. 
The long-term reliablity of these upgrades remains to be seen. I have about 500 rounds through this new gun, shooting a mixture of target loads like Federal Syntech and American Eagle FMJ rounds as well as defensive rounds like HST 124 grain and Punch 135 grain rounds. All of these cartridges have worked flawlessly so far, but the test is far from over. 
Should You Upgrade Your Glock?
There is a large portion of Glock owners out there who say that upgrading a Glock is pointless, as the gun is designed to work a certain way, with a certain set of parts. The hiccup I had with tolerance stack gives credibility to this argument. On the other hand, the new parts also resulted in a noticeably better trigger feel and more accuracy, and there is no such thing as a "too accurate" defensive firearm. 
Ultimately, though, the biggest difference isn't going to be the parts you add to your gun, but rather, the skill of the person pressing the trip. "Any gun will do if you will" may be a cliche, but cliches don't stick around unless there is an element of truth to them, which is certainly the case here.