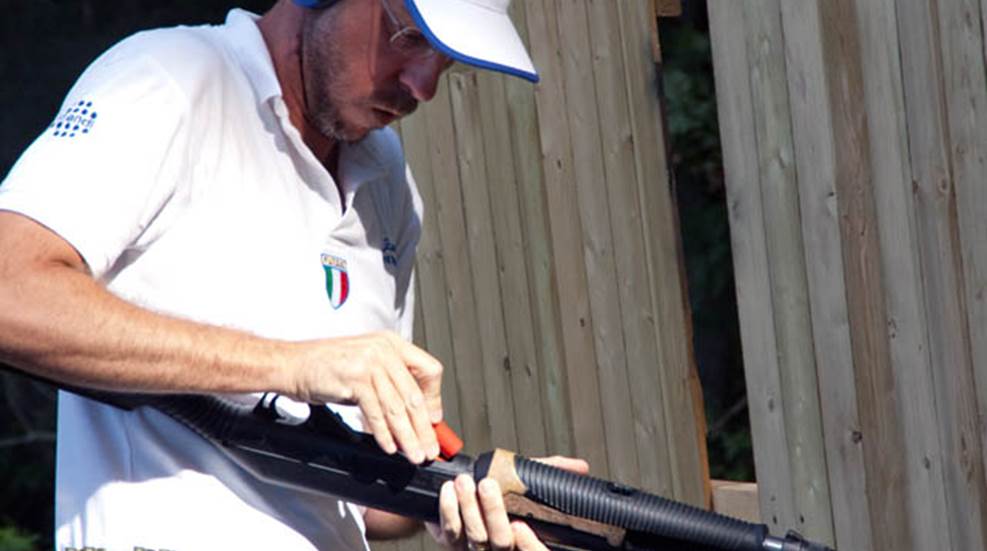 Whether loading with the strong or weak hand, pulling from a 6-round caddy or a 4-rounder, carrying those caddies on the belt or on a chest rig or grabbing shells from a sleeve on the arm, most shooters used a combination of gear and loading techniques to get the job done.
In my case, I executed all my loads with the weak hand during the match, pulling from a couple of California Competition Works shell caddies. Also, on occasion, I loaded from a TacStar side-saddle carrier, giving me six more rounds on the gun. Usually, I kept one shell positioned brass-up to quickly recharge through the ejection port in case I ran dry, with the remaining shells brass-down to facilitate weak-hand loads through the loading gate.
I've used TacStars for a few years on Remington 1100 and 870 shotguns. In tactical courses I've taken, they proved to be outstanding for setting up rounds on the gun, whether the goal was a greater volume of rounds or the ability to carry slugs or buckshot in addition to birdshot. For home defense, I think that they are a great, cost-effective add-on to a shotgun.
But when watching the top shooters, it appears rigid gun-mounted caddies aren't the preferred choice. The sheer volume of fire during a match of this magnitude exposes any weakness. Several competitors found the shell retainers of rigid systems tend to open up over time, allowing shells to work loose during a stage. Instead, most top competitors use nylon or similar materials attached via hook-and-loop fasteners, a system seemingly better suited for competition.
I was like a sponge at the international event, soaking up as much knowledge as I could from the competitors on each stage. But even the best American shooters were treated to a new loading technique utilized by several European competitors.
"Two of the Italian shooters would hold their guns with the loading gate up and draw two shells at a time between their index and middle fingers, dropping one on the loading gate and thumbing it and the second one in the magazine tube, one behind the other," said Patrick Kelley, whose United States Standard Manual team took first place at the prestigious match.
While several European competitors used a belt system to space out their rounds in pairs, others used homemade chest rigs that carried the shells stacked vertically. For several American shooters, the unique shell caddy turned heads at first, but the loading technique itself quickly caught their attention.
"[The Italian shooters] were certainly fast," said U.S. Standard Manual team member Joe Satterfield. "I have played with [the technique] some since I got home and definitely think there is some potential there."
While new techniques and gear were being displayed during the Pan American, the shotguns used by top competitors saw much less change. When viewing the field as a whole, the dominant shotgun choice was obvious—Benelli is still king. Whether Standard (semi-automatic), Standard Manual (pump-action) or Open Division, American or European competitor, there are simply more Benellis seen on the firing line than any other shotgun at this level of competition. In the Standard Division, the FNH SLP is beginning to cut into that dominance. If you combine the SLP with the number of Winchester Super X2 Practicals still in service—both shotguns utilizing gas systems from the FNH family—it's clear the Belgian company's autoloaders are becoming a preferred choice with top practical shooters.
In the Open division, Saigas are easily the hottest trend, with more shooters converting to the box-magazine-fed system each year. Also, three competitors used XRAIL loaders on their shotguns with good results, as the rotary magazine system continues to gain traction with open shooters. In a curious development during the match, Ty Gentry mistakenly loaded one round too many on a particular stage at the end of the first day, a procedural error that immediately kicked him out of Standard and into the Open Division. To stay competitive, Gentry immediately found XRAIL's Mark Roth.
"We ripped one off my 1100, and luckily I had one follower that would work in his Benelli," Roth said. "I was able to hook him up with that, and he was up and running. So much to my dismay, he made the top 10 [Gentry finished 8th], and that bumped me out at 11."
That said, Mike Voigt again dominated the field, winning by nearly 100 points. Voigt and Jerry Miculek—who are regular holders of Open titles in 3-gun—both run tube-fed systems. Until an XRAIL or Saiga pushes a competitor consistently past the performance of these guys, a shift away from tube-fed Benellis or FNs remains unlikely.
What is certain, the Pan American raised the bar for practical shotgun competition in the U.S. While it was intimidating for me to step to the line with the best practical shooters on the planet, it was also exhilarating and educational. The four-day adrenaline dump was fueled by the ever-increasing desire for more—more stages, more time shooting with the best, more challenge and more rounds downrange. As far as I'm concerned, that's exactly what competitive shooting is supposed to be.