Support NRA Shooting Illustrated
DONATE
Like just about everyone who carries a pistol on a regular basis, I have a drawer that's full of holsters that just didn't work for me. Some of them were uncomfortable to wear, some didn't hold my gun securely and some weren't up to the task of keeping the shape of my gun from showing up under my clothing. As a result, like most people, I kept buying holsters and trying them out until I found the best concealed-carry holster for how I am shaped and what clothes I wear.
Which, in retrospect, seems kind of silly. I had no basis for knowing what my holster was actually doing to keep my gun concealed. The holster was keeping my gun in place on my belt, but beyond that, I had no clue what was happening with each holster I purchased. 
This changed, however, at the Concealment Workshop held at the 2022 Tactical Conference, put on by Jon and Sarah Hauptman of PHLster Holsters. PHLster makes some of of the most innovative concealed carry and EDC gear on the market right now, and I found their logical, process-based approach to choosing the best concealed carry holster for everyone's unique needs made it easier to understand what my holster was actually doing. 
A Logical Approach to Finding the Best Concealed Carry Holster
"If we approached buying a pistol like we do buying a holster, we'd tell people to keep buying guns until they achieved accuracy," said Sarah Hauptman. "You need to understand the three requirements of a safe holster first, because they work hand in hand with concealment mechanics. A good holster is going to be safe and it's going to allow you to conform the gun to your body. It doesn't matter if the holster itself conforms to your body. You're not trying to conceal a holster, you're trying to conceal a gun." 
According to the Hauptmans, the three requirements of a safe holster are: 
A holster must fully protect the trigger, and it must be protected with material rigid enough to prevent it from being manipulated from outside the holster.
A safe holster must retain the gun in the holster and keep the holster positioned securely in a consistent place on the body.
A holster must allow for safe reholstering without sweeping any part of the body. Ideally, it should have a rigid mouth that stays open when the gun is drawn. However, it could also be satisfied in other ways, such as holsters you remove to safely reholster off -body.
A safe holster is one thing. A safe holster that helps you conceal your pistol, however, is even better, and that's where concealment mechanics comes into play. Concealment mechanics is the term that PHLster uses to describe how your holster conceals your gun on your body and keeps in a position where it's ready to be used at a moment's notice. 
The foundation of concealment mechanics begins with how the belt and clothing apply pressure to the holster, which then presses your gun up against your body and keeps it concealed. There are three steps to choosing a holster using the principles of concealment mechanics. 
A holster must fit in  the "sweet spot" on your body where the shape of your body and the drape of your clothes are most suitable to conceal a pistol. The optimal spot is a place where the drape of your clothing creates a "valley" where a gun can be tucked away out of sight. 
A good holster must provide enough grip rotation, which is movement in the direction of the butt of the gun into your body. The butt is one of the most-difficult parts of the gun to conceal, so keeping it as flat as possible against your body is essential to finding the best concealed carry holster. 
A holster must provide enough grip tuck, which is the pressure of the rear end of the frame or slide into the body, preventing "printing," or the obvious wrinkling or stretching of your clothing that gives away the presence of your gun.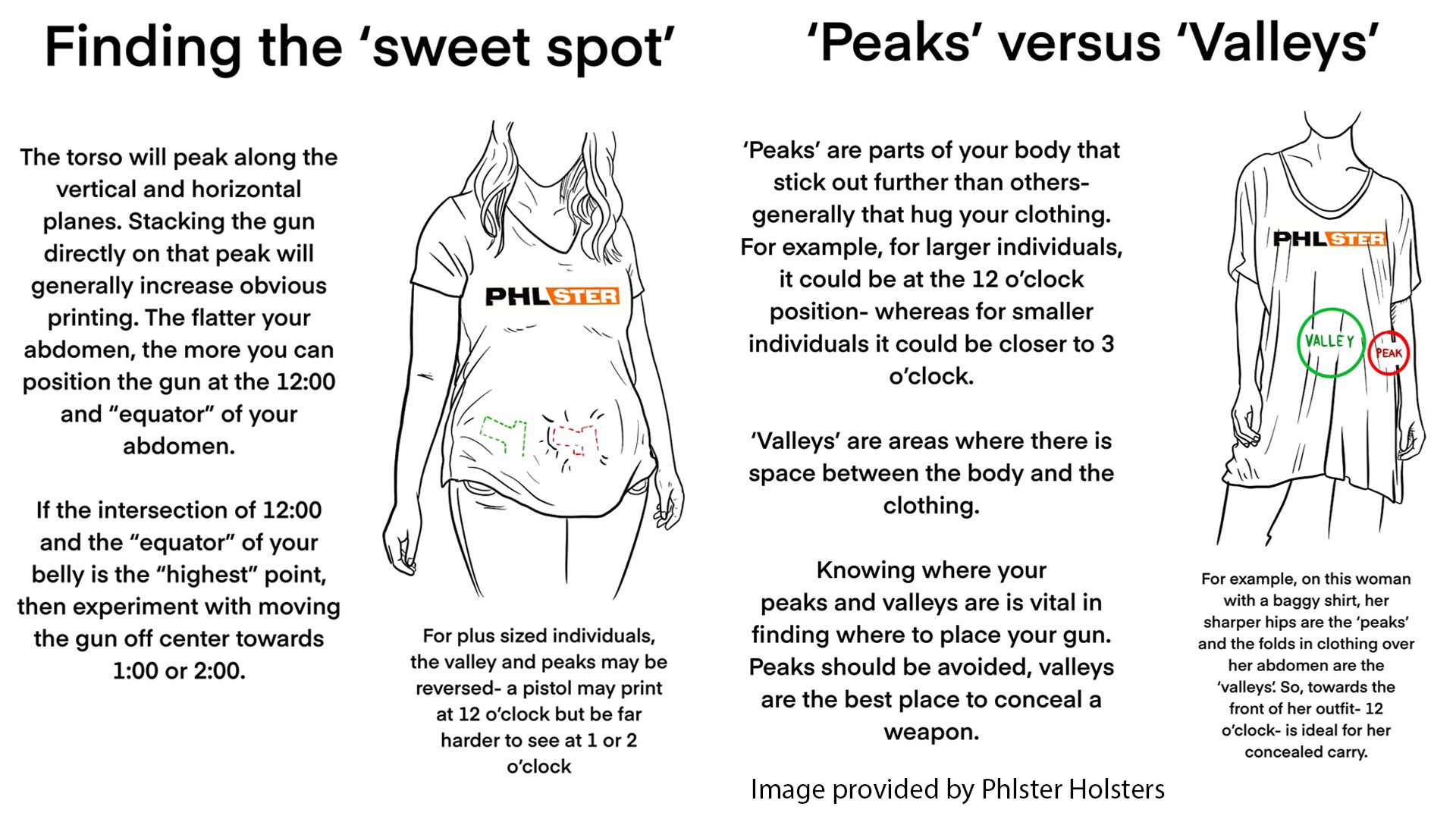 "You should know the basics of concealment mechanics when you walk into a gun store or shop for a holster online, and be able to fit the holster to you," said Jon Hauptman. "If you see a 'hot spot' where you are printing, apply pressure at that point, and the opposite end of your holster/pistol combination will move in the opposite direction. That will give you an idea of how you need to adjust your holster in order to hide your gun more effectively. Changing the position of the holster on your body or adjusting the angle of the gun into your body in the opposite direction of where it's showing on your clothing will make a difference in how well your gun is concealed." 
"It's not 'dress around the gun,' it's, 'dress around your body'," said Sarah Hauptman. "Once you understand where your body's natural shapes and curves give you opportunities to conceal a pistol, and then understand the best way to conceal a pistol in those locations, you'd be surprised at how easy it is to carry every day. Even large pistols can be carried with ease if you know your body and know concealment mechanics." 
For more information on PHLster Holsters and a complete breakdown of the principles of concealed carry mechanics, please visit phlsterholsters.com.