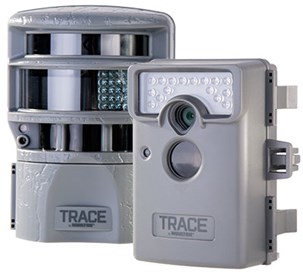 Professional home-security systems are a fine tool in your defensive plan, but they can be expensive. Here are six ways to build your own effective security system without breaking the bank.

Moultrie Trace Perimeter and Premise Surveillance Cameras
A complete home-security setup might be outside your current budget, but there are options available to provide coverage.
Moultrie has been making game cameras for many years, and brought the company's no-nonsense, results-oriented approach to the home-security market with its Trace line. The Perimeter camera is designed to capture a near-panoramic view of about 150 degrees while the Premise offers infrared illumination and sub-second trigger speeds. Both cameras run on batteries (with external power possible) and can be mounted virtually anywhere with brackets or straps.
The Perimeter, with the wide-angle lens offering a panoramic view, would be an excellent choice for monitoring the front or rear of a house. Its lens rotates to capture images in response to motion across the unit's entire 150-degree range, and SD memory cards of up to 32 megabytes can be used to save images. The Perimeter has a "managed memory" option available so the oldest images are overwritten, meaning the SD card will never fill up.
If your security needs are more focused, the Premise should fill that need handily. Whether placing the camera facing the front or rear door of the house to capture pictures of unwanted visitors or to monitor a storage unit or garage, the self-contained unit can be positioned in ways only limited by your imagination and materials on hand. The versatility of the Premise allows it to fill a wide variety of surveillance needs.
MSRP: $149.99 (Premise), $249.99 (Perimeter) moultriefeeders.com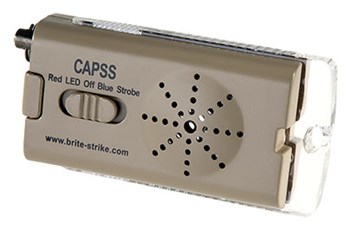 BriteStrike CAPSS3
Your home may be your castle, and although few of us can afford the high-tech home-security system of our dreams, the BriteStrike CAPSS3 enhances your security by providing a portable early-warning system that is value-oriented and versatile.
Originally designed for outdoor use, the Camp Alert Perimeter Security System and Survival Signaling System (CAPSS3) is a simple device that emits both an auditory and visual alarm to alert you—via a tripwire—should your perimeter be breached by a potentially dangerous animal. Small and light enough to fit in your pocket or carry-on luggage, the portable sentry is equally efficient at guarding against urban predators, making it a practical, as well as tactical piece of gear. Simply affix the alarm module to a door, using the double-sided adhesive strip, feed the pull-pin's dog-tag-style loop through a hotel room door's bar/chain lock and, should the door open, the pin is removed, triggering the ear-piercing shrill of an 135 dB alarm and flashing-blue strobe. Opposite the pull pin is a clear-plastic lens containing a hole, which can be a secondary anchor point for incorporating tripwire or nylon zip ties. 
Each CAPSS3 is shipped with two 10-meter coils of monofilament trip line, two nylon zip ties, an 8-inch strip of 100-mph tape (either of which can be used to attach the alarm module to objects like a tree branch, wooden stake or wall) and two blue All Purpose Adhesive Light Strips (APALS). Sporting a polished-aluminum front, they can be used as a small signaling mirror in the daytime, while the integrated blue LED, which features three modes: fast strobe, slow strobe and constant-on aid in marking trails, egress routes and signaling in low- or no-light conditions.
MSRP: $40; britestrike.com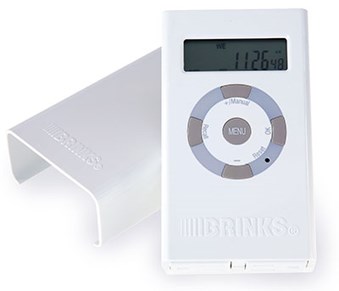 Brinks Heavy Duty 7 Day Digital Timer
In addition to offering convenience and energy-savings to your home, the use of programmable timers enhances security measures by creating an illusion of occupancy, thereby urging criminals to think twice.
Most burglars are opportunists, looking for places with minimal security and merchandise they can take and sell quickly. Confrontation is the last thing they want, because criminals know when someone is home, it elevates the crime. The Brinks Heavy Duty 7 Day Digital Timer adds security to your home by making it appear occupied while it's not. Two electric outlets on the bottom and an easy-to-use keypad enable you to program household items like a lamp and television to come on at different times for up to seven days. There's even a random vacation mode to confound anyone who may have the patience to stake out your house in an attempt to establish activity patterns. The addition of its Invisa-Shield cover helps to discreetly blend the timer to your interior furnishings, and prevent tampering. Best of all, for less than $20 you no longer need to rely on friends and neighbors to housesit while you're away. 
MSRP: $14.95; hamptonproducts.com






Stevens 320 Security
Need an affordable security shotgun "just in case"? The Stevens 320 Security may be the answer.
While a shotgun at home won't do much to secure your property while you're on vacation, it will work a whole lot better than any home-security system should you be present during a home invasion. The Stevens 320 is an inexpensive alternative that is reliable and perfectly capable of providing the best defense—all while leaving cash in your pocket to spend on other security measures.
This 12-gauge pump-action shotgun from Savage's more affordable brand is an imported model (to help save on manufacturing costs) that closely replicates the Winchester Model 1300. With a five-round magazine tube and options including a pistol grip, ghost-ring rear sight, fiber-optic front sight, optics rail and a heat shield, the shotgun can be fitted to your needs, all for less than $300—total.
Beyond price, however, is the 320's reliability. During testing in 2013, it handled everything fed through it (though it seemed to prefer high-brass buckshot loads) and produced tight patterns at 15 yards. Solid performance like that provides peace-of-mind should you ever need to call upon the 320 for self-defense.
MSRP: $260 (as shown); savagearms.com

V-Line Shotgun Case
Keeping your defensive shotgun secure when you don't need it, but readily available when you do is what V-Line's Shotgun Case is all about.
Safe storage of a home-security shotgun is an interesting conundrum. You need the firearm where it is quickly accessible to protect you and your family from harm, yet the scattergun must be inaccessible to unauthorized persons—typically those young family members you'd be protecting in the event of a home invasion. Moreover, while a security shotgun in the hands of a determined homeowner may be the most-dreaded defensive tool a home intruder can encounter, a burglar may view a firearm as the most-desirable prize to find during a break-in.
V-Line, maker of affordable gun cabinets and vaults, has tackled the problem with its Shotgun Case. The case is dedicated to a single firearm, a security shotgun that may need to be retrieved quickly. It is not for multiple guns or jewelry, valuables, personal papers, etc. Those items can be stored in a conventional, multi-gun safe that doesn't necessarily provide fast opening—or need to. The Shotgun Case won't even accommodate a trap shotgun. It is sized for shorter, defense-oriented scatterguns, typically having 18- to 20-inch barrels. It is so compact it can easily be located behind a door or in a closet, and can be mounted either vertically or horizontally, depending on the space available and the purchaser's preference. The unit is pre-drilled with mounting holes.
Rapid retrieval of the shotgun is achieved by virtue of a five-button mechanical combination lock offering 1,081 possible codes. There are no batteries involved. For additional security if rapid access is not required, two tubular key locks are positioned at the corners of the case.
The Shotgun Case is fabricated from 16-gauge steel, and features a foam-lined interior and black, powder-coated exterior. A hook-and-loop strap helps hold the shotgun securely.
MSRP: $293; vlineind.com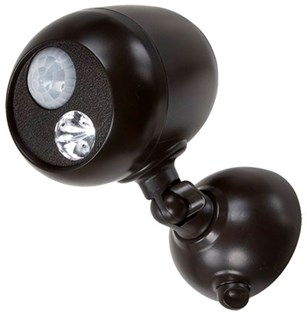 AmerTac Wireless Motion Activated LED Spotlight
Motion-activated lighting can stop a burglary before it starts, or scare off a potential attacker.
Should someone approach your home at night, AmerTac's Wireless Motion Activated LED Spotlight will illuminate up 350 square feet. If it doesn't scare them away, it will at least provide you with the ability to discern whether the person in your driveway is friend or foe.
Best of all, because it is a wireless unit, you won't need to hire an electrician to install it, saving you a nice chunk of change. All of the mounting hardware is included to allow you to attach this light pretty much anywhere on the outside of your dwelling. The lamp's head, which includes the motion detector, can pivot 360 degrees plus up or down to ensure you can shine the light exactly where you want to. Three D-cell batteries (sold separately) power the single LED lamp.
Put a bunch of these lights around your house, and most criminals will be scared off before they reach an ingress point. Those who don't egress your property will be lit up like the Fourth of July.
MSRP: $34.99; amertac.com