by
Shooting Illustrated Staff
posted on February 10, 2015
Support NRA Shooting Illustrated
DONATE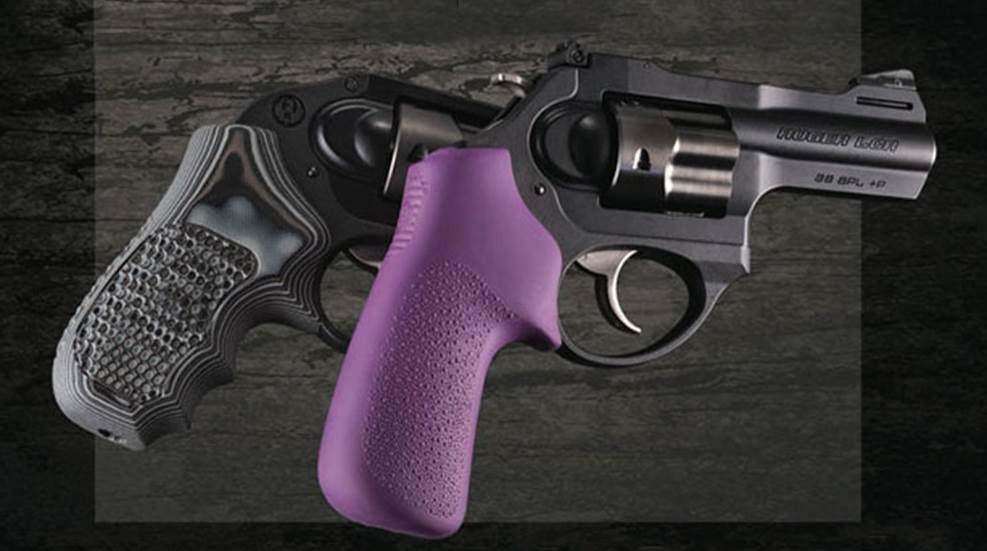 Hogue, Inc., manufacturer of firearm grips, stocks, AR components, knives, holsters, gear and accessories is pleased to announce a variety of new grip designs for Ruger's LCR series revolvers. "Ruger's LCR revolvers are hugely popular lightweight handguns," explained grip designer and owner Pat Hogue, "the types of guns that benefit the most from our Tamer design."
Hogue's Tamer grips feature a soft rubber insert on the inside of the grip at the back-strap – where it does its recoil absorbing duties underneath OverMolded Rubber. A clever design feature shared by all rubber Tamer grips: a hardened polymer guide embedded on the left side of the grip for speed loaders!
For the LCR enclosed hammer model, Hogue offers the Bantam Boot Tamer without finger grooves – a smooth, small grip – ideal for deep carry and maximum conceal-ability. The Bantam Boot Tamer features comfortable rubber strips on the front and back and a smooth polymer exterior to minimize clothing snags when un-holstering. Also available exclusively for the LCR enclosed hammer design: Hogue's G10 LCR Grip. Made of durable, beautiful G10, this grip assures a "no snag" draw and a one-of-a-kind, 3D-contoured look in Hogue's distinctive G10 colors.
For all Ruger LCR models – including the 3-inch barrel design – Hogue offers the Tamer in OverMolded Rubber with finger grooves. This design offers more purchase without compromising conceal-ability, and enhanced recoil dampening when compared to the Bantam – thanks to a stippled OverMolded Rubber grip design!
Finally, Hogue's full-size Tamer without finger grooves is a great choice for any LCR revolver. It features a longer butt and no finger grooves for better handling, maximum recoil control and comfort, especially for those with larger hands. Combined with Hogue's Tamer insert, the full-size model offers the ultimate in comfort and recoil dampening for Ruger LCR series revolvers.
Hogue Tamer grips for Ruger LCR series revolvers are shipping now at prices ranging from $26.95 to $29.95 for the OverMolded rubber models and $59.95 to $79.95 for the G10 versions. Rubber designs ship in a variety of colors including Black, Pink and Purple while G10 designs are available in Solid Black, G-Mascus® Black/Grey, G-Mascus Pink Lava, G-Mascus Blue Lava and G-Mascus Red Lava.