Those persons interested in antique firearms, World War II history and heroic wartime leaders will want to take note of the upcoming auction of Sir Winston Churchill's personal 7.65 mm (.32 ACP) Webley & Scott pistol next month in Great Britain. 
This pistol was one of a number of firearms owned by Churchill—an avid shooter and gun owner—while he served as Prime Minister of England during the war. It is estimated to sell for £2,000 to £3,000 ($3,100 to $4,600 U.S.) at Bonhams Sporting Guns Sale in Knightsbridge, UK on Dec. 2.
Patrick Hawes, Director of the Sporting Guns Department at Bonhams called the pistol "a remarkable link to Churchill's war years."
The pistol is described as having a "much blued finish, (with) the left side of the slide stamped Webley & Scott Ltd, London & Birmingham, 7.65mm & .32 Automatic Pistol, the butt with diamond pattern ebonite grips (the left with small chip the right with larger chip missing), magazine missing 3in. barrel, contemporary Birmingham nitro proof."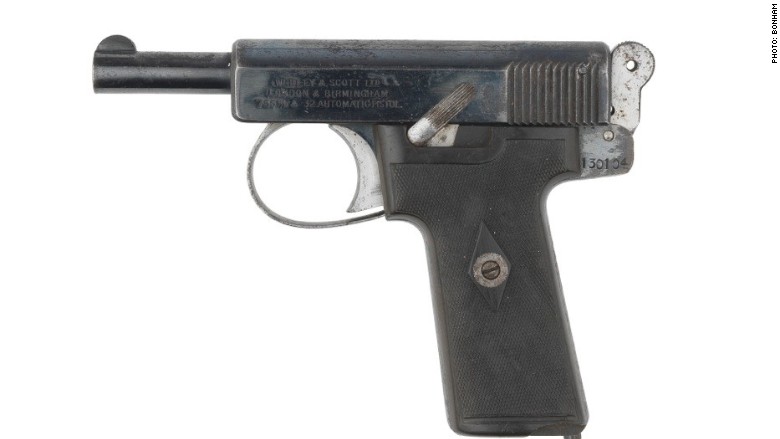 In an effort to create interest in the auction, Bonhams notes in its press material that there were some 20 failed attempts to assassinate Churchill during the war, including one involving a bizarre exploding chocolate bar.
Another of the alleged attempts on his life, known as 'Operation Long Jump' (Unternehmen Weitsprung), involved a plan to simultaneously assassinate Joseph Stalin, Franklin Roosevelt and Churchill at the 1943 Teheran Conference. The plot, led by the Waffen SS, was uncovered by the Russians and the mission was never launched.
The Prime Minister, arguably a source of some the most memorable and colorful quotes of the past century, once said, "nothing in life is so exhilarating as to be shot at without result." That famous line was later paraphrased by President Ronald Reagan, a well-read Churchillian, after surviving an attempted assassination in 1981.
As provenance, the pistol is offered with two letters certifying its authenticity and signed by Sir Winston Churchill's grandson, Winston Spencer-Churchill MP.