What do Winston Churchill, Ernest Hemingway, Sean Connery, Norman Schwarzkopf and US Olympic gold medalists have in common? They've all proudly owned and shot firearms carrying the Beretta name. 
For nearly 500 years—since 1526—this Italian family dynasty of the same name has produced some of the most exquisitely designed and sought-after firearms used for sport and collecting. And, much like the name and the heritage, Beretta shotguns have been passed down among families worldwide through generations of sportsmen and women. 
To honor this historic, five-century landmark, next month, the Rizzoli publishing company is releasing "Beretta: 500 Years of the World's Finest Sporting Life," written by Nicholas Foulkes, with original photography by Andy Anderson.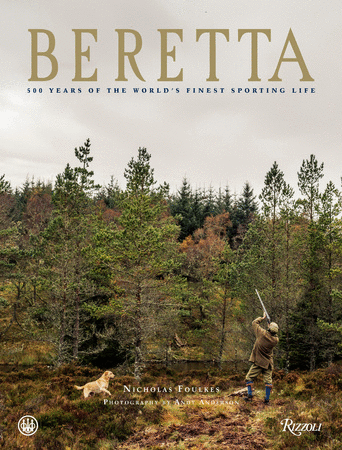 For the first in book form, readers will be taken inside the Beretta factory and the family villa in Italy, while seeing international shots afield that tie together this uncompromising legacy. The book then immerses the reader in the field, with fine photography depicting the shooting and sporting lifestyle at its finest — from Argentina to Oregon, Scotland to Tanzania. 
In time for the 2016 holiday season, the October 25 release is no doubt aimed at fine-gun aficionados, a showcase of Beretta's best work, and a bucket list for sportsmen and sportswomen and all those aspiring to the pursuit of life afield at its finest. 
Author Nicholas Foulkes is the author of 20 books on subjects ranging from James Bond, to cigars, and the trench coat. He is best known for a critically acclaimed trilogy of nineteenth-century histories, and is the cofounder and editor in chief of Finch's Quarterly Review. Andy Anderson's credits include Men's Journal, Outside, Audubon, Condé Nast Traveler, Garden & Gun, and Town & Country. 
Beretta: 500 Years of the World's Finest Sporting Life
Written by Nicholas Foulkes, Photographed by Andy Anderson
Publication Date: October 25, 2016
Format: Hardcover
Category: Antiques & Collectibles - Firearms & Weapons
Publisher: Rizzoli
US Price: $75.00
ISBN: 978-0-8478-4974-1
288 pages