At NRA Annual Meetings and Exhibits this year, Heckler & Koch (HK) will be unveiling their new SP5K pistol and showing off their 9 mm and .40 S&W VPs in Flat Dark Earth (FDE). Visit Booth #3215 to see both these firearms first-hand.
"The SP5K is a unique and historic HK pistol that captures the essence of the legendary MP5K but as a semi-auto handgun," said HK-USA Vice President for Commercial Sales and Marketing, Michael Holley. "It's equipped with a special ergonomic handguard that protects the shooter's supporting hand and enables a stable and comfortable grip. A bungee cord sling is also included and makes shooting an SP5K easy. It's a fun gun to shoot and goes a long way in recreating the experience of handling and firing a real MP5 subgun."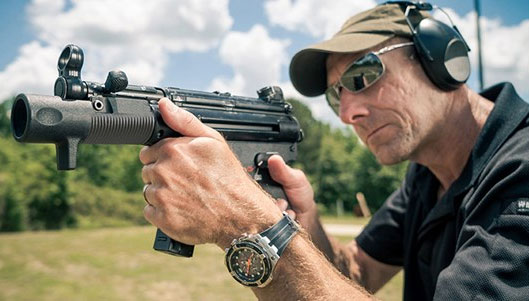 The SP5K also features a roller delayed blowback operating system—a system well known for accuracy, reliability and its application in many of HK's memorable firearms over the decades. The SP5K is manufactured with precision machined components, a cold-hammer forged barrel for a life worthy of tens of thousands of rounds and will come with Heckler & Koch's limited lifetime warranty.
Look for the HK SP5K this July, and get yourself a pistol that's excellent for target shooting, ideal for home security and makes for a great day at the range. MSRP: $2,699


New Flat Dark Earth Models for 9mm and .40 S&W VPs 
Flat Dark Earth is so in right now, and for HK's 9 mm and .40 S&W VP models, it's going nowhere. To achieve the FDE color, HK added colorants to the frame during the molding process, so it's not just a top coating but part of the frame. The tan/brown color is indestructible and won't give to bumps, dinks, scratches or wear. It's completely resistant to fading as well as chemical change. The FDE models in 9mm and .40 S&W VPs are available now with an MSRP of $819. Each firearm comes with two magazines, in either 10 or 15 rounds, and night sights.