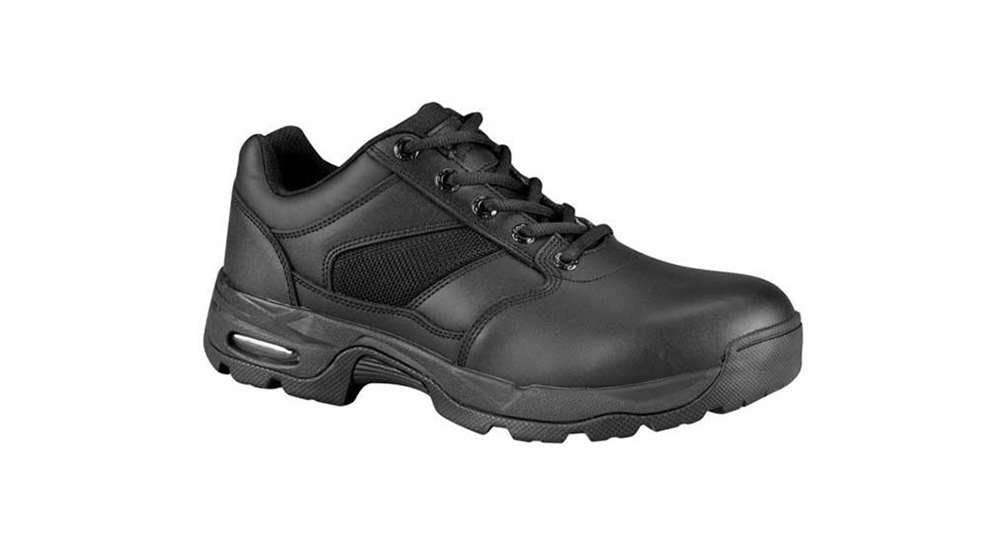 Yeah, I know. I'm as surprised to be writing a review of footwear as you are to be reading it. Footwear is one of those things you never really think about. I mean, yeah, when a pair of boots doesn't quite fit it's a pain (literally), but you generally either break 'em in over time or find a better alternative. When you find a pair that fit well right out of the box, though, it's worth getting that information out there.
Our office environment is middle-of-the-road when it comes to attire. We're not full-on suit-and-tie, but we do have regulations, one of which (sadly) is "no sneakers." Fortunately, boots—especially the low-cut variety—are acceptable, so for most of the fall, spring and all winter that's pretty much my standard footwear. Dress shoes just don't offer the support I require in footwear, so whenever feasible, I'll choose boots. With the Propper Shift Low-Top boot, though, I've found a year-round option.
With an EVA rubber outsole for traction, breathable lining and Comfort Cell technology for support, these are supremely comfortable shoes. Err, boots. Technically they're boots. But, really, they'll pass for plain, utilitarian black dress shoes in pretty much any environment that's less-formal than wingtips or loafers. What really stood out was how little break-in was required: I've got a couple pairs of boots that have been worn, collectively, for several weeks and are still a little on the stiff side; by comparison, the Propper Shift Low-Top boot reached "comfortable" status on the start of the second day wearing them.
After several weeks of daily wear, I'm a believer. If you're looking for a
shoe
boot that'll fit in with a not-super-formal business environment, yet provide the support and comfort your poor feet have been craving, you owe it to those poor barkin' dogs to check out the Propper Shift Low-Top boots. MSRP: $69.99; available in black only in Medium and Wide width from Men's size 5 through 17.