by
posted on May 12, 2020
Support NRA Shooting Illustrated
DONATE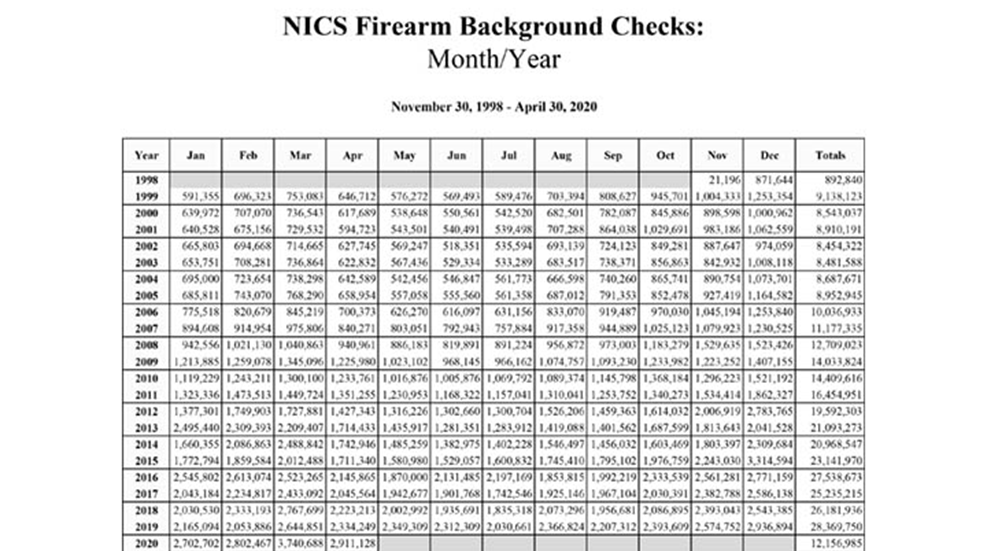 Firearm sales continued their scalding pace in April. Small Arms Analytics & Forecasting (SAAF) estimated the total number of firearms sold through FFLs came in at 1,797,910. The figure represents a 71.3 percent increase when compared to April 2019.
Ammunition sales are brisk as well. Jacob Long, from online ammo retailer Wideners, told Shooting Illustrated in an e-mail that, "April 2020 orders were up 2.89x compared to April 2019. As a company, we're seeing the biggest uptick in calibers like .223/5.56 and 9 mm ammo. We've also seen a big uptick in reloading bullets which is a focus of ours with 9 mm, .308 and .223 seeing the biggest increases as it looks like availability concerns have driven more people to reload their own ammunition."
Last month's firearm sales figures came in well below the 2,583,238 that SAAF estimated were sold in March, although April—with its tax-filing deadline—historically experiences a dip in sales volume. Bear in mind, too, that in some regions of the country people who hold a valid carry license are not required to undergo a background check when purchasing a firearm. Administrative use of FBI's NICS system unrelated to firearm purchases further cloud the issue and render any reported figures only an estimate. The numbers are, however, considered a good barometer for the industry's relative vitality when compared to previous quarters or years.  
For the past 12 months adjusted estimates of firearm sales have been higher than the previous year. Shelter-in-place orders and home-defense concerns during the COVID-19 pandemic have undoubtedly driven purchases to the new highwater marks, but the market first made its positive swing back in May 2019.
SAAF further dissected the numbers and noted nearly twice as many handguns were purchased than rifles and shotguns combined in April. The trend isn't new, but the organization noted the gap between the two is wider than ever before.