Six years ago, I found myself at a local outdoor expo event, standing at a shooting bench, trying to figure out if an M1 Garand or an AR-15 was going to be the first rifle I would sit behind and fire.  I'd had a less-than-stellar experience the only other time I'd tried shooting, and I was about to choose the pretty wooden gun, since it looked significantly less scary to me. Thankfully, my better half convinced me to try the AR, and the instant I pulled that trigger became the most defining moment in my life. 
By the time I was done at the expo that day, I was positively, completely hooked on shooting. What I didn't know is that the experience was about to completely change my life.
A few days later, I ran out and bought myself a brand new Ruger 10/22. My better half taught me the basics, and then as any wise significant other does, he urged me to seek out training from other sources. It just so happens that I live in the best place in the world to shoot, and I quickly discovered a local opportunity to learn and train with other women at a "camp" called Babes with Bullets. The three day camp came highly recommended to me, and I'd heard positive things about one of the lead instructors that had kind of a funny last name: Miculek.
After spending three days getting up to speed with a few of the top ladies in competitive shooting, my desire to shoot had now developed into full-fledged passion for practical-style competition.  I found a range near me that offered regular USPSA and steel matches, and began shooting competitions once a week. I was also able to take advantage of another local training opportunity with Her Handgun, another fantastic organization that provides classes and practice for women.
For the next year, my passion for the sport only grew. I'd gotten the hang of the basics and could shoot a match safely, but I still had a lot to learn. I knew that I was in this sport for the long haul, so it was time for some serious training. It just so happens that the best practical pistol shooter on the planet teaches at the same range I do (best place in the world, remember?), so I signed up a class with Rob Leatham. After a single one day class, my shooting improved and continued to climb for months afterward. Another class with Leatham a year later found even more gains for me, and at that point I started to consider myself a solid competitor and saw my name jump up to the middle of the results.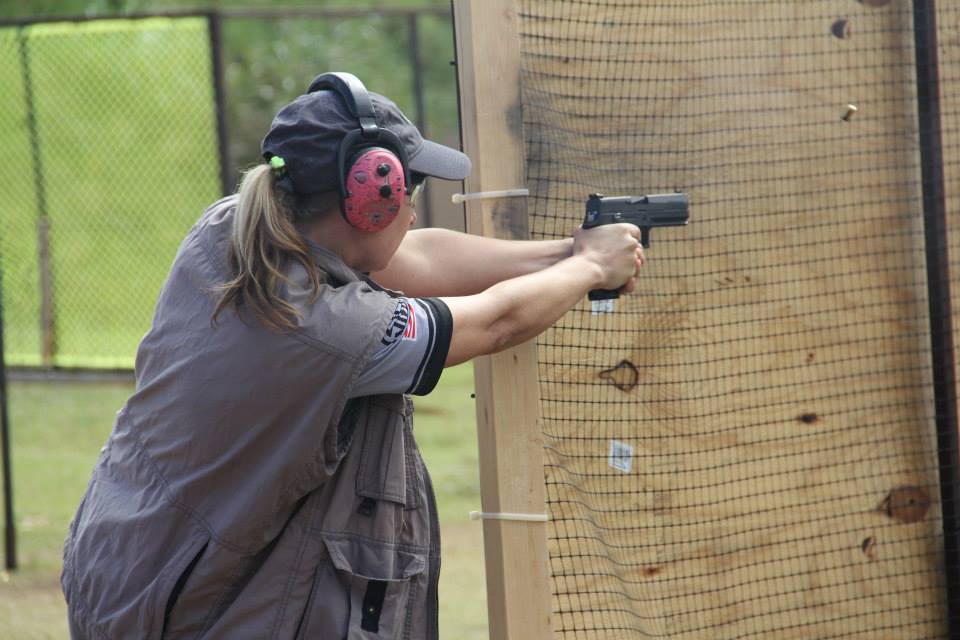 For the first few years I competed, I didn't take dry fire practice seriously, and as a result, I hit a rut that lasted more than 2 years. After all those gains I'd made, I started to move backwards in the results, and I decided I'd better start adding dry fire to my life. I've made significant breakthroughs recently with regular, focused dry fire sessions in the comfort of my living room with some 1/3 scale targets, a shot timer (or a shot timer app), an empty gun and a few empty magazines. At first, it was tough for me to figure out what or how to practice without making "pew," but I discovered some excellent books, including one by World Champion Ben Stoeger that is specifically designed for dry fire, so I always have direction and purpose when I practice.
The beauty of dry fire (besides not having to reload ammo afterward) is that it provides the perfect opportunity to isolate specific skills and break down what is normally a series of movements into their individual components. It's pretty common for me to exclaim "Wow, I didn't realize I was doing that!" during a dry fire session, since I can put all of my focus into one tiny part of the process. When I'm dry firing, I often stop to ask myself, "How's my grip?  Am I following through when I break each shot? Why did I wait until I was halfway across the living room to press the magazine release?" I don't have time to think about these things when I'm shooting in a match, but during dry fire, I get that opportunity.
My competitive shooting adventures have taken me across the country and beyond, and my travels have allowed me to forge lasting friendships with hundreds of others that are just as passionate about the shooting sports. It is through those relationships that I was presented with the amazing opportunity to join Team Sig Sauer this year. As part of a diverse team, I now have the enviable task of helping other competitive shooters learn and grow while continuing to compete in matches across the country.
For those who are thinking about getting started with the shooting sports, I say run, don't walk, to the match nearest you. My journey may be unique, but the training I've received is currently available to anyone, and there are thousands of matches across the country to choose from. I can't promise that your journey will take the same path that mine has, but I can guarantee that you will have ridiculous amounts of fun and make memories and friends that you will cherish for a lifetime.