In the world of firearm customization, the SIG Sauer P320 is a popular choice for enthusiasts and professionals because of its modularity. For this reason, it even won the military's modular handgun replacement contract a few years back, beating out many other manufacturers in a hotly debated contest. One of the key aspects of customization is the grip module, and several aftermarket options are available for the SIG Sauer P320 and all its variants, both from SIG and non-OEM companies. How many versions of the P320 are there now? It seems like they introduce a new one every few months. Let's look at some notable grip module options and their key features, giving you a glimpse into the possibilities of enhancing your shooting experience.
Boresight Solutions P320 XCarry Grip Utility Module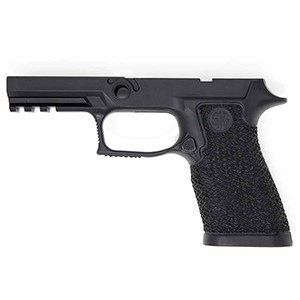 Grayguns is the unofficial official custom shop for the SIG Sauer P320, working with them similar to how Carroll Shelby worked with Ford in the 1960's to create some of the most epic cars ever built. Grayguns has teamed with the Boresight Solutions (another top-line custom shop) to offer a limited amount of customized P320 grip modules that are polished and beveled for easier carry and maximum control of your pistol under recoil. MSRP is $374.99.
SIG Sauer P320 AXG Carry Medium Grip Modules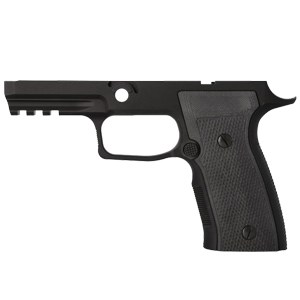 SIG Sauer's AXG (Alloy XSeries Grip) modules bring a unique blend of materials. These modules feature a mix of polymer and metal, providing a balance between lightweight construction and added weight for recoil control. The AXG Carry Medium Grip Modules are tailored for the carry size and come with a medium-sized grip to cater to a broad range of shooters. The combination of polymer and metal enhances durability and provides a distinctive look. While these modules are competitively priced, given their features, they offer a premium feel. MSRP is $399.99.
Polymer80 PF320 PTEX Handgun Grip Modules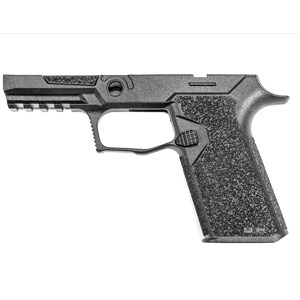 The Polymer80 PF320 PTEX Handgun Grip Modules provide an excellent balance of ergonomics and durability. These grip modules are constructed from high-quality polymer and feature a textured surface for a secure grip. They come in various sizes to accommodate different hand sizes and preferences. With a modest price range, these grip modules offer affordability without compromising quality. MSRP is $64.
Wilson Combat WC320 Grip Panel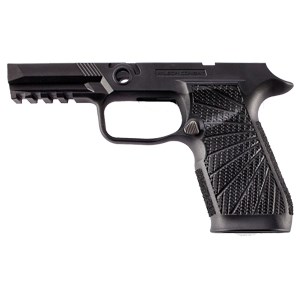 Possibly the most popular non-SIG branded grip modules, the Wilson Combat WC320 Grip Panel is an appealing choice for those looking to add a touch of luxury to their SIG P320 Carry model. These grip panels are meticulously crafted with precision and style in mind. Constructed from high-quality materials, they feature an attractive design with aggressive checkering for enhanced control. What sets these grip panels apart is the inclusion of a manual safety cutout, making them ideal for those who prefer an added safety feature on their P320. While they may be on the higher end of the price spectrum, Wilson Combat's reputation for quality speaks for itself. MSRP is $54.36.
SIG Sauer TXG X-Series P320 Grip Module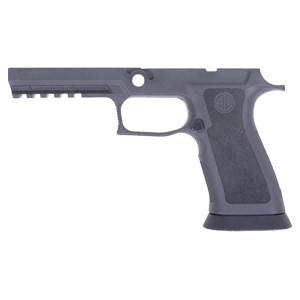 And finally, the SIG Sauer TXG X-Series P320 Grip Module is an innovative offering that takes customization to the next level. These modules are made from a special tungsten-infused polymer that significantly increases the module's weight. This added weight aids in reducing muzzle rise and enhancing overall stability, making it an excellent choice for competitive shooters. The grip texture is designed for a secure hold, and the module is compatible with X-Series slide assemblies. While the price might be higher due to the unique material, the performance benefits are worth considering for serious shooters. MSRP is $249.99.
Parting Shots
The world of aftermarket SIG Sauer P320 grip modules offers a wide range of options to cater to various preferences and shooting styles. Whether you're looking for affordability, style, added features like a manual safety cutout, a blend of materials for enhanced performance, or innovative materials for reduced recoil, there's likely a grip module that suits your needs. Keep in mind that while some options may come with a higher price tag, the quality and performance enhancements they offer can be a worthwhile investment for those who demand the best from their firearms.