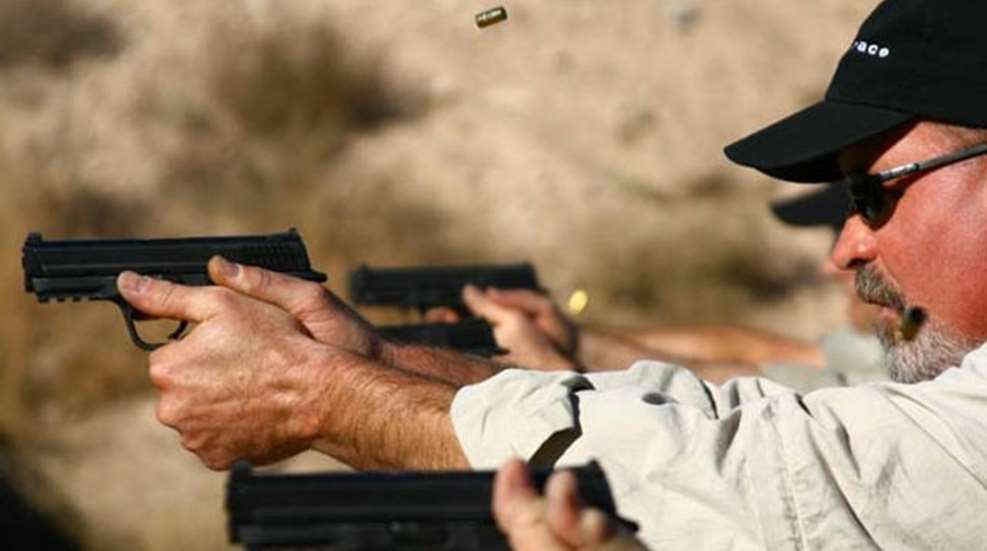 I'm often asked, "What is the best piece of advice you can offer to a shooter?" My answer is always the same: "Economy of motion." This rule starts from the ground-up. In the coming weeks, I will be offering tips to help you build a stronger shooting foundation. This information will help you build confidence, accuracy and speed, while enabling you to be a well-rounded shooter.
Shooting Stance
A proper shooting stance should enable the shooter to move in any given direction at any time.
Your feet should be shoulder-width apart. If you're right handed, your right toes should be back about 4 inches behind the left toe—while maintaining the shoulder-width spread and with your weight distributed evenly on the balls of the feet. If you're left handed, the same procedure applies from the opposite side—place your left toes 4 inches behind the right toe.
Your hips and shoulders should be squared; "facing" the target you are engaging.
A helpful hint I've learned over the years is to always practice shooting from a natural, "walking" stance. This will help reduce tension and allow a steadier foundation.
A bad habit to erase from our conscious shooting memory is the dreaded "TV cop crouch."  I don't think there was one TV cop from the 1970s and '80s who did not draw his gun on a bad guy or paper target without looking like Quasimodo on a non-fiber week.
With this in mind, when engaging a target the upper body should be erect with a slight forward bend at the waist, head held high and upright.  When shooting, the head remains up, eyes locked on target as you lift the sights to interrupt your line of vision.  I'll discuss this further when we look into aiming and sighting our guns.
Next time, we'll cover the proper grip on a handgun.
David J. Fischer is employed by On Target, Inc. as its Line Instructor. He teaches beginner, intermediate and advanced pistol techniques, along with advanced carbine classes. He is well versed in designing and setting up NRA, IPSC and IDPA matches. Fischer has NRA certifications as both Range Safety Officer and Firearms Instructor and has assisted range, federal and private agency shooters with helpful hints and suggestions to improve their skills and accuracy.
Additionally, Fischer works as a contributing editor for American Rifleman, answering questions on gun history and application. He is a Master Gunsmith with more than two decades of hands-on knowledge in both modern and antique firearms. He is a certified Glock Armorer and a black belt instructor in both Tae Kwon Do and Hap Ki Do.