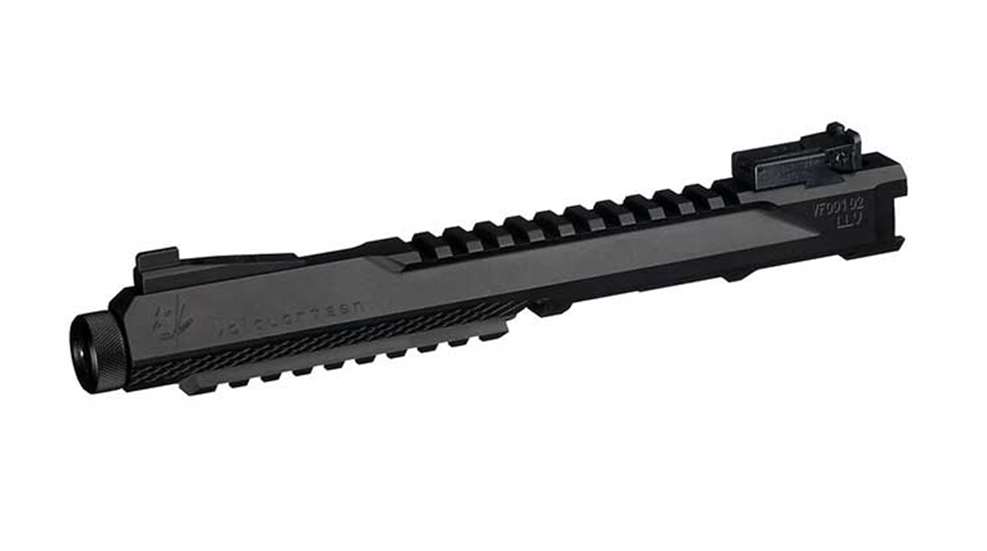 Voquartsen Firearms
announced the addition of its new LLV-4 Competition Upper designed specifically for the
Ruger
Mark IV pistol, giving rimfire shooters an enhanced platform for target-shooting and competition use.
"It's our goal to produce some of the most widely respected rimfire guns and accessories on the market," said Scott Volquartsen, co-owner of Volquartsen Firearms. "The LLV Upper is another example of our commitment to building the best firearms for our customers – whether they're on the range or in the field."


The new Volquartsen LLV-4 Competition Upper can be used to improve the shooting experience of any Mark IV pistol owner, with barrel-length options in either 4.5-inch or 6-inch models. The upper also gives users the opportunity to incorporate Picatinny accessory rails on the top and bottom of the unit, along with a threaded muzzle featuring 1/2-28 TPI threads compatible with a wide range of rimfire sound suppressors on the market.
The threaded muzzle ships with a thread protector, but an optional compensator is also available from Volquartsen. The upper receiver itself is machined from aluminum for weight-reduction, while competition-level accuracy is assured through the addition of a match-grade barrel constructed from stainless steel. The upper also features a stainless-steel breech that allows the unit to handle the stresses found in guns used for competition shooting. The entire upper is finished in a black Type III mil-spec, hard-anodized finish that protects the firearm from corrosion and wear.
Six different models of the Volquartsen LLV-4 Competition are offered by the company. Two models ship with a threaded barrel, along with a sight dovetail, allowing users to add their own target sights to the gun. Two models Come equipped with both adjustable target sights and an attached compensator. The final two models offer users a 4.5-inch barreled model equipped with a compensator or a 6-inch barreled model equipped with a thread protector and target sights.
The suggested retail price for the Volquartsen LLV-4 Competition Upper starts at $375.