by
Shooting Illustrated Staff
posted on August 7, 2023
Support NRA Shooting Illustrated
DONATE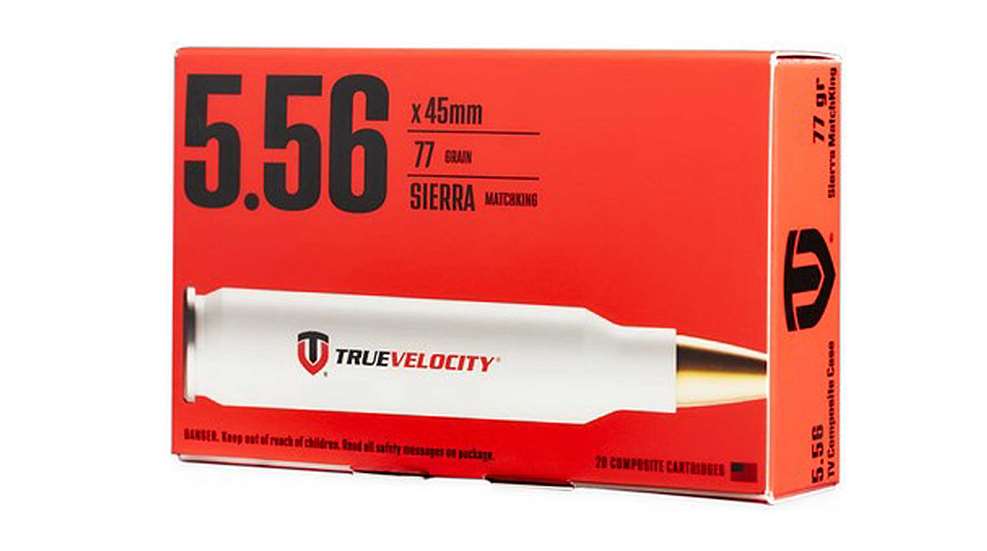 True Velocity Ammunition Inc, the company known for selling .308 Win. rifle cartridges loaded with composite casing technology, is now expanding its ammunition product line to also offer 5.56 NATO composite cartridges. True Velocity's composite casings are intended to make rifle ammunition be more lightweight, accurate, consistent and reduce the amount of heat transfer from the ignition of propellants to the chamber area of a firearm. The new 5.56mm cartridges will be loaded with projectiles weighing 55, 69 and 77 grains, three very popular bullet weights for this caliber. By loading both the .308 Win. and 5.56 NATO rounds, the company now covers two of the most popular and versatile rifle cartridges used in North America for hunting, sport, recreation, self defense and tactical uses.
"There are hundreds of millions of rounds of 5.56 ammo consumed in this country every year," said True Velocity Chairman and Co-CEO Kevin Boscamp. "We're extremely excited to make True Velocity's composite case technology available to the shooters who rely on this caliber. I'm confident they will see very quickly what makes our ammunition superior."
True Velocity's new 5.56 NTAO product line will be the company's first to be loaded using their Generation 3 advanced loading techniques which reflects a higher level of control, precision and innovation in the commercial ammunition industry.
True Velocity Ammunition 55 grain 5.56mm Specifications:
Projectile: 55-grain Full Metal Jacket (FMJ)
G1 Ballistic Coefficient: 0.243
Muzzle Velocity: 3,170 fps
Drop at 500 yards with 100-yard zero: -57 inches
Muzzle Energy: 1,227 ft.-lbs.
(Test barrel length was 20 inches with 1:7-inch twist, specifications for the 69- and 77-grain Sierra Matchking load coming soon)
True Velocity cartridges are sold in boxes of 20 rounds and retail pricing for the new 5.56 NATO product line starts at $24.99 for the 55-grain loading. Both SKUs loaded with either 69- or 77-grain Sierra Matchking projectiles have a starting retail price of $39.99 per box of 20. Please visit tvammo.com to learn more about this new ammunition.