Support NRA Shooting Illustrated
DONATE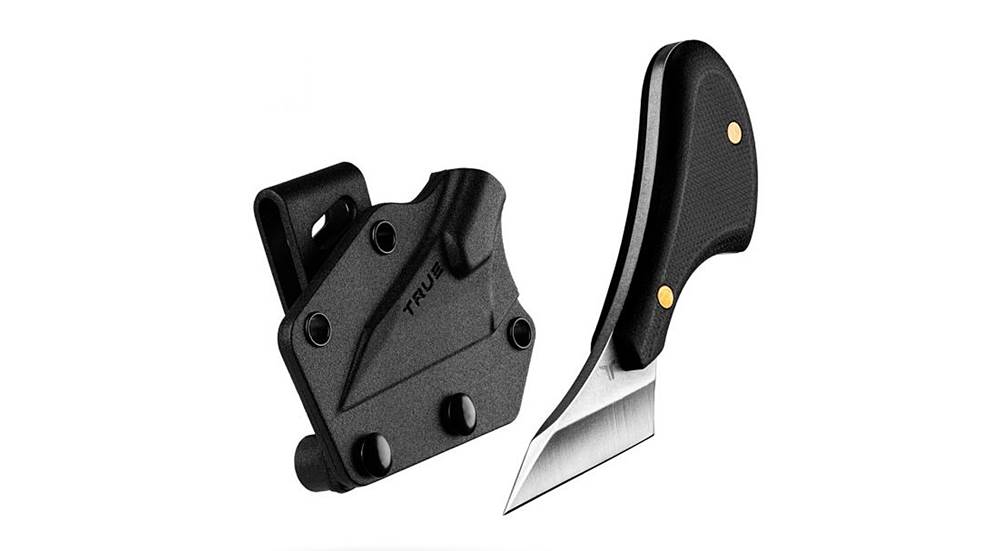 Andrew Takach, a custom knife maker, is pairing up with True Knives to make the first commercial production run of the Takach Mycro Utility Knife: a conveniently-sized and cleverly-designed pocket sized all-around cutting implement.
Mr. Takach has been crafting knives by hand since 2004, after being bitten with the knifemaking bug and becoming a self-confessed knifemaking fanatic. Like a true artisan, he typically crafts each blade individually with its own style and to his exact specifications. Takach tells us on his webste, "As for my work, I primarily forge blades of my own style and design. I usually don't offer any specific models, and work to create each piece a little different from the next. On occasion I will do small batches of a single piece and offer them for sale. I do all work in house and take pride in sole authorship of the pieces I create. At times I do outsource my sheath work, using a few trusted leather workers to make them."
This uniquely shaped knife traces back to a design meant for ultra-light backpackers needing compact and lightweight utilitarian knife. The Mycro Utility Knife is equipped with a 1 ½ inch long Wharncliffe style blade. Measuring a little over 3 ½ inches, and retailing for $28, the Mycro Utility Knife is not only sized for daily tasks but priced accordingly as well. A versatile multi-position sheath made from PA66 nylon allows the knife to be worn on a belt or on the neck for easy and convenient access.
Mycro Utility Knife Specifications:
5 inch Wharncliffe Blade w/ satin finish
PA66 Nylon Multi-position carry sheath
8CrMov stainless steel
G10 handles
Ultra-lightweight and ergonomic
Weight: 12 ounces
Dimensions: 3.625 inches long x 1.25 inches wide
Edge Grind: Fine Edge Hollow Grind
Cutting Length: 1.5 inches
MSRP: $27.99
For more information on Andrew Takach and his knives, please visit his website at takachforge.net. For more information about Takach's industry partner, True Knives, please see their website at trueutility.com.