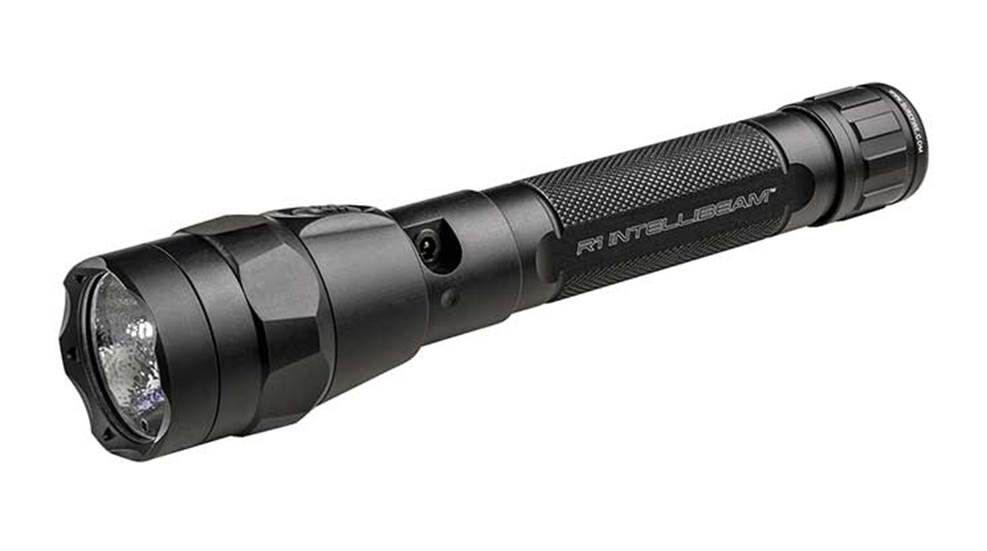 SureFire
is now offering its R1 Lawman equipped with the novel IntelliBeam system, which auto-adjusts the light's output to match ambient lighting.
The company's IntelliBeam technology uses a smart microprocessor that measures the light in the surrounding area and provides an output between 15 and 1,000 lumens that is ideal for the situation. This removes the added decision-making process and physical selection needed with other flashlight models, ensuring that users always have the right amount of light at hand.
The R1 Lawman comes with a tailcap switch that allows users to turn on the auto-adjust beam. However, the system can be overridden with a simple two-tap press of the rear switch within one second. Once the override is engaged, the light automatically deploys a full 1,000 lumens. The Lawman also features a strobe feature that allows owners to disorient threats by pressing the tailcap a third time.
The SureFire R1 Lawman runs off a rechargeable lithium-ion battery and delivers 1.75 hours of maximum illumination at 1,000 lumens. At the light's lowest setting of 15 lumens, the battery life is 45 hours. The light features a "fuel gauge" that shows users how much battery power is left in the light, and an AC wall charger is included with the Lawman, as well as a DC car charger.
The light measures 8.1 inches in overall length with a bezel diameter of 1.62 inches. The total weight of the light is 10.2 ounces. The R1 Lawman is constructed with an aerospace-grade aluminum body and features a hard-anodized black finish that meets military specifications. The light itself uses a textured reflector that is designed to provide users with a multi-part beam that provides wide area lighting, as well as a bright center beam for quick identification.
The suggested retail price on the SureFire R1 Lawman is $442.89.