by
Shooting Illustrated Staff
posted on October 3, 2019
Support NRA Shooting Illustrated
DONATE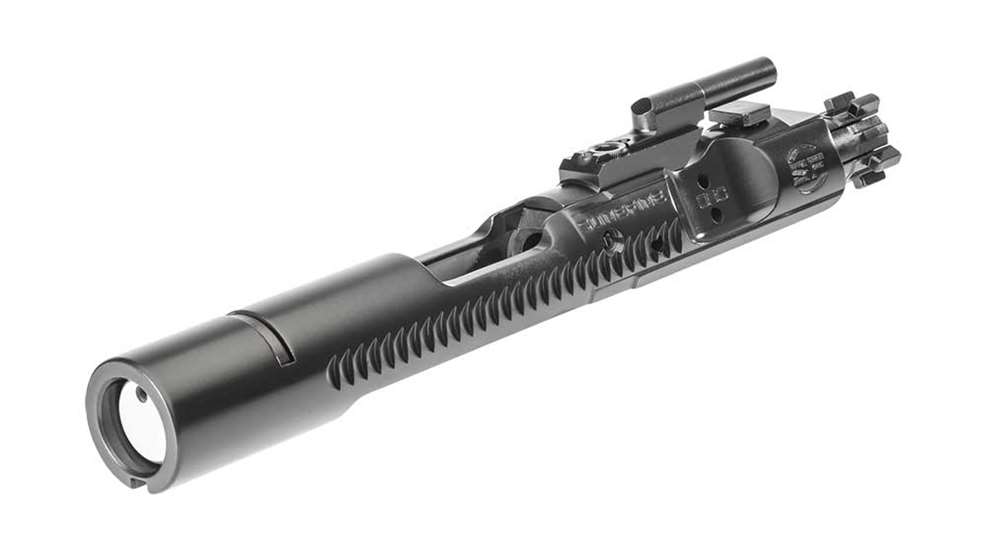 SureFire is known for making innovative flashlights, rugged suppressors and quality tactical gear, and now the company is rolling out a new product for rifle owners: the Optimized Bolt Carrier.

The SureFire OBC is designed to increase the reliability of suppressed and unsuppressed variants of the M4/M16/AR-15 platform. The OBC package includes the OBC bolt carrier group along with a buffer and buffer spring. The patented design of the OBC has many improvements to the design of the standard mil-spec full-auto bolt carrier group, such as delayed unlocking of the bolt during the firing sequence.

The delayed unlocking is a result of a lengthened cam-pin slot and a neutrally balanced counterweight, which allows expanding gases more time to exit the bore. This redesign lowers chamber pressure by up to 15 percent, which reduces wear and tear on parts and also reduces back-pressure gases exiting the ejection port.

The shortened gas carrier key works with the shorter buffer to allow a 60 percent increase in stroke, which gives the magazine more time to feed ammo into the chamber. The extra time on the stroke can be essential, as it provides smoother and more reliable feeding due to increased inertia when the OBC picks up a round from the magazine.

In addition to this, the neutrally balanced counterweight works three times during the cycle of operation of the rifle. First, the counterweight delays unlocking. The counterweight also keeps the carrier group to the rear for additional amount of time, allowing for more-reliable feeding of ammunition from the magazine and significantly reducing bolt-over-base malfunctions.

Finally, this counterweight improves carrier and barrel extension lock-up, great for reducing bolt bounce. The Optimized Bolt Carrier also reduces the felt recoil of your AR-15, allowing for better tracking of sights and more control of the platform when firing. This unique system is also ideal for owners of today's popular AR-style pistols, as it counteracts some of the effects of a shortened, pistol-length gas system.

More information on the SureFire Optimized Bolt Carrier is available at surefire.com.