by
Shooting Illustrated Staff
posted on January 14, 2022
Support NRA Shooting Illustrated
DONATE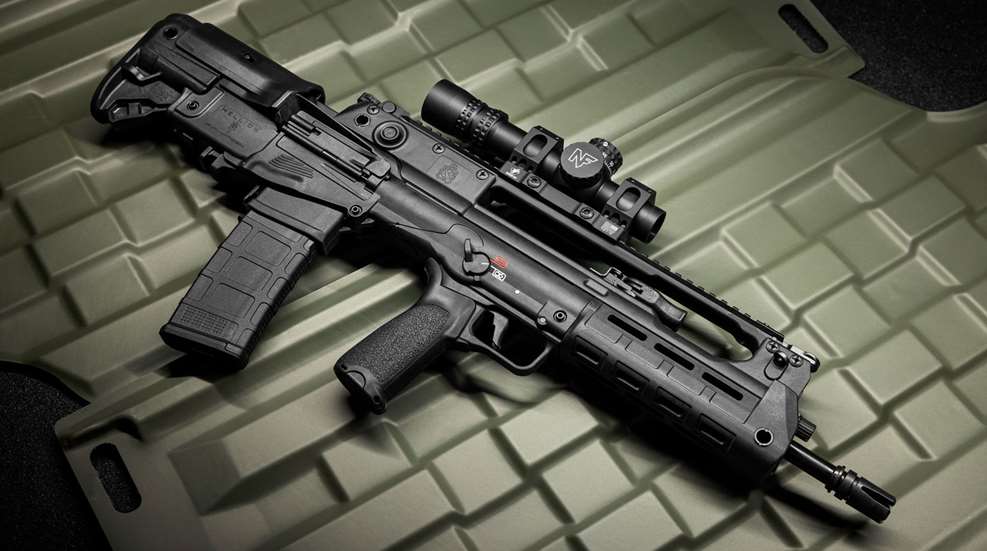 Springfield Armory recently announced the new Hellion series of rifles, a platform that offers superior ballistic performance in a short, modular and fully ambidextrous 5.56 NATO bullpup design. 
Unlike a traditional long gun, the bullpup system locates the action and the magazine behind the trigger and into the buttstock area. In doing so, it reduces the overall length drastically, while still allowing you to have a barrel long enough to retain effective downrange performance.
"The new semi-automatic Hellion builds upon the solid foundation of the Croatian VHS-2, and adapts it to the needs of American shooters," said Steve Kramer, Springfield Armory's Vice President of Marketing. "With the changes applied to the design by Springfield Armory, the Hellion offers American shooters a truly unique and capable 5.56 NATO bullpup."
Based on the internationally proven VHS-2 bullpup, which has been employed by the Croatian armed forces in demanding environments ranging from Iraq to Africa and beyond, the Springfield Armory Hellion gives American shooters a semi-automatic version of this highly capable firearm. As part of the Hellion's development, Springfield Armory adapted the original VHS-2 design for the American market. This includes its ability to feed from AR-pattern magazines, the use of replaceable AR-pattern pistol grips, M-Lok slots in the handguard and the addition of six QD mounts.
The Hellion features a reversible ejection system that requires no additional parts or tools. Complementing this system is a set of fully ambidextrous controls, including the safety, charging handle, magazine and bolt release. The result is an ultra-compact 5.56 NATO that can be easily fired from either shoulder.
The Hellion is highly adaptable to the needs of shooters, through the use of a five-position collapsible buttstock as well as a two-position adjustable gas system. It is also ready to accept the optic of your choice on the top strip of Picatinny rail, which also integrates a set of flip-up iron sights. It comes with a 30-round Magpul PMAG and Bravo Company BCM Gunfighter Mod 3 pistol grip. The suggested retail on the new Hellion is $1,999; more information can be found at Springfield-Armory.com.