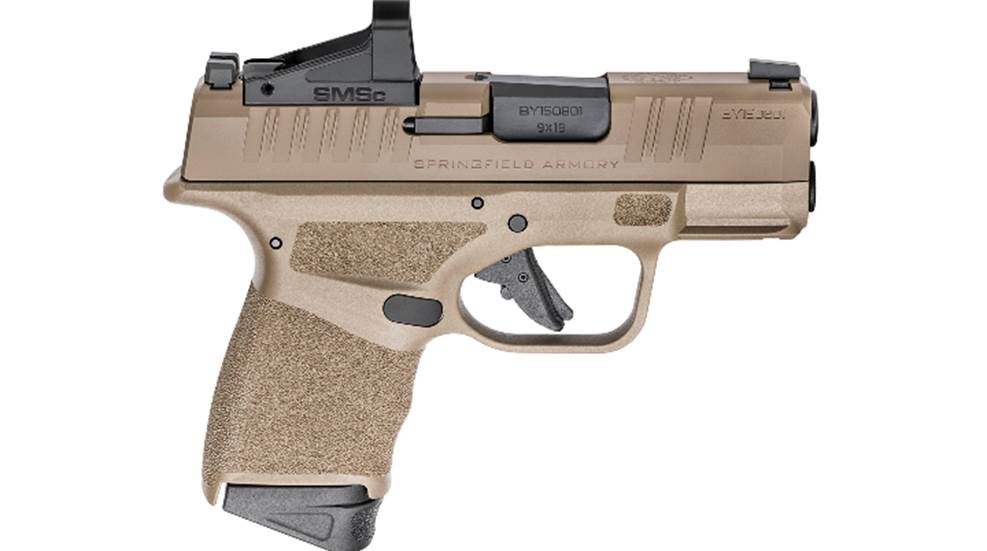 When the Springfield Armory Hellcat launched late in 2019, of greatest note was the seeming oneupmanship in round count: while the SIG Sauer P365 carried an astonishing 10 rounds in a tiny pistol, the Hellcat went up to 11. What was missing, though, to really define the difference in the two pistols, was something more aesthetic. Springfield Armory has now widened the gap between the two with the addition of an FDE Hellcat.
The same specifications that made the Hellcat such a standout are still there: 3-inch barrel, 11-round capacity (13 with the extended magazine), U-Dot rear sight and tritum front sight with luminescent ring for both low- and normal-light levels. The mildly aggressive adaptive grip texture is still present in the FDE Hellcat, and the same operating system with dual, nested recoil springs helps keep recoil manageable. The Hellcat in FDE is also available in optics-ready guise, with the OSP variant incurring a slight price increase for the ability to mount a mini-red-dot optic.
The Desert FDE finish offered on the newest Hellcat variant is a rugged Cerakote veneer that provides extreme corrosion resistance while imparting an attractive contrast to the black Melonite finish on the hammer-forged barrel. In addition to the barrel, other parts and controls on the Desert FDE Hellcat — trigger, magazine release, cover plate on the OSP version, sights and more — are in black to continue the color-contrasting look.
This beauty does come at a (slight) cost, though. MSRP on the FDE Hellcat is $610 for the standard variant and $643 for the optics-ready OSP model. It's a modest upcharge to get the Hellcat in the attractive FDE finish, and brings another color option to the line. Visit springfield-armory.com for more information on the newest Hellcat to be added to the product line.