by
Shooting Illustrated Staff
posted on October 8, 2017
Support NRA Shooting Illustrated
DONATE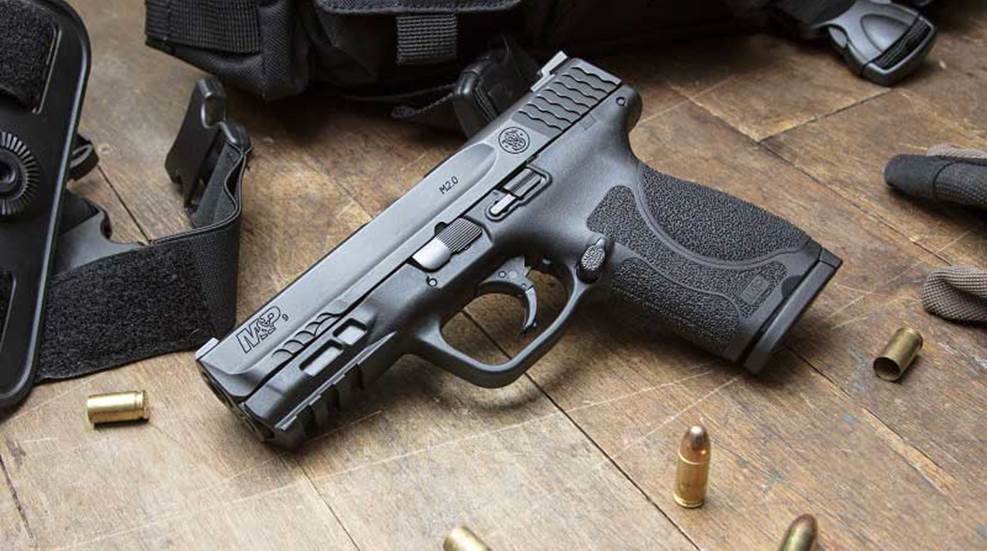 Smith & Wesson
added a new model to its revamped M&P pistol lineup in 2017, providing a more compact carry pistol in the form of the new M&P M2.0 Compact. 
"The M&P M2.0 Compact pistol series bridges the gap for those who want a single firearm for professional use, personal protection, carry or practice at the range," said James Debney, president and CEO of American Outdoor Brands. "We believe the new M&P M2.0 Compact series will be sought after by consumers whose purchase option in this category has, until now, been limited primarily to the
Glock
G19 or G23."
The new Smith & Wesson M&P M2.0 Compact pistol includes many of the same upgrades found in the full-size M&P pistol introduced earlier in 2017, including the aggressive grip texture, swappable grip inserts and the company's redesigned trigger mechanism that provides a cleaner trigger pull with a prominent reset.
The gun is constructed on a polymer frame that includes a built-in 18-degree grip angle. The company chose this design after conducting extensive ergonomic studies, and the results of those studies pointed to this specific design as the optimum setup that provided a natural point of aim for the majority of shooters. In order to enhance precision and durability, Smith & Wesson added a stainless-steel chassis insert into the polymer frame, reducing the amount of flex experienced when firing.
The overall length of the M&P M2.0 is 7.3 inches, and the gun features a 4-inch barrel with a magazine capacity of 15 rounds in 9 mm, placing it squarely in the Glock G19 market. The pistol is equipped with steel sights, providing users with a traditional white three-dot sight arrangement. The slide and barrel are both machined from stainless steel and use the company's trademarked Armornite finish designed to resist corrosion and wear. The barrel is rifled with a 1:10-inch rate of twist for optimum accuracy in both the 9 mm and .40 S&W models. 
Other features of the new Smith & Wesson M&P M2.0 Compact include fully ambidextrous controls, such as the ambidextrous slide stop, fully reversible magazine release and an optional ambidextrous thumb safety. The pistol is also equipped with a sear-deactivation lever that allows owners to field-strip the gun for basic cleaning and maintenance without having to pull the trigger.
The Smith & Wesson M&P M2.0 Compact pistol ships with two magazines, four interchangeable backstraps and two magazine grip sleeves that allow for a seamless grip when used with full-size M&P magazines. The suggested retail price on the gun is $569.