Support NRA Shooting Illustrated
DONATE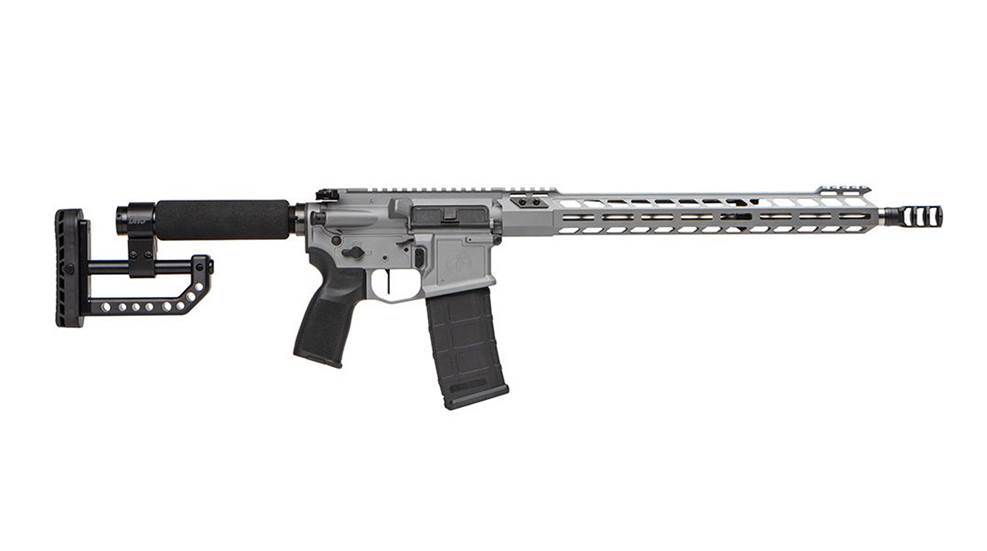 SIG Sauer Inc. is releasing a new competition-focused edition of their workhorse M400 AR-15 rifle: the SIG Sauer M400 DH3 SDI. The rifle designed around 3-Gun and Multi-Gun competition shooting with specifications and design input from champion shooter and Team SIG member Daniel Horner. The SIG M400 DH3 SID also the first product to be released under his personal name as well as the DH3 brand.
The Cerakoted Elite Titanium finished SIG M400 DH3 SDI is a direct-impingement AR-15 pattern rifle featuring a 16-inch barrel with a .223 Wylde chamber that can handle either .223 Rem. or 5.56 NATO ammunition. Attached to the barrel is a three-chamber compensator to reduce muzzle flip and keep the rifle steady. Shrouding this barrel and compensator is a slick low profile 3-Gun style M-Lok freefloat handguard. The stock is a 3-Gun competition style that is fully adjustable. A Timney 2-Stage Daniel Horner signature trigger provides ignition, and all the controls are ambidextrous and are set up the exact way that Daniel Horner has them on his own personal rifle. The rifle ships with a 30-round AR-15 magazine.
"For the past two years I have been shooting in competition with the M400-DH3 rifle and what you get right out of the box is my set-up. We took our time to release this gun because I wanted all the elements to be my competition set-up from my trigger to the stock," mentions Mr. Horner. "I've won multiple titles with this exact build and even if you're not taking it into competition, you are sure to enjoy the custom features that we have put into the M400-DH3."
Tom Taylor, the Chief Marketing Officer and Executive Vice President of Commercial Sales for SIG Sauer also says, "Since Daniel Horner joined Team SIG, he has methodically been researching, designing, and testing the products he will be introducing through the DH3 brand from SIG Sauer. These are not just products that bear his name, but are the products that have been tried, tested and used by him personally. Daniel puts the full force of his name and his distinguished career in the shooting sports behind this new rifle."
For more information on the SIG M400 DH3 SDI and other rifles and pistols sold by SIG Sauer, please visit their website at sigsauer.com.