by
Shooting Illustrated Staff
posted on November 2, 2017
Support NRA Shooting Illustrated
DONATE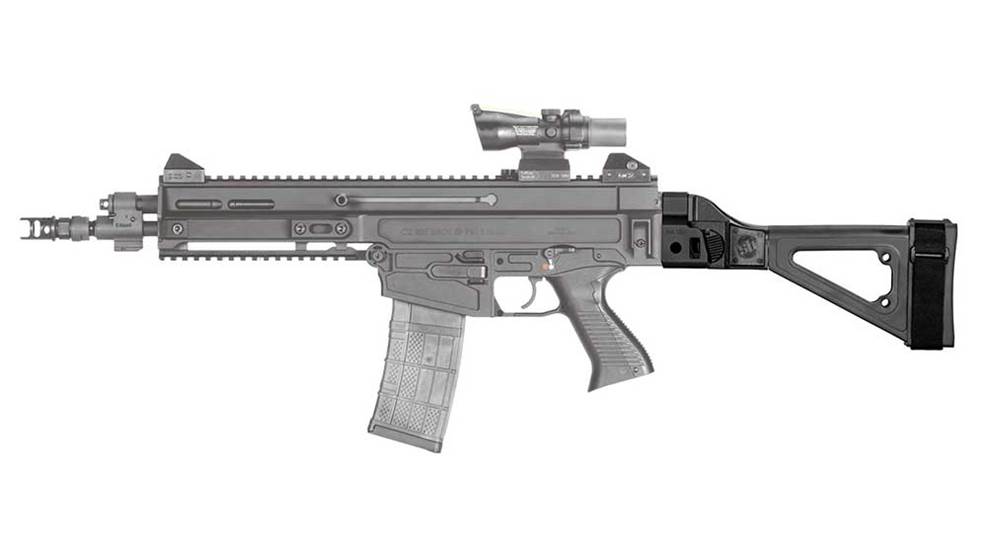 SB Tactical
is the manufacturer and designer of the pistol stabilizing brace, a product which has sparked a revolution in the popularity and development of many AR-15 and other rifle-caliber pistols on the market today. Late in 2017, the company introduced yet another pistol brace design: the SBT805 side-folding brace designed for the popular 805 Bren pistol from
CZ USA
.
"The CZ 805 Bren S1 Pistol is a popular PDW pistol, and our customers have been asking for a high-quality, folding brace from SB Tactical," said Alex Bosco, inventor and CEO of SB Tactical. "The installation of an SBT805 enhances usability and enables the CZ 805 Bren S1 Pistol to remain compact for ease of transport, storage and concealability."


To develop the new side-folding arm brace for the CZ 805 Bren, SB Tactical teamed up with Manticore Arms. Together, the two companies designed the brace to function specifically with the 805 Bren pistol while still remaining compliant with all BATFE regulations concerning the use of pistol braces.
Designed by U.S. military veterans and completely manufactured in the USA, the SB Tactical CZ 805 Bren Folding Arm Brace provides users with a complete assembly that's easily installed on any standard 805 Bren pistol. The assembly features an integral folding mechanism that allows the brace to fold alongside the right side of the receiver for easy storage and transport.
Like all of the pistol-stabilizing braces available from SB Tactical, the CZ 805 Bren brace comes equipped with a hook-and-loop nylon strap that users can wrap around their forearm to provide a solid and secure position from which to shoot their pistol. The third point of contact ensures that users have more control over their pistol, providing increased capability.
The SB Tactical CZ 805 Bren Folding Arm Brace measures in at a total length of 10.2 inches. The weight of the entire brace assembly is 15.1 ounces. The included strap measures 1 inch in width. Brace assemblies are available in black and flat dark earth finishes. The suggested retail price on the SB Tactical SBT085 side-folding brace is $249.99.