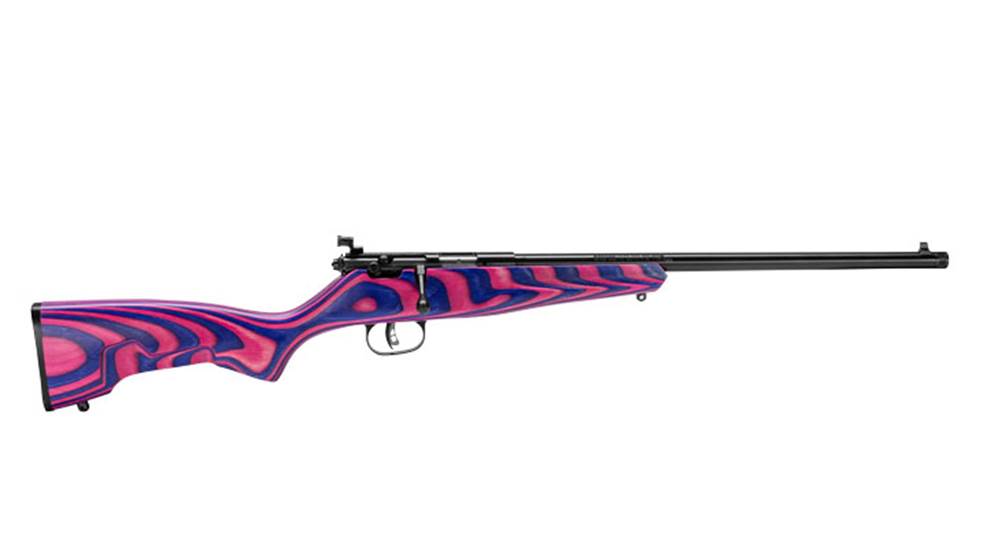 The new Rascal Minimalist from Savage Arms mirrors the stylish lines and laminate stock of its bigger brother, the rimfire Minimalist. The Rascal Minimalist is built for accuracy and adaptability, thanks to a new laminate stock, threaded (1/2-28) barrel, and modern aesthetics. However, it still retains the features and compact sizing that has made the Rascal America's favorite firearm for introducing children to marksmanship and firearms safety.
"The laminate stock and bright color combinations of the Rascal Minimalist make this a stylish rifle," said Beth Shimanski, Director of Marketing for Savage. "And it demonstrates, again, Savage's commitment to providing the very best tools to every shooter—even those who are just learning to shoot." 
Like the rest of the Rascal family, the Rascal Minimalist is a single-shot rifle that cocks by lifting the bolt. It unloads just as easily, without the need to pull the trigger. The design of the Minimalist helps build superior shooting skills thanks to full-size rifle features, including Savage's user-adjustable AccuTrigger system and a threaded barrel.
Rascal Minimalist Features
Reliable, single-shot action

Manual Safety

Unloads without pulling the trigger

User-Adjustable AccuTrigger

Modern aesthetics and ergonomics

ChevCore Laminate stock in either Pink/Purple or Teal/Gray

Magazine Capacity: Single Shot

Length-of-Pull: 11.5 inches

Overall Length: 30.625 Inches

Barrel Rate of Twist (inches): 1:16

Receiver Color: Blued

Receiver Finish: Traditional

Receiver Material: Carbon Steel

Barrel Material: Carbon Steel

Barrel Finish: Matte Black

Barrel Length: 16⅛ inch with 11 degree target crown

Barrel thread: ½-28 with muzzle cap

Includes ear plugs and firearms lock

MSRP for the Rascal Minimalist with either the Pink/Purple stock or the Teal/Gray option is $279, and more information on these rifles and other products from Savage Arms is available at savagearms.com.