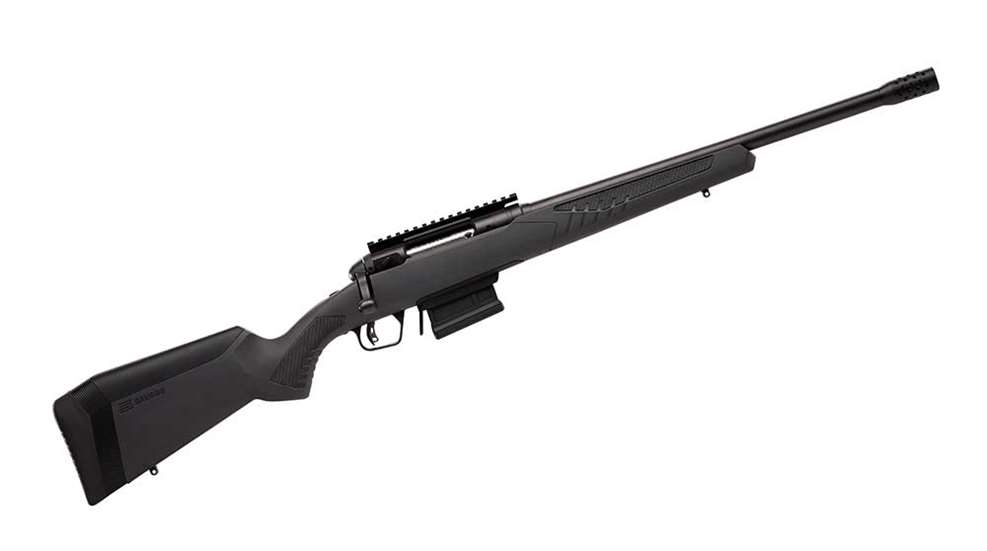 As part of the company's all-new AccuFit rifle lineup,
Savage Arms
introduced the big-bore Model 110 Wolverine, which is chambered in the large, straight-walled .450 Bushmaster, a cartridge growing in popularity due to its combination of power and accuracy.
This bolt-action platform is outfitted with an 18-inch heavy barrel machined from carbine steel and features a 11/16-24 TPI threaded muzzle. The barrel features a 1:24-inch twist rate and is topped with a ported muzzle brake that helps tame the recoil of the powerful .450 Bushmaster cartridge. The rifle also ships with the company's user-adjustable AccuTrigger, which can be set anywhere from 2.5-6 pounds, depending on the shooter's preference.
The Savage Arms Model 110 Wolverine feeds from a five-round detachable magazine made by
Magpul
, but the rifle's magazine well will accept any AICS-pattern mag. At the top of the receiver, consumers will find a 0 MOA Picatinny optics rail ready to receive a riflescope.
One of the standout elements of the rifle is its gray synthetic stock, outfitted with the company's unique AccuFit system that enables owners to customize the stock fit to their body. Each AccuFit rifle ships with a number of inserts to adjust the comb height and length of pull.
In addition to the custom adjustments, the rifle's receiver is also supported by a three-dimensional support system in the interior of the stock. This ensures that the rifle produces the most accuracy possible. The polymer stock is also outfitted with soft, textured inserts on the wrist and fore-end of the rifle, providing a solid, comfortable gripping point for users.
Each Savage Arms Model 110 Wolverine features a matte-black finish over all metal components and ships with sling-swivel studs. The overall length is 37.5-38.5 inches, depending on which stock inserts are used. The overall weight of the rifle is 7.9 pounds. Suggested retail pricing on the platform is $899.