Support NRA Shooting Illustrated
DONATE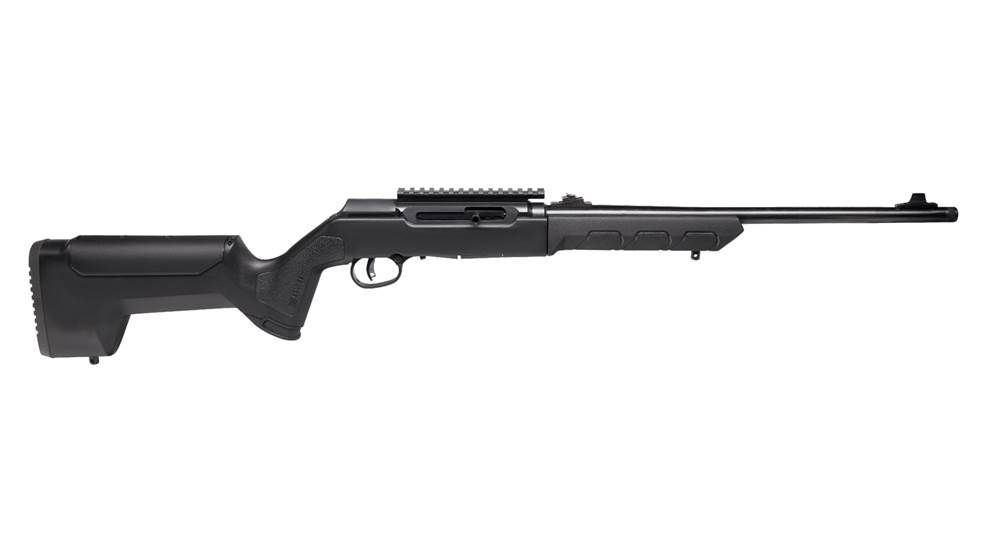 Whether traversing the woods or simply heading to the range, having a small, light rimfire rifle you can easily fit in a small pack is an excellent option. Savage Arms introduces the A22 Takedown rifle, a semi-automatic .22 LR rifle with a rotary 10-round magazine and toolless takedown.
With nothing more needed than a quarter-turn of the barrel, the A22 Takedown can be stored in a discreet pack for easy transport. The rifle itself also offers storage opportunities, with a waterproof section in the grip for small parts, batteries and other necessities, while the stock opens to reveal sections for three additional 10-round magazines. Other features of note include a threaded barrel should a sound suppressor be desired, an integral section of Picatinny rail on the receiver for optics and Savage's excellent, adjustable AccuTrigger.
"No other rimfire rifles bring the versatility and flexibility of the A22 Takedown," said Beth Shimanski, Director of Marketing at Savage Arms. "Weighing in at only 6 pounds and available in .22 LR, this rifle is specifically designed to improve your outdoor adventures with the ability to easily transport it in your pack. Savage is thrilled to bring the A22 Takedown to the market this upcoming year."
The new A22 Takedown adds s portable option to Savage's outstanding A Series of rimfire rifles, offering numerous speed, precision and accuracy-enhancing qualities. The A22 Takedown can be separated without tools or complicated rituals and can serve as an excellent backpacking rifles for hiking and other outdoor activities.
Key features
Semi-automatic rimfire rifle
Takedown configuration
Synthetic stock includes storage compartment in pistol grip and magazine compartment in cheek riser
18-inch, carbon steel, matte-black barrel
Low-profile sights
0 MOA Picatinny Rail with iron sight channel through rail
Tang safety
10-round rotary magazine
User-adjustable AccuTrigger (adjustable from 3 to 5 pounds)
MSRP $479
To learn more about the new Savage A22 Takedown, visit savagearms.com.