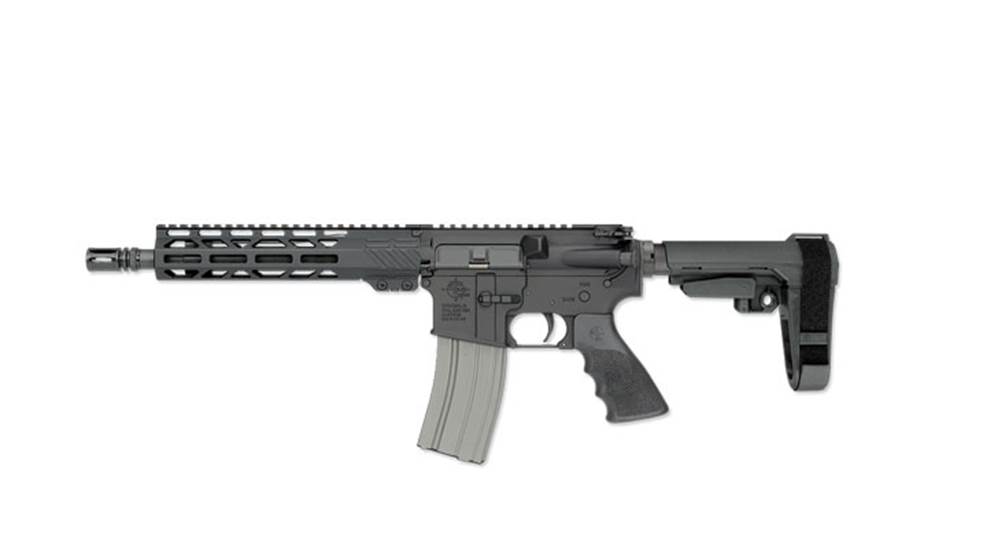 Rock River Arms recently introduced a new 10.5-inch AR pistol designed for left-handed shooters. Specifically built for southpaws, the RRA pistol features a left-hand twist barrel, left sided ejection port, left-handed charging handle and more.
The new Rock River Arms LH2142 is a pistol-style AR pattern gun that is chambered in 5.56 NATO. Developed for left-handeded shooters, it places an emphasis on close-quarter handling  and compact, discreet transport. RRA's A4 LEF-T upper includes a left sided ejection port and top Picatinny rail.

The upper aligns to the 9.25-inch mid-length lightweight aluminum M-Lok compatible, free-float RRA handguard. A 10.5-inch chrome-moly 1:9-inch left hand twist barrel with A2 flash hider provides maximum accuracy potential and reliable performance. The forged LAR-15LH lower receiver includes an ambidextrous magazine release, a single-stage trigger, Hogue rubber grip and right-side bolt catch and safety selector.
The LH2142 includes a Rock River Arms lifetime warranty, one magazine, a RRA hard case and owner's manual.
Specifications:
LAR-15LH RRA 10.5-inch LEF-T Pistol with SBA3 Arm Brace

Caliber: 5.56mm NATO Chamber for 5.56 and .223 Rem. Caliber

Upper: Forged A4 LEF-T

Lower: Forged RRA LAR-15LH

Barrel: 10.5-inch, Chrome-Moly, 1:9-inch Twist

Gas Block: Low-profile

Muzzle Device: A2 flash hider, 1/2-28'' thread

Trigger: Single-stage

Handguard: 9.25-inch mid-length, RRA lightweight aluminum free-float, M-Lok compatible

Pistol Grip: Hogue rubber grip

Arm Brace: SB Tactical SBA3 Adjustable Stabilizing Arm Brace

Length: 29.25 inches

Weight: 6.3 pounds

Includes: One magazine, manual, warranty information


MSRP for the Rock River Arms LH2142 is $1,020, and more information is available at rockriverarms.com.