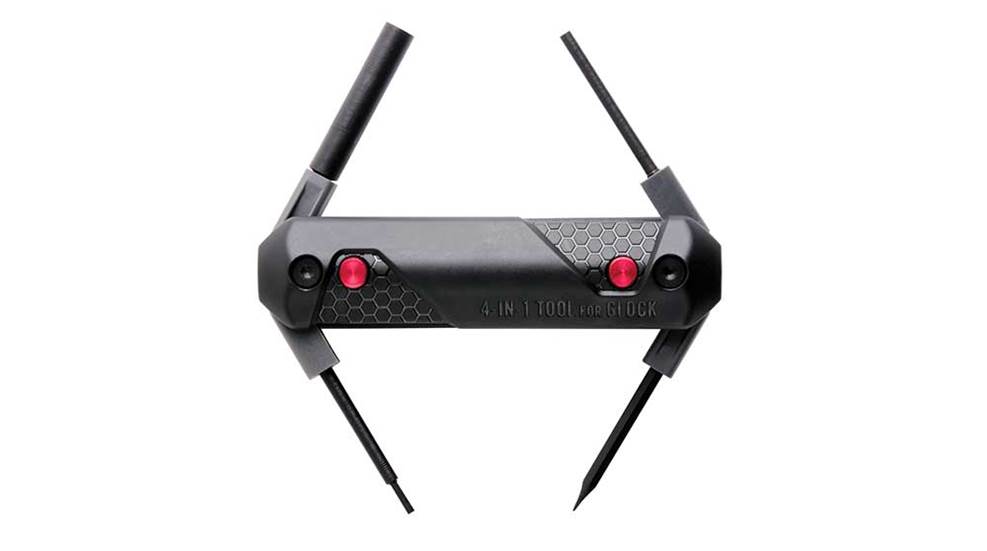 Set up just like today's popular multitools, the
Real Avid
4-In-1 Glock Tool provides access to several must-have bits that are essential for
Glock
owners to have access to, all in a compact, foldable package that fits easily into any range bag or can even slide into a pants pocket, if needed. All of the tools on this easy-to-use accessory are locked into place for transport and storage and are easily accessible with just a push of a red-anodized button located on each side of the handle.
One of the stand-out features users will find on the Real Avid 4-In-1 Glock Tool is the inclusion of the 3/16-inch hex driver, which is sized specifically to fit the nut used to attach OEM and aftermarket Glock front-sight posts to the underside of the top slide surface. The inside surface of the driver is magnetized, so once the nut is loosened, it's retained inside the driver and won't disappear underneath your work surface.
One of the other sight-related adjustment features included on the 4-In-1 Glock Tool is a .050-inch Allen wrench, which is sized right to adjust the windage on aftermarket, target-style sights designed for Glock handguns. This allows users to easily zero their precision irons at the bench without having to break out an entire screwdriver set to find the right fit.
For maintenance, disassembly and other work, the tool is also equipped with a 3mm pin punch, which is necessary to take down all Glock handguns. A flat-blade screwdriver is also included for removing the slide-lock lever and spring out from the inside of the frame, as well as removing the locking block from the frame entirely. The ergonomic frame and textured surface of the Real Avid 4-In-1 tool ensures that users have a solid grip and the leverage needed to perform necessary work. The suggested retail price on the tool is $24.99.